August 6, 2019
"Be joyful. Though you have considered all the facts."—Wendell Berry.
This week the editor casually followed a link that led to an interactive global map of forest fires. And a whole bunch of news and science clicked into place. We explore the people who have been stewarding our forests, and the greed and risks they incur for it.
But first the news.
But first about The Banner!
All we need is a trickle of small donations to come in for a few weeks, and that is going nicely. The Hamiltons, some of them, have graduated to Franklins. A week or so more and we'll be set for another year of The Banner's way-too-much newsletters!
And please remember, dear reader, to consider donating to the independent on-line news journals we draw from to present. At the end of each story, the last line ends with the name of the publisher and the date. If the publisher is in blue underlined italics, that is your clue that it is a link to an independent journal's donation page. If you have the means, your editor highly recommends sending a few of them a bit from time to time – or a small monthly donation. They work hard, depending on our notice and gratitude. And now for the news!
≈≈≈≈≈≈≈≈≈≈≈≈≈≈≈≈≈≈
21st Annual Kateri Peace Conference
21st Annual Kateri Peace Conference – 2019 | 21st Annual 2019 Kateri Tekakwitha Peace Conference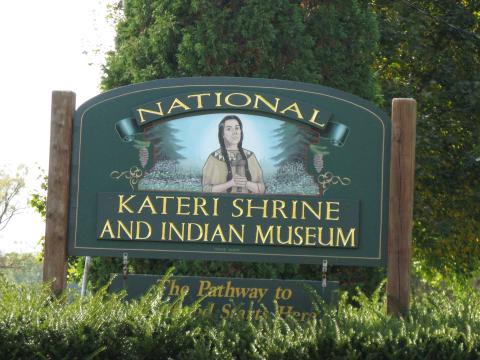 For over 20 years the Kateri Tekakwitha Peace conference has met on the site of an historic Mohawk Village, a village that had to be abandoned, a life left behind, when the forces of disintegration swept over it.
Slowly, year after year, as we have revisited this sacred site, the wisdom of the land has seeped into our souls guiding us as we have worked to confront war and militarism, forces born out of greed, fear and a disconnect from nature and community, forces which  have become enormously destructive to the land we live on.
Facing the painful existential threat of climate collapse and then cultivating a garden of resilience requires a deep wisdom born of cultures more deeply connected to the land. We will begin by assessing where we now stand with clear and insightful evaluations of the climate as it is evolving and  look for sustainable ways forward to a place of resilience in the face of changes sure to come.
The three sisters, corn, beans and squash, offer a sustainable and mutually nurturing model of agriculture developed by the Iroquois. They also provide a fruitful metaphor for the cooperation, connectedness and community which  will  help us trough the difficult days ahead.
These will be the guiding values which we hope will allow us to find our way to a new balance in a path which cultivates resilience and sustainability.
More info:

≈≈≈≈≈≈≈≈≈≈≈≈≈≈≈≈≈≈
Breaking News: Federal Court Refuses Mountain Valley Pipeline Request to Remove Tree Sitters in Virginia
≈≈≈≈≈≈≈≈≈≈≈≈≈≈≈≈≈≈
≈≈≈≈≈≈≈≈≈≈≈≈≈≈≈≈≈≈
≈≈≈≈≈≈≈≈≈≈≈≈≈≈≈≈≈≈
≈≈≈≈≈≈≈≈≈≈≈≈≈≈≈≈≈≈
≈≈≈≈≈≈≈≈≈≈≈≈≈≈≈≈≈≈
≈≈≈≈≈≈≈≈≈≈≈≈≈≈≈≈≈≈
≈≈≈≈≈≈≈≈≈≈≈≈≈≈≈≈≈≈
≈≈≈≈≈≈≈≈≈≈≈≈≈≈≈≈≈≈
Male Seahorse giving birth in the wild
Male H.Whitei seahorse giving birth off of Little Beach in Nelson Bay, NSW, Australia. Found by myself and Clayton Manning (http://www.projectseahorse.org/resear…) while doing seahorse surveys with Project Seahorse.—meagan abele, "White's Seahorse giving birth in the wild- NSW Aus," YouTube, 11/12/15
≈≈≈≈≈≈≈≈≈≈≈≈≈≈≈≈≈≈
Keeping the land:
indigenous communities' struggle over land use
and sustainable forest management in Indonesia
Note from The Banner's Editors: Key points from a very important scholarly study on indigenous forest management in Indonesia

Sustainable and equitable natural resource management became one of the most important issues in Indonesia's 1998 reform movement and in subsequent decentralization regulations. However, Indonesia's deforestation rate has been accelerating since early 2000.  This article analyzes the impact of accelerated deforestation in Indonesia with a focus on two communities who have been able to preserve their forests.
"We focus on two communities that represent those who have been able to preserve their forests, and investigate how they responded to the two major challenges: commercial logging and the (further) development of industrial oil palm plantations. Our two research questions are descriptive and explanatory in nature: 'How did the case study communities manage to preserve their forest in the face of logging and oil palm?' and 'Why did it happen that way?'"…
Yuliani,de Jong, Knippenberg, Bakara, Sunderland, "Keeping the land: indigenous communities' struggle over land use and sustainable forest management in Kalimantan, Indonesia,"  Center for International Forestry Research Center for International Forestry Research, 2018
This work is licensed under a Creative Commons Attribution 4.0 International License.
≈≈≈≈≈≈≈≈≈≈≈≈≈≈≈≈≈≈
≈≈≈≈≈≈≈≈≈≈≈≈≈≈≈≈≈≈
≈≈≈≈≈≈≈≈≈≈≈≈≈≈≈≈≈≈
≈≈≈≈≈≈≈≈≈≈≈≈≈≈≈≈≈≈
≈≈≈≈≈≈≈≈≈≈≈≈≈≈≈≈≈≈
≈≈≈≈≈≈≈≈≈≈≈≈≈≈≈≈≈≈
≈≈≈≈≈≈≈≈≈≈≈≈≈≈≈≈≈≈
≈≈≈≈≈≈≈≈≈≈≈≈≈≈≈≈≈≈
≈≈≈≈≈≈≈≈≈≈≈≈≈≈≈≈≈≈
≈≈≈≈≈≈≈≈≈≈≈≈≈≈≈≈≈≈
≈≈≈≈≈≈≈≈≈≈≈≈≈≈≈≈≈≈
And That's A Wrap! Thanks to everyone who sent in news, action announcements and comments this week. Send kudos, rotten tomatoes and your story ideas, your group's action events, and news of interest to intrepid climate change and environmental justice warriors! Send to editor@thebanner.news.