June 11, 2019
Our title comes from a sign in the London Extermination Rebellion last month. Forces are aligning for a grand battle about whether to have a grand response as climate change begins to frighten more and more people. Some surprising side switching is going on too. We explore some of the details.…
First the news.
Action Alert! Stop the Williams NESE Pipeline —Send Comment Here!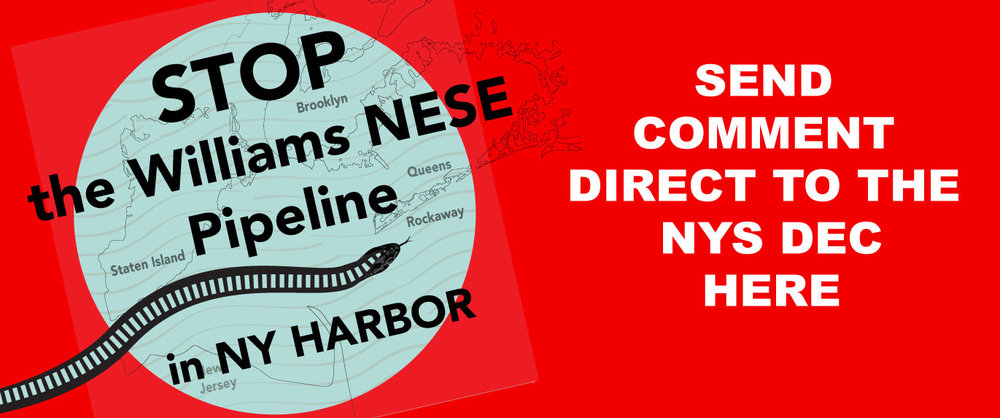 The New York Department of Environmental Conservation (DEC) has decision making power to stop this pipeline. They have very specific, legal criteria that gives them the power to deny Williams' application. Read below for more info and a link to all our ACTIONS to an easy-to-access, online prompts that helps you write your comment letter that will be sent direct to the DEC. We will continue to add a new subjects in the coming days.

Background: When the DEC denied Williams a WQC on May 15, 2019, a major reason it gave for the denial was the fact that the NESE project "would result in greenhouse gas ("GHG") emissions, which cause climate change and thus indirectly impact water and coastal resources." However … when Williams re-applied on May 17, 2019, it responded that, "without agreeing that this comment is relevant to the Water Quality Certification," building the NESE would reduce GHG emissions… CLICK HERE FOR MORE INFORMATION TO FORM YOUR COMMENT ON CLIMATE AND WATER IMPACTS

Background: When the DEC denied Williams a WQC on May 15, 2019, a major reason it gave for the denial was that construction of the NESE "would have major impacts to habitats due to the disturbance of shellfish beds and other benthic resources." However… in Williams' re-application submitted on May 17, 2019 ("WQC Application"), it responded that, while indeed, construction of the proposed pipeline would indeed destroy whatever shellfish beds lay in its path, it would offer "compensatory mitigation." CLICK HERE FOR MORE INFORMATION TO FORM YOUR COMMENT ON IMPACTS THIS PIPELINE WILL HAVE ON SHELLFISH & BENTHIC ORGANISMS THAT ARE CRUCIAL TO OUR ECOSYSTEM

Background: When the DEC denied Williams a WQC on May 15, 2019, a reason the DEC gave for the denial was that the construction schedule did not provide any buffers that would keep it from impinging on "time-of-year" restrictions should Williams encounter any delays. These restrictions ensure that vulnerable species can migrate and spawn without impediment. However… in Williams re-application on May 17, 2019, Williams responded that it had made the construction plan shorter to ensure that it wouldn't impinge on the migration and spawning of sensitive marine species. CLICK HERE FOR MORE INFORMATION TO FORM YOUR COMMENT ON THEIR UPDATED CONSTRUCTION SCHEDULE AND HOW IT IS EVEN MORE HARMFUL
WATCH THIS SPACE FOR MORE! https://www.stopthewilliamspipeline.org/sendcomment
≈≈≈≈≈≈≈≈≈≈≈≈≈≈≈≈≈≈
Pipeline Forum – East Greenbush Library
Wednesday June 12 at 7 pm
Speakers – Becky Meier, of Stop NY Fracked Gas Pipeline
                Jessica Azulay, of Alliance for a Green Economy
Burning of fracked gas increases greenhouse gas emissions and contributes to the climate crisis. Building the pipeline will disrupt our community, and release toxic chemicals in our neighborhoods, right across the river from Albany. 
This pipeline is not needed. It is a desperate attempt by Niagara Mohawk to increase profits for a few more years when they know the gas industry is dying.  Their profits will be at the expense of our climate and our community. Help us stop this dangerous project!
For more info:

Facebook page: Albany Loop/ E37 Fracked Gas Pipeline Proposal Public Forum
Website: Community Advocates for a Sustainable Environment website –
Email: Ruth Foster, rmfosterny@gmail.com
≈≈≈≈≈≈≈≈≈≈≈≈≈≈≈≈≈≈
≈≈≈≈≈≈≈≈≈≈≈≈≈≈≈≈≈≈
≈≈≈≈≈≈≈≈≈≈≈≈≈≈≈≈≈≈
Respect Existence or Expect Resistance
≈≈≈≈≈≈≈≈≈≈≈≈≈≈≈≈≈≈
≈≈≈≈≈≈≈≈≈≈≈≈≈≈≈≈≈≈
≈≈≈≈≈≈≈≈≈≈≈≈≈≈≈≈≈≈
≈≈≈≈≈≈≈≈≈≈≈≈≈≈≈≈≈≈
Economy vs. Ecology
A rigorous indictment of our economic system which, based on unlimited growth, will kill us eventually if we don't act. And we have to act fast, because there's this threat of a sudden massive burst of methane from the arctic offshore looming over us…
How can all this be? Well, unfortunately we are led by money. It is acting like a virus that has infiltrated our minds and our cultures in every level in society.
Watch and share this video, as our survival depends on us understanding this basic principle by which our self-destructive society is organized. We have to change this principle immediately, collectively.
This is Stuart Scott's most viewed talk from the COP20 back in 2014. It went viral in 2015 and was the most viewed video on this channel until recently. We are re-releasing it now, with improved visual quality, because we think it deserves all the attention it can possibly get.—Stuart Scott, "Economy vs. Ecology (Remastered)," UPFSI|YouTube, 6/6/19
≈≈≈≈≈≈≈≈≈≈≈≈≈≈≈≈≈≈
≈≈≈≈≈≈≈≈≈≈≈≈≈≈≈≈≈≈
≈≈≈≈≈≈≈≈≈≈≈≈≈≈≈≈≈≈
≈≈≈≈≈≈≈≈≈≈≈≈≈≈≈≈≈≈
And That's A Wrap! Thanks to everyone who sent in news, action announcements and comments this week. Send kudos, rotten tomatoes and your story ideas, your group's action events, and news of interest to intrepid climate change and environmental justice warriors! Send to editor@thebanner.news.