May 21, 2019
The recent flooding of the Midwest has triggered a multi-dimensional understanding of what climate change will mean to the nation's primary farming region. States are realizing the risks they face, and more are taking action than ever before.
But first the news.
New York Rejects Keystone-Like Pipeline in Fierce Battle
Over the State'€™s Energy Future
New York Rejects Keystone-Like Pipeline in Fierce Battle Over the State's Energy Future
Regulators denied an application for a $1 billion natural gas pipeline that environmentalists said would set back the fight against climate change.
In a major victory for environmental activists, New York regulators on Wednesday rejected the construction of a heavily disputed, nearly $1 billion natural gas pipeline, even as business leaders and energy companies warned that the decision could devastate the state's economy and bring a gas moratorium to New York City and Long Island.
The pipeline was planned to run 37 miles, connecting natural gas fields in Pennsylvania to New Jersey and New York. Its operator, the Oklahoma-based Williams Companies, pitched it as a crucial addition to the region's energy infrastructure, one that would deliver enough fuel to satisfy New York's booming energy needs and stave off a looming shortage.
But environmental groups said Williams was manufacturing a crisis to justify a project that would rip apart fragile ecosystems, handcuff New York to fossil fuels and hobble the state's march toward renewable resources.
The result was an arcane but fevered battle over what was potentially New York's most fraught environmental decision since it banned fracking in 2014. The fight also took on political overtones, as progressive activists pressed Gov. Andrew M. Cuomo to urge his Department of Environmental Conservation to reject the application, casting it as a threat to his environmental legacy.
In a statement announcing the denial, the conservation department did not refer to the firestorm that had preceded its decision, aside from noting that it had received comments from more than 45,000 people about the project — 90 percent of whom opposed it. The department laid out its decision in technical terms, noting that construction would contaminate New York's waters with mercury and copper.
"Construction of the NESE pipeline project is projected to result in water quality violations and fails to meet New York State's rigorous water quality standards," the department said, referring to what is formally called the Northeast Supply Enhancement pipeline.…—Vivian Wang, Michael Adno, "New York Rejects Keystone-Like Pipeline in Fierce Battle Over the State's Energy Future," The New York Times, 5/15/19
≈≈≈≈≈≈≈≈≈≈≈≈≈≈≈≈≈≈'
Students rally against controversial Meadowlands power plant project
Students rally against controversial Meadowlands power plant project
The march featured a strong contingent of local high school students from across the county, who rallied against plans for the gas-fired power plant.
A marching protest to "Save Our Lungs" by blocking a controversial power plant proposal in the Meadowlands drew hundreds of protesters to Ridgefield High School on Saturday, who sought to press Gov. Phil Murphy's administration into rescinding permits granted to the project.
The march featured a strong contingent of local high school students from across the county, who partnered with environmental organizations such as the Sierra club and Food and Water Watch to rally against the gas-fired power plant in an area already graded an 'F' for clean air by the America Lung Association.
Federal data shows that the plant, slated for North Bergen, would likely pump millions of tons of greenhouse gases into the atmosphere, enough to become the highest emitter of carbon dioxide in the state, tied with the Phillips 66 Bayway Refinery in Linden.
"Today we live in a world where we have to fight for the privilege to breathe clean air," Yoon Yung Kim, a high school student, said Saturday. "No amount of money is worth risking our lungs and our health."…—Tom Nobile, "Students rally against controversial Meadowlands power plant project," North Jersey, 5/19/19
≈≈≈≈≈≈≈≈≈≈≈≈≈≈≈≈≈≈
Pass the Off Fossil Fuels Act, New York's Strongest Climate Change Bill
Pass the Off Fossil Fuels Act, New York's Strongest Climate Change Bill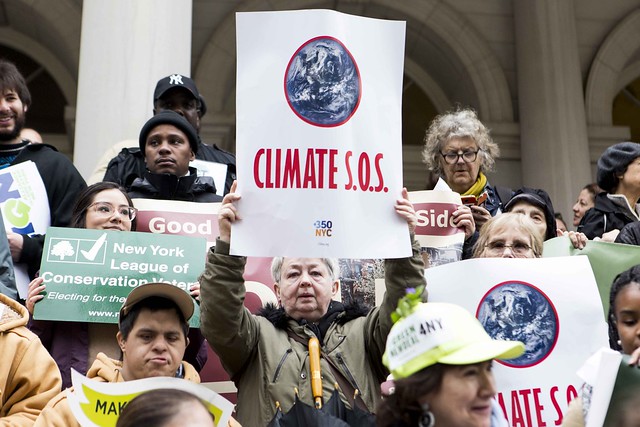 Grassroots climate activists hope that before state lawmakers adjourn for the summer they will strike a deal with Governor Cuomo to adopt the strongest climate legislation possible.
And let's be clear: the strongest climate bill is the NYS OFF Act (A3565/S5526), not the more publicized Climate and Community Protection Act (CCPA).
The Off Fossil Fuels Act, for 100% renewable energy by 2030, grew out of the successful grassroots campaign to ban fracking in New York. It seeks to implement the study done by Stanford and Cornell professors showing how the state could by 2030 obtain 100% of its energy from solar, wind, geothermal, and conservation. It includes the critical component of calling for a halt to all new fossil projects, a measure not included in either the CCPA or by the governor in his agenda. Forty state lawmakers are sponsoring the OFF Act.
The CCPA deserves praise for making environmental justice and a "just transition" central objectives of any climate action. But its climate policies are centered around enacting into law a ten-year-old Executive Order from the Paterson administration. The bill that the State Assembly passed every year since 2009 to do that was changed three years ago to the CCPA, adding environmental justice and labor provisions.
Our understanding of climate change has itself changed a lot in the last decade, especially so in the last three years. The climate goals in the CCPA were rejected by developing countries at the Paris climate talks. They rebelled against the industrial polluter nations which want a goal of keeping global warming below 2 degrees Celsius, insisting the target be lowered to 1.5 degrees.
The International Panel on Climate Change (IPCC) recently warned the world that it had to significantly step up its climate actions as we have less than 12 years left to save life on the planet. The IPCC is a conservative body, due to the nature of "scientific consensus" and because its pronouncements need to be approved by the fossil-fuel centered countries like Saudi Arabia, the United States, Russia, and Brazil. Every study by the IPPC has understated the speed and severity of climate change. As one of its authors has said, for an accurate read, take our worst case scenario and double it.
Even Governor Cuomo upgraded his climate goals following the IPCC report, now calling for 70% of state electricity to be renewable by 2030.
I spent more than three decades organizing for a variety of low-income community groups to end poverty and promote economic justice. We cannot solve the climate crisis without ensuring that the poor and workers benefit from the transition. While dedicating jobs and climate funding to lift up disadvantaged communities, we need to advocate for policies that ensure such communities are not blown, washed, or burnt away by extreme weather.
We need to remember that it is the developing world that is home to the principal victims of climate change. Half of the residents of Puerto Rico were without electricity and drinking water for six months – and they are part of the United States (despite how the Trump administration may approach them)!
Scientists now openly discuss the possibility of human extinction and/or the end of civilization as we know it. The Extinction Rebellion has risen to demand an end to greenhouse gas emissions by 2025. A majority of Congressional Democrats from New York sponsor the federal Green New Deal with its 2030 timeline and the federal OFF Act with a goal of 2035. How can New York pursue a timeline decades slower?
We have to enact bold, even radical, climate measures that increase the chances of humans surviving climate chaos. We have to reject the approach of embracing incremental measures that politicians, paid for by fossil fuel campaign contributions, find "reasonable."
New York lawmakers need to take the best ideas from the OFF Act, CCPA, Cuomo's agenda, and the half-dozen other climate bills. Climate activists need to weigh in on the details of the dozens of issues being negotiated by legislative leaders.…—Mark Dunlea, "Pass the Off Fossil Fuels Act, New York's Strongest Climate Change Bill," Gotham Gazette, 5/17/19
≈≈≈≈≈≈≈≈≈≈≈≈≈≈≈≈≈≈
Local environmentalist to battle National Grid pipeline
NORTH GREENBUSH, N.Y. (NEWS10) – National Grid is aiming to construct a new pipeline through several Rennsselaer County communities to help with the needs of its customers. Community Advocates for a Sustainable Environment is with lawmakers in an attempt to stop the construction.
"The state, the country, the world, have all acknowledged that we need to cut down on fossil fuels. We can't move toward that and continue to build fossil fuel infrastructure," said member Becky Meier.
---
The public comment period for this proposal ends on May 24.
Call Cuomo Monday: Stop the East Greenbush Fracked Gas Pipeline
Here are some talking points about the risks of the pipeline you can use in your comment.
Submit your comment here>.
---
The group said they've taken on a large energy company before and won. Now they're preparing to take on National Grid to stop the seven-mile gas line that is slated to run through Delmar, North Greenbush and East Greenbush.…—Louis Finley, "Local environmentalist to battle National Grid pipeline," ABC|Albany, 4/3/19
≈≈≈≈≈≈≈≈≈≈≈≈≈≈≈≈≈≈
Cayuga Power Plant Wants to Shut Down,
Convert to Power-Hungry Data Center
Cayuga Power Plant Wants to Shut Down, Convert to Power-Hungry Data Center
LANSING, May 17, 2019 — The Cayuga Generating Co. power plant, one of the state's two remaining coal-fired facilities, announced plans this week to shut down and convert into an energy-gobbling data center with a solar farm.
The 15-megawatt solar array would cover only about one-seventh of the energy needed to power and cool the center's banks of computers, which would store and manage "cloud" data.
The proposal hinges on its owners' success in obtaining favorable energy concessions and other financial aid from the state.
In recent months those owners had been seeking approval to convert one of its two coal units to burn natural gas, delivered by truck from fracked gas wells in Pennsylvania.
Their decision to abort that proposed coal-to-gas conversion and simply shut down drew applause from several local environmental groups.
"How fitting to replace this relic of the last century's dirty fossil-fuel era with today's modern technology, powered by clean renewable energy," said Irene Weiser, co-founder for No Fracked Gas Cayuga.
The plant, located 15 miles north of Ithaca on the east side of Cayuga Lake, is owned by Riesling Power LLC of Easton, Md., which also owns Somerset Operating Co., operator of the state's only other coal plant (on Lake Ontario, north of Buffalo).
Somerset, which has recently fallen behind on its local tax obligations, also plans to shut down and convert to a giant data center.
Both coal plants have struggled financially in recent years in spite of big tax breaks and heavy ratepayer subsidies.
Their prospects have been further clouded by Gov. Andrew Cuomo's public pledge to close all of the state's coal-fired plants by the year 2020.…—Peter Mantius, "Cayuga Power Plant Wants to Shut Down, Convert to Power-Hungry Data Center," Water Front, 5/17/19
≈≈≈≈≈≈≈≈≈≈≈≈≈≈≈≈≈≈
Just Add Earth
Can Dirt Save the Earth?
Can Dirt Save the Earth?
Agriculture could pull carbon out of the air and into the soil — but it would mean a whole new way of thinking about how to tend the land.
When John Wick and his wife, Peggy Rathmann, bought their ranch in Marin County, Calif., in 1998, it was mostly because they needed more space. Rathmann is an acclaimed children's book author — "Officer Buckle and Gloria" won a Caldecott Medal in 1996 — and their apartment in San Francisco had become cluttered with her illustrations. They picked out the 540-acre ranch in Nicasio mostly for its large barn, which they planned to remake into a spacious studio. Wick, a former construction foreman — they met when he oversaw a renovation of her bathroom — was eager to tackle the project. He knew the area well, having grown up one town away, in Woodacre, where he had what he describes as a "free-range" childhood: little supervision and lots of biking, rope-swinging and playing in the area's fields and glens.
The couple quickly settled into their bucolic new surroundings. Wick began fixing leaks in the barn. Rathmann loved watching the many animals, including ravens, deer and the occasional gopher, from the large porch. She even trained the resident towhees, small brown birds, to eat seed from her hand. So smitten were they with the wildlife, in fact, that they decided to return their ranch to a wilder state. For nearly a century, this had been dairy country, and the rounded, coastal hills were terraced from decades of grazing. Wick and Rathmann would often come home and find, to their annoyance, cows standing on their porch. The first step they took toward what they imagined would be a more pristine state was to revoke the access enjoyed by the rancher whose cows wandered their property.
Within months of the herd's departure, the landscape began to change. Brush encroached on meadow. Dried-out, uneaten grass hindered new growth. A mysterious disease struck their oak trees. The land seemed to be losing its vitality. "Our vision of wilderness was failing," Wick told me recently. "Our naïve idea was not working out so well."
Wick was especially bothered by the advance of a prickly, yellow-flowered invasive weed called the woolly distaff thistle. He pulled it, mowed it, doused it with herbicides. But the distaff kept moving into what had been pasture. He thought about renting goats to eat the weeds and brush, but they were too expensive. He even considered introducing wild elk, but the bureaucratic hurdles seemed too onerous.
Then Wick and Rathmann met a range land ecologist named Jeff Creque. Instead of fighting against what you dislike, Creque suggested, focus on cultivating what you want. Squeeze out weeds by fostering conditions that favor grasses. Creque, who spent 25 years as an organic-pear-and-apple farmer in Northern California before earning a Ph.D. in range land ecology, also recommended that they bring back the cows. Grasslands and grazing animals, he pointed out, had evolved together. Unlike trees, grasses don't shed their leaves at the end of the growing season; they depend on animals for defoliation and the recycling of nutrients. The manure and urine from grazing animals fuels healthy growth. If done right, Creque said, grazing could be restorative.
Further reading: Just add compost: How to turn your grassland ranch into a carbon sink
This view ran counter to a lot of conservationist thought, as well as a great deal of evidence. Grazing has been blamed for turning vast swaths of the world into deserts. But from Creque's perspective, how you graze makes all the difference. If the ruminants move like wild buffalo, in dense herds, never staying in one place for too long, the land benefits from the momentary disturbance. If you simply let them loose and then round them up a few months later — often called the "Columbus method" — your land is more likely to end up hard-packed and barren.…—Moises Velasquez-Manoff, "Can Dirt Save the Earth?," The New York Times, 4/18/18
≈≈≈≈≈≈≈≈≈≈≈≈≈≈≈≈≈≈
The Midwest's "bomb cyclone" was more of a catastrophe
than anyone could have ever imagined
The Midwest's "bomb cyclone" was more of a catastrophe than anyone could have ever imagined
It's threatening the region's most valuable resource.
After "bomb cyclone" storms hit the Midwest last week, large swaths of Nebraska, Iowa, and Missouri farmland are stricken with floods. "Baby calves were swept into freezing floodwaters, washing up dead along the banks of swollen rivers," the New York Times reported from the ground in Nebraska on Tuesday. "Farm fields were now lakes." Three people have died, and in many places, "rail lines and roads that carry farmers' crops to market were washed away by the rain-gorged rivers that drowned small towns," the Times added.
 The disaster slammed Midwestern farmers at a vulnerable time. Besieged by rising competition from growers in Brazil, they're locked in a five-year slump of low prices for their main crops, corn and soybeans, which intensified when President Donald Trump launched a multi-front trade war last year. Farm debt has reached levels last seen in 1980, which marked the dawn of a devastating farm crisis, the Wall Street Journal reported in February. Farm bankruptcies in the region jumped 19 percent in 2018, reaching their highest level in a decade and nearly twice the 2008 rate. The floods will likely exact at least $1 billion in livestock losses and equipment damage to farms.
And severe winter and spring floods take another toll that's much more difficult to quantify: Soil loss, on a grand scale, right in the region that provides a huge amount of our food supply. The Midwest boasts one of the globe's greatest stores of topsoil, more than half of which has been lost in the past 50 years. Topsoil is the fragile, slow-to-regenerate resource that drives agriculture. As University of Washington ecologist David Montgomery explained in his terrific 2007 book Dirt: The Erosion of Civilizations: "With just a couple feet of soil standing between prosperity and desolation, civilizations that plow through their soil vanish."…—Tom Philpott, "The Hidden Catastrophe of the Midwest's Floods," Mother Jones, 3/20/19
≈≈≈≈≈≈≈≈≈≈≈≈≈≈≈≈≈≈
≈≈≈≈≈≈≈≈≈≈≈≈≈≈≈≈≈≈
≈≈≈≈≈≈≈≈≈≈≈≈≈≈≈≈≈≈
≈≈≈≈≈≈≈≈≈≈≈≈≈≈≈≈≈≈
≈≈≈≈≈≈≈≈≈≈≈≈≈≈≈≈≈≈
≈≈≈≈≈≈≈≈≈≈≈≈≈≈≈≈≈≈
And That's A Wrap! Thanks to everyone who sent in news, action announcements and comments this week. Send kudos, rotten tomatoes and your story ideas, your group's action events, and news of interest to intrepid climate change and environmental justice warriors! Send to editor@thebanner.news.