May 7, 2019
The week's news brought a handful of stories that governments and officials are beginning to get out front and follow. This week we explore several stories of official recognition and beginning actions on climate change.
But first the news.

May 13 from 11am-1pm
55 Eagle Street
Albany NY 12207
New York State is at a crossroads. Will we follow the path to 100% renewable heating or will we continue to spend billions of dollars expanding fracked gas infrastructure?
We know which way the big corporate utilities like National Grid want to take us. They want to expand the use of fracked gas and lock us into an energy system to benefit their business model for decades to come.
But New Yorkers are demanding something different!
On Monday May 13, join Renewable Heat Now, Stop the Williams Pipeline Coalition, and other allies in front of National Grid's '80×50 Pathway Forum' in Albany to call on Governor Cuomo to hold the gas utilities – National Grid, ConEd, NYSEG, and National Fuel – to account. Rally and speakers to be followed by a postcard and letter delivery to Governor Cuomo's office.
Join Fossil Free Tompkins and others from the Renewable Heat Now and Stop the Williams Pipeline Coalition for an Albany rally and postcard delivery to Governor Cuomo on Monday May 13th.
New York cannot meet its climate goals if proposed projects like the Williams Northeast Supply Enhancement (NESE) Pipeline and other fracked gas infrastructure are built. The climate science is clear and Governor Cuomo needs to make it just as clear that we are rejecting the path that leads to more gas and committing to the renewable energy future we need.
If you can't join us – please sign postcard to the Gov. and Share on FB
We're asking you and all your friends to sign the online postcard, share this newslette, share the Facebook event, and ask your organizations to sign the organizational sign on letter. And we sincerely hope you and your friends will join us in front of 55 Eagle Street in Albany at 11am on Monday, May 13!
≈≈≈≈≈≈≈≈≈≈≈≈≈≈≈≈≈≈
Paris to Pittsburgh
A Meaningful Movie for These Times
Join us for a FREE screening of "Paris to Pittsburgh," a new film from National Geographic, produced by Radical Media in partnership with Bloomberg Philanthropies, narrated by Emmy and Golden Globe Award-winning actress and activist Rachel Brosnahan ("The Marvelous Mrs. Maisel").
From coastal cities to America's heartland, Americans are demanding and developing real solutions in the face of climate change. And, as the weather grows more deadly and destructive, they aren't waiting on Washington to act. Learn about their incredible stories in Paris to Pittsburgh, and be inspired to create change right here in Chemung County.
WEDNESDAY, MAY 8, 7:00PM
The Park Church
Beecher Hall
208 West Gray St. (Please enter via the parking lot side door, near Gray St.)
Elmira, NY 14905
Sponsored by Mothers Out Front, People for a Healthy Environment, Coalition to Protect New York, Poor People's Campaign, Elmirans and Friends Against Fracking, and The Park Church.
≈≈≈≈≈≈≈≈≈≈≈≈≈≈≈≈≈≈
'Top Job' Award for Converting a Historic
Fayetteville Home to Geothermal
Fayetteville, NY – A historic Fayetteville home and a local HVAC contractor are the winners of the 2019 GeoStar Top Job Competition for a geothermal installation. Halco, an HVAC contractor with offices in Liverpool, Phelps, Rochester, and Ithaca, NY won the prestigious award at the annual NY-GEO conference held in Schenectady, NY in April. Halco was among five companies who were chosen to present their noteworthy geothermal (ground source heat pump) projects as finalists in the 2019 GeoStar Top Job Competition
Halco's winning job, 'The Noble House,' converted a historic home right in the heart of Fayetteville, NY from natural gas to geothermal heating and cooling, eliminating fossil fuel use in the home. The home was built in the early 1800's and was home to the prominent abolitionist and publisher of Uncle Tom's Cabin, Linnaeus P. Noble.
The award will be presented to Halco and the Noble House owner William Sunderlin in a ceremony at noon on Thursday, May 23rd at the Noble House. Elected officials, the public and the press are invited to the ceremony at 305 E. Genesee St., Fayetteville, NY.  Light refreshments and snacks will be served. Those interested in attending this free event are asked to register in advance at https://www.eventbrite.com/e/ny-geo-top-job-award-ceremony-tickets-61257133736.
"The objective of the GeoStar Top Job Competition is to highlight and recognize the incredible talent, care, creativity and imagination that geothermal system designers and installers, bring to their projects" explained Bill Nowak, Executive Director of NY-GEO. "The competition also communicates to those outside the industry the variety of ways that geothermal heat pump technology can be applied. The Noble House is an excellent example of the ability to install geothermal systems even on small lots and in historic homes."
A detailed description of the Noble House project can be found here on the NY-GEO website: https://ny-geo.org/pages/the-noble-house. It includes pictures and a short interview with owner William Sunderlin.Following strict historic preservation guidelines including preservation of floor-to-ceiling historic windows, this was a large scale retrofit project with many upgrades made, including major shell work.
"Halco fully believes in the concept of 'Reduce before you produce,'" explained Halco owner Hal Smith. "Tightening up the home by improving the insulation and reducing drafts was an important first step." Once all prep work was completed, the geothermal system was properly sized and designed to fit the heat demand of the home. Halco installed a 12-ton system, drilling (3) bore holes to a depth of 420 ft with 1.5" loops tied into 4 separate heat pumps;
one heat pump for the hot water,

one to heat and cool the second floor of the home,

one for the main living space, and

a fourth to heat and cool the adjoining apartment.
All heat pumps are tied into GeoStar remotely programmable thermostats, which allow comfort control, humidity control and access to energy use data for the homeowner.
Recognizing the GeoStar Top Job honor, homeowner William Sunderlin states, "Within Halco, the person who deserves special recognition is Shawn Hodge, their lead geothermal installer. Faced with the challenge of installing 21st century technology in a 19th century house, Shawn mobilized his ample creativity, problem-solving skills, and technical knowledge to surmount every challenge – there were many! – that got in his way."
Prior to install, Mr. Sunderlin was a natural gas customer. As a climate scientist, he had been considering going green for 20 years and is keenly aware of the importance of getting off fossil fuels. Today, William is a member of the steering committee for HeatSmart CNY, a community-based campaign helping building owners connect with assessments, incentives, and technologies to make homes and businesses more comfortable, cost-effective, and better for the environment.  Mr. Sunderlin has opened his home to the public as part of HeatSmart CNY home tours, and passionately encourages others to consider clean energy.
In addition to the May 23rd Award Ceremony, the Noble House will also open its doors for a tour of its energy efficient renovation in June as part of ArtRage Gallery's annual "Pedal Power" bike tour fundraiser on June 15. Bicyclists will begin at ArtRage in Syracuse and bike along the path of the old Erie Canal, touring the Noble House before returning to ArtRage for a luncheon. To register visit http://artragegallery.org/artrage-bike-ride-fundraiser/.
≈≈≈≈≈≈≈≈≈≈≈≈≈≈≈≈≈≈
EPA Decides Not to Regulate Fracking Wastewater
as Pennsylvania Study Reveals Recent Spike
EPA Decides Not to Regulate Fracking Wastewater as Pennsylvania Study Reveals Recent Spike
On April 23, the U.S. Environmental Protection Agency (EPA) told two environmental groups that it had decided it was "not necessary" to update the federal standards handling toxic waste from oil and gas wells, including the waste produced by fracking.
On April 23, the U.S. Environmental Protection Agency (EPA) told two environmental groups that it had decided it was "not necessary" to update the federal standards handling toxic waste from oil and gas wells, including the waste produced by fracking.
State regulators have repeatedly proved unable to prevent the industry's toxic waste from entering America's drinking water supplies, including both private wells and the rivers from which public drinking water supplies are drawn, the Environmental Protection Agency concluded in a 2017 national study.
The corrosive salt-laden wastewater from fracked wells has been spread on roads as a de-icer. It's been sprayed into the air in the hopes of evaporating the water — a practice that spreads its blend of volatile chemicals into the air instead. Oil industry wastewater has even been used to irrigate crops — in California, where state regulators haven't set rules to keep dangerous chemicals like the carcinogen benzene out of irrigation water.
If equally contaminated waste came from other industries, it would usually be designated hazardous waste and subject to strict tracking and disposal rules designed to keep the public safe from industrial pollution. But in July 1988, after burying clear warnings from its own scientists about the hazards of oilfield waste, the EPA offered the oil and gas industry a broad exemption from hazardous waste handling laws.
"Rather than acting in the best interest of the public, EPA has continually shirked its duties and left our communities' health, drinking water, and environment at risk," said Adam Kron, senior attorney at the Environmental Integrity Project, one of the two groups that had asked the agency to consider its stance towards the waste. "EPA has known since 1988 that its rules for oil and gas wastes aren't up to par."…—Sharon Kelly, "EPA Decides Not to Regulate Fracking Wastewater as Pennsylvania Study Reveals Recent Spike," DeSmogBlog, 5/25/19
≈≈≈≈≈≈≈≈≈≈≈≈≈≈≈≈≈≈
Glimmers of Official Notice
Climate Change Has Its Political Moment
Climate Change Has Its Political Moment
n Wednesday, the British House of Commons, led by the Conservative Party, voted to declare that the planet was in a "climate emergency." The day before, a CNN poll found that, in the United States, Democratic voters care more about climate change than about any other issue in the upcoming Presidential election: more than health care, more than gun control, more than free college, more than impeaching the President. Having followed the issue closely since I wrote my first book about climate change, thirty years ago, I think I can say that we're in a remarkable moment, when, after years of languishing, climate concern is suddenly and explosively rising to the top of the political agenda. Maybe, though not certainly, it is rising fast enough that we'll get real action.
This is not, in fact, the first climate moment: there have been a few times during the past three decades when it appeared as if our political leaders might seriously engage with the issue. The first was in 1988, when the NASA scientist Jim Hansen's testimony to Congress took the problem public. People were shocked to learn that the Mississippi River was so drought-diminished that barge traffic had slowed; Time named "Endangered Earth" its Planet of the Year; George H. W. Bush, running for President against Michael Dukakis, promised to battle the greenhouse effect with "the White House effect."
Another moment came in the mid-aughts, with the release of Al Gore's documentary "An Inconvenient Truth." The film's graphic findings produced what seemed like a bipartisan groundswell: Gore's Alliance for Climate Protection produced ads pairing political odd fellows, such as Al Sharpton and Pat Robertson, sounding the alarm. In one ad, Newt Gingrich and Nancy Pelosi sit side by side on a couch, in front of the Capitol. "We don't always see eye to eye, do we, Newt?" Pelosi says.
"No," Gingrich replies. "But we do agree our country must take action to address climate change."
Neither of those moments, though, produced real change. Bush did nothing; Gingrich, running for President in 2011, called the ad "probably the dumbest single thing I've done in recent years." Congress never acted, and the temperature kept rising.
But this third climate moment is rooted in broad movements, not élite opinion, and so it feels different. Right now, a group of young people is touring the country pushing for action on a Green New Deal, the legislation introduced earlier this year by Representative Alexandria Ocasio-Cortez and Senator Ed Markey, which would push for the rapid decarbonization of America's energy supply. Polls show surprisingly widespread public support for it, and various versions are being introduced in cities and states across the nation, as well as in other countries. The Climate Mobilization Act, the most ambitious plan of its kind in a large city, passed in the City Council, two weeks ago, and Mayor Bill de Blasio signed it into law on Earth Day. Meanwhile, much of central London was shut down for a week by a group called Extinction Rebellion, which camped in the streets, Occupy-style (and had the good sense to eventually leave to fight again another day). And, perhaps most remarkably, school students around the world have been staging daylong strikes, following the lead of Greta Thunberg, a Swedish teen-ager who in recent days has met with the Pope and addressed both the European Parliament and the British Parliament.
Many streams contributed to this tide. Ten years of movement-building, often led by those most at risk, laid a foundation. (The young people of the Sunrise Movement, who have championed the Green New Deal, cut their teeth in the campus fossil-fuel-divestment movement.) Scientists sharpened their analysis. (Last year's report by the Intergovernmental Panel on Climate Change was the first to set a deadline—of 2030—for being fully under way with the fundamental transformation necessary to meet the targets set in the Paris climate accords.) Donald Trump's foolery heightened apprehensions. (One senses that even some of his most loyal supporters doubt that global warming is a "hoax manufactured by the Chinese.") And nature itself provided the strongest boost: flood after drought after firestorm, in every corner of the planet, pierced public consciousness. Last November, Americans saw a town called Paradise literally turned into hell within half an hour, and suddenly they had a glimpse of what climate change looks like.…—Bill McKibben, "Climate Change Has Its Political Moment," Reader Supported News, 5/5/19
≈≈≈≈≈≈≈≈≈≈≈≈≈≈≈≈≈≈
House Votes to Block U.S. Exit from Paris Climate Accord,
as Both Parties Struggle with Divisions
House Votes to Block U.S. Exit from Paris Climate Accord, as Both Parties Struggle with Divisions
Green New Deal supporters want faster action, and they're attacking their own party. Republicans try to back Trump while distancing themselves from deniers.
As the U.S. House of Representatives debated its first climate change legislation in a decade, the typical face-off between Democrats and Republicans wasn't as striking as the strains within each party.
Democrats on Thursday passed the Climate Action Now resolution, seeking to keep the United States in the Paris climate accord, but their restive progressives want far bolder action. Republicans, meanwhile, want to support President Donald Trump's plan to withdraw from the international agreement, but some of them sense political peril in maintaining a do-nothing climate stance.
House leaders mostly kept internal party strife over climate in check before the 231-190 vote, but the tensions are likely to play out on the road to the 2020 elections.
"There is no debate on our side about something as basic as climate change," said Rep. Jim McGovern (D-Mass.).
Yet Democratic leaders demonstrated their concern about unity in the very decision to move forward quickly with the Paris climate bill, steering clear for now of the internal controversy that would be stirred by either Green New Deal or carbon-tax legislation, both of which were introduced first. McGovern, as chairman of the House Rules Committee, shepherded through a strict procedure for debate on the legislation that would limit amendments—and conflict—on the House floor.
The Climate Action Now resolution, sponsored by Rep. Kathy Castor (D-Fla.), chair of the new House Select Committee on the Climate Crisis, would prohibit spending federal money on any action that would advance Trump's plan to withdraw from the Paris climate agreement. It also would require Trump to submit a report to Congress within 120 days on how he planned to meet the U.S. obligation under the agreement.
"This is the first time in 10 years that major climate legislation is being heard in the people's house," Castor said ahead of the vote, adding that honoring the Paris commitment was an appropriate place to start. Only one representative broke party ranks on the vote—Rep. Brian Fitzpatrick (R-Pa.) sided with the Democrats in favor of the measure. House Speaker Nancy Pelosi (D-Calif.) had lamented at her weekly news conference that the measure would be "dead on arrival" in the Republican-controlled Senate, where it is clear that Majority Leader Mitch McConnell (R-Ky.) will not take up the legislation.…—Marianne Lavelle, "House Votes to Block U.S. Exit from Paris Climate Accord, as Both Parties Struggle with Divisions," InsideClimate News, 5/2/19
≈≈≈≈≈≈≈≈≈≈≈≈≈≈≈≈≈≈
Does the Economy Really Need to Keep Growing?
…Quite So Much?
Does the Economy Really Need to Keep Growing Quite So Much?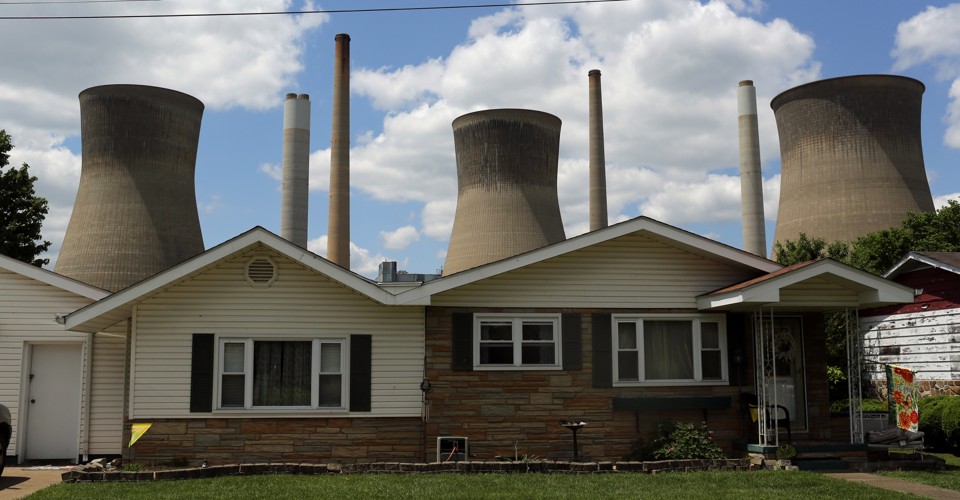 Questioning a basic orthodoxy
Most things don't grow forever. If a person grew at the same rate for his whole life, he'd become gigantic and perhaps perish (or else rule the world). Yet most economists are united around the idea that the economy needs to grow, always. And at a high rate, for the good of the country and its people.
As the thinking goes, growth of gross domestic product (GDP), which measures the goods and services produced in an economy every year is essential to a country's stability and prosperity. It is growth that is responsible for each generation being better off than its parents' generation, economists say. "More growth is better, period," Robert Gordon, a Northwestern economist, told me.
But some economists are now challenging that view, arguing that it makes more sense to focus on measures of well-being other than growth.  After all, despite a growth rate that has averaged three percent over the last 60 years (which is quite robust), there are still 43 million Americans living in poverty, and most people's wages are essentially unchanged from the end of the Reagan administration. In fact, the median income of households in 2014 was 4 percent lower than it was in 2000, despite positive economic growth in all but two of the years during that time period. For half a century, developed nations have focused on how to make their economies grow faster, hoping that strong growth would improve life for all their populations. But what if growth isn't the key to raising the standard of living across a society?
"Many of us think we would benefit from a multi-dimensional approach that captures things people care about," Michael Spence, a Nobel Prize laureate who is also an emeritus professor at Stanford, told me. "Missing from growth are many things: health, distributional aspects of growth patterns, sense of security, freedoms of various kinds, leisure broadly defined, and more."
…It's not just that maximizing growth doesn't necessarily help people, but also that rapid growth can itself come at a cost, such as when the pursuit of growth is used to push through policies that are expected increase the GDP but may have negative consequences for millions. For example, companies often say they could grow more quickly and produce more with fewer regulations, but loosening those regulations might also lead to more pollution and accidents in factories. Other times, policies that might be necessary for the country's long-term survival are avoided because of fears they might harm GDP. For example, conservatives criticize climate accords because they say that cutting greenhouse gases will reduce GDP by trillions of dollars. "The pursuit of growth can be quite dangerous," Peter Victor, an economist and environmental scientist at York University in Toronto, told me.…—Alana Semuels, "Does the Economy Really Need to Keep Growing?" The Atlantic, 11/4/16
≈≈≈≈≈≈≈≈≈≈≈≈≈≈≈≈≈≈
The Most Important Thing Individuals Can Do
About Climate Change,
According To Ernest Moniz
The Most Important Thing Individuals Can Do About Climate Change, According To Ernest Moniz
After receiving an award for science policy Thursday from the American Association for the Advancement of Science, former Energy Secretary Ernest Moniz took a question from an audience member, who asked what an individual should do on a personal level, in day-to-day life, to address climate change.
Moniz paused, said "Well, it's always adding up the activities of individuals," and then focused on a singular response:
"It's exactly what Greta in Sweden and the young people are saying: we're fed up with inaction, and we need to hold people accountable for this, because the stakes are very very high."
Moniz evoked an opinion piece he penned with former Secretary of State John Kerry that appeared April 22 in"one of the great academic journals of our time," USA Today. [USA Today is a for-profit publication of Gannett News Inc., not an academic journal.—Editor] It calls for coalition building of the sort that mobilized 20 million Americans around the first Earth Day in 1970, a movement that goaded politicians of both stripes to support such initiatives as the National Environmental Protection Act, the Clean Water Act, the Clean Air Act, the creation of the Environmental Protection Agency.
"There was political accountability," Moniz said Thursday, "and if you go back to looking at what happened to individual politicians at that time and their success or lack of success in elections, there was political accountability. People were fed up, it was time to address these issues on health and everything else."…—Jeff McMahon, "The Most Important Thing Individuals Can Do About Climate Change, According To Ernest Moniz," Forbes, 5/5/19
≈≈≈≈≈≈≈≈≈≈≈≈≈≈≈≈≈≈
Unsettling Forebodings
I devoted my life to help all life on Earth. But I exhausted myself in trying to heal the damage we've done, and in the process developed a cancer. I am with you all and I hope that you all are with me in this time of personal need.…—Stuart Scott, "Unsettling Forebodings," UPFSI|YouTube, 5/5/19
[Stuart Scott is the founder of  the United Planet Faith & Science Initiative (UPFSI). See the UPFSI website for more information on this climate justice warrior's work over the years. And see this video's website for info on contributing to his medical expenses as he continues his work through this new life passage.—Editor]

≈≈≈≈≈≈≈≈≈≈≈≈≈≈≈≈≈≈
'Climate emergency' declared in Wales
'Climate emergency' declared in Wales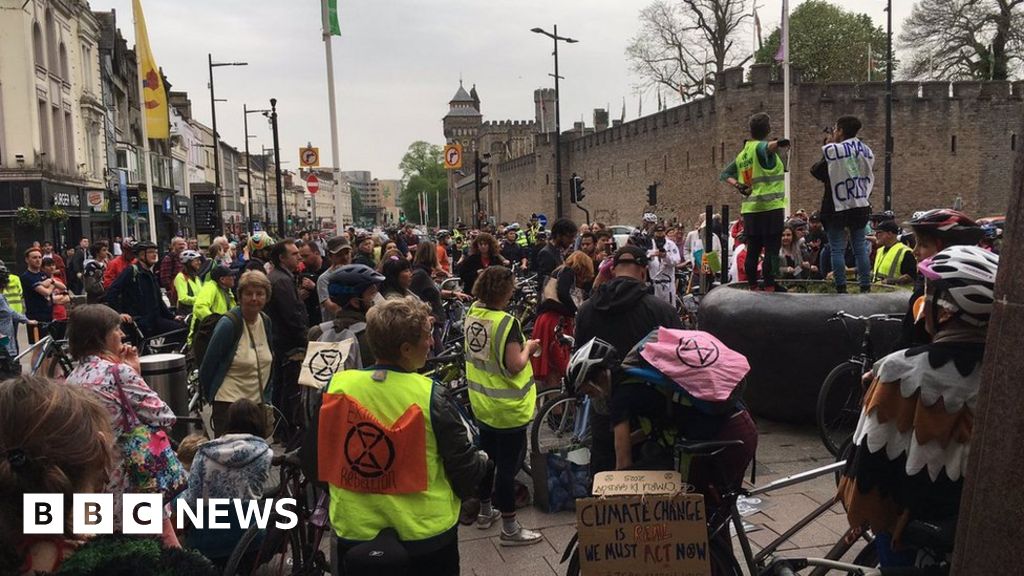 The Welsh Government's call comes after climate change protests in London and Cardiff.
A "climate emergency" has been declared in Wales following protests demanding politicians take action on climate change. The Welsh Government's Lesley Griffiths said she hoped the declaration would trigger "a wave of action". Climate change threatens Wales' health, economy, infrastructure and natural environment, she said.
Plaid Cymru welcomed the move but said it should mean the proposed upgrade to the M4 should be scrapped. The SNP's Nicola Sturgeon made a similar declaration at her party's conference on Sunday. Labour is expected to press the UK government to declare a national climate emergency on Wednesday.
It comes after protests by Extinction Rebellion protestors, who want politicians to declare a climate emergency. Protests in London led to the arrests of 1,000 people, while around 200 activists disrupted traffic in Cardiff last week by cycling slowly through the city.
'Cannot be empty grandstanding'
The declaration comes two days ahead of a Plaid Cymru climate change debate in the Senedd. Plaid environment spokesman Llyr Gruffydd said: "On Wednesday, we look forward to the Welsh parliament becoming the first in the world to officially declare such an emergency by backing Plaid Cymru's motion in the Assembly." "This must now mean a real and immediate commitment to tackling climate change head on with concrete action and the political will to see it through," he added.
"This includes scrapping the environmental disaster that is the M4 Relief Road, divesting from fossil fuels, and ensuring that sustainability and climate is a part of the new curriculum."
On Sunday first minister Mark Drakeford suggested the decision on the road could be further delayed by the European elections – but said the decision making timetable will be set out early this week.—"'Climate emergency' declared by Welsh Government," BBC News, 4/29/19
≈≈≈≈≈≈≈≈≈≈≈≈≈≈≈≈≈≈
The White House's Climate Committee
Red-Teams Reality
The White House's Climate Committee Red-Teams Reality
The Trump administration's working group appears designed to challenge the claim that climate change is something the government should be worried about at all.
On Feb. 22, deputies from a variety of government agencies convened a meeting to discuss the White House proposal to establish a Presidential Committee on Climate Security. The committee was to have been led by William Happer, the National Security Council's senior director for emerging technologies, and was slated to "advise the President on scientific understanding of today's climate, how the climate might change in the future under natural and human influences, and how a changing climate could affect the security of the United States." But just two days later, the Washington Post reported that the formal advisory committee had been nixed in favor of a less formal, less transparent and still-to-be-defined working group composed primarily of scientists. While the original plan has modified the structure and profile of the committee, the underlying objective of discrediting climate science in order to delay action appears unchanged.
In a normal administration, a presidential committee on climate change and national security would be welcome news. It would mean that the administration was taking seriously the enormous body of government analysis suggesting that climate change is poised to have serious national security consequences—the extent of which I highlighted recently in a three–part series on Lawfare on exactly this subject. If anything, the problem with the government's analysis is not its alarmism but its conservatism; in relying on the official scientific reports compiled by the international community, the national security establishment may be consistently, systematically underestimating how fast the planet will warm. The problem may well be far worse, especially in the long term, than the many government reports on the subject acknowledge. To be sure, the intersection of climate change and security is a complicated set of issues, and there is considerable uncertainty about the precise impacts of food insecurity, megastorms, rising seas, increased drought and other climatic changes on political stability in the long term. The issue merits both rigorous analysis and high-level attention.
But a blue-ribbon commission that will subject the government's work product to a rigorous, independent analysis along these lines—what's known as "red-teaming"—is not what the White House seems to have envisioned. The panel—even in its latest incarnation—appears designed to challenge the claim that climate change is something the government should be worried about at all. Don't take my word for it; there is plenty of evidence. The president, after all, has called climate change a "hoax" and frequently tweets his disbelief that the climate is changing when the temperature drops below freezing. After the release of a November 2018 report outlining the potentially devastating consequences of climate change for the United States—a report compiled by 13 U.S. government agencies—Trump simply told the media, "I don't believe it." Climate change is an area—like North Korea's missile program, the role of Prince Mohammed bin Salman in the killing of journalist Jamal Khashoggi, and the role of Russia in interfering in U.S. politics—where the president simply doesn't believe his own intelligence community and national security establishment. Apparently, the president's anger at the November report was a catalyst for the climate committee.…—Michelle Melton, "The White House's Climate Committee Red-Teams Reality," Lawfare, 2/26/19
≈≈≈≈≈≈≈≈≈≈≈≈≈≈≈≈≈≈
Global Fossil Fuel Subsidies Remain Large:
An Update Based on Country-Level Estimates
This paper updates estimates of fossil fuel subsidies, defined as fuel consumption times the gap between existing and efficient prices (i.e., prices warranted by supply costs, environmental costs, and revenue considerations), for 191 countries. Globally, subsidies remained large at $4.7 trillion (6.3 percent of global GDP) in 2015 and are projected at $5.2 trillion (6.5 percent of GDP) in 2017. The largest subsidizers in 2015 were China ($1.4 trillion), United States ($649 billion), Russia ($551 billion), European Union ($289 billion), and India ($209 billion). About three quarters of global subsidies are due to domestic factors—energy pricing reform thus remains largely in countries' own national interest—while coal and petroleum together account for 85 percent of global subsidies. [This works out to about $2000  per person cost to taxpayers in the US.–Editor]
Full report: Global Fossil Fuel Subsidies Remain Large: An Update Based on Country-Level Estimates
Efficient fossil fuel pricing in 2015 would have lowered global carbon emissions by 28 percent and fossil fuel air pollution deaths by 46 percent, and increased government revenue by 3.8 percent of GDP.
Abstract
There is now unprecedented worldwide interest in the reform of fossil fuel pricing, reflecting several underlying factors.1 First, reducing carbon dioxide (CO2) emissions from fossil fuels is central to greenhouse gas (GHG) mitigation commitments submitted by 190 countries for the 2015 Paris Agreement. Second, many countries are concerned about dangerously high local air pollution concentrations that frequently exceed (often dramatically so) World Health Organization (WHO) guidelines, and much of this pollution comes from fossil fuel combustion. Third, in the aftermath of the financial crisis, many countries face growing fiscal pressures from rising debt levels, which are likely to be reinforced over the medium to longer term by spending pressures from ageing populations (especially in advanced economies) and financing needs for the Sustainable Development Goals (especially in developing economies). Increasing fossil fuel prices is administratively straightforward and could play the central role in addressing all three concerns.
Information on the gap between existing and efficient levels of fossil fuel prices is a key ingredient of an informed debate on the need for, and benefits of, fuel pricing reform. It provides a basis for understanding the environmental, fiscal, and economic welfare impacts of moving to more efficient pricing, the likely social and political challenges, and a benchmark against which alternative policies (e.g., less ambitious fuel pricing or the use of non-pricing instruments) can be evaluated. This helps policymakers understand trade-offs, prioritize reforms, understand differences across countries, and communicate the case for reform.
This paper provides an updated assessment of global and regional energy subsidies2 based on comprehensive country-level estimates for 191 countries. Coady and others (2015) projected global energy subsidies for 2015 at a striking $5.3 trillion, or 6.5 percent of global GDP, with under-charging for domestic air pollution accounting for about half of the total subsidy and global warming about a quarter.3 Updating these estimates is important for various reasons. For one thing, the policy landscape is continuously changing as some countries move to more liberalized energy prices, some introduce or scale up carbon taxes and emissions trading systems (ETSs), some adjust pre-existing energy tax systems, and some take additional measures (e.g., through air emission regulations) to reduce local environmental impacts. For another, the impacts of domestic energy price reforms are constantly changing with changes in fuel consumption, international energy prices, numbers of people exposed to air pollution, road safety, people's valuation of environmental risks, and so on. In addition, new and often higher
Efficient fossil fuel pricing in 2015 would have lowered global carbon emissions by 28 percent and fossil fuel air pollution deaths by 46 percent, and increased government revenue by 3.8 percent of GDP.
Introduction
quality data are constantly becoming available (e.g., on components of environmental costs or fuel-price responsiveness) and methodologies for using these data may evolve. The new estimates presented in this paper are based on a comprehensive updating of a diverse range of international databases on fuel consumption, prices, air pollution emission rates, health indicators, road statistics, and environmental valuations, in addition to refined methodologies. The main findings of the paper can be summarized as follows:
 Underpricing of fossil fuels remains pervasive and substantial. For example, country-level coal prices were typically well below half of their fully efficient levels in 2015. Undercharging for road fuels is also pervasive with prices frequently falling short of their efficient levels by over 20 percent.
At the global level, energy subsidies are estimated at $4.7 trillion (6.3 percent of world GDP) in 2015 and $5.2 trillion (6.5 percent of GDP) in 2017. At the aggregate level, the moderately smaller global figure for 2015 compared to previous estimates is mainly due to lower externality estimates (e.g., lower air pollution emission rates in China) and lower (than previously projected) fuel consumption, reflecting mostly updated data and regulatory policy changes. At the product and country level, there are numerous other, often offsetting, factors significantly changing energy subsidy estimates. The impact of recent energy (and carbon) pricing reform at the global level is limited.
In absolute terms, China was still, by far, the largest subsidizer in 2015 (at $1.4 trillion), followed by the United States ($649 billion), Russia ($551 billion), European Union ($289 billion), and India ($209 billion). By region, Emerging/Developing Asia accounts for nearly 40 percent of global energy subsidies, followed by Advanced Economies (27 percent), Commonwealth of Independent States (15 percent), Middle East, North Africa, Afghanistan, and Pakistan (9 percent), Latin America/Caribbean (5 percent), Emerging/Developing Europe (3 percent), and Sub-Sahara Africa (2 percent).
By component, underpricing for local air pollution is still the largest source (48 percent in 2015), while that for global warming is similar to earlier estimates (24 percent), followed by broader environmental costs of road fuels (15 percent), undercharging for general consumption taxes (7 percent) and for supply costs (7 percent). Energy pricing reform therefore remains largely in countries own interest, given that about three quarters of the benefits are local. By fuel, coal remains the largest source of subsidies (44 percent), followed by petroleum(41 percent), natural gas (10 percent), and electricity output (4 percent).
If fuel prices had been set at fully efficient levels in 2015, estimated global CO2 emissions would have been 28 percent lower, fossil fuel air pollution deaths 46 percent lower, tax revenues higher by 3.8 percent of global GDP, and net economic benefits (environmental benefits less economic costs) would have amounted to 1.7 percent of global GDP.
The rest of paper is organized as follows. Section 2 recaps the definition of corrective fuel taxes and energy subsidies and discusses procedures for updating their estimates with a particular focus on local air pollution given its importance for the results. Section 3 distills some of the quantitative results—the complete set of results for 191 countries is provided in the online spreadsheet—and reconciles results with earlier estimates. Reflecting the uncertainty associated with the estimates, it also presents sensitivity analyses with respect to key parameter assumptions. Section 4 offers concluding remarks..…— David Coady,  Ian Parry,  Nghia-Piotr Le, Baoping Shang, "Global Fossil Fuel Subsidies Remain Large: An Update Based on Country-Level Estimates," International Monetary Fund, 5/5/19
≈≈≈≈≈≈≈≈≈≈≈≈≈≈≈≈≈≈
And That's A Wrap! Thanks to everyone who sent in news, action announcements and comments this week. Send kudos, rotten tomatoes and your story ideas, your group's action events, and news of interest to intrepid climate change and environmental justice warriors! Send to editor@thebanner.news.