December 25, 2018
"We today, we care very much; we say, 'we have to have hope —if there's no hope we can't do anything.' But even if there is no hope we have to do something. Not having hope is not an excuse for not doing anything. Of course we need hope, but the one thing we need more than hope is action. Because once we start to act, hope is everywhere. So instead of looking for hope we should look for action. For then, only then, will hope come."—Greta Thunberg, COP24 Katowice
The children have taken up the leaders' mantles, and have become our prophets.
More on that, but first the news.
Winter 2019 Rochester Drawdown Events
Drawdown Solutions: Getting into Action (4 Sessions per Course)

Thursdays, Feb. 14, 21, 28, Mar. 28, 2019, 6:30-9:00pm

Third Presbyterian Church, Johnston Hall; 4 Meigs St.; Rochester, NY 14607

Register:


https://connect.pachamama.org/node/1306
≈≈≈≈≈≈≈≈≈≈≈≈≈≈≈≈≈≈
A Landowner's Experience With Dominion Energy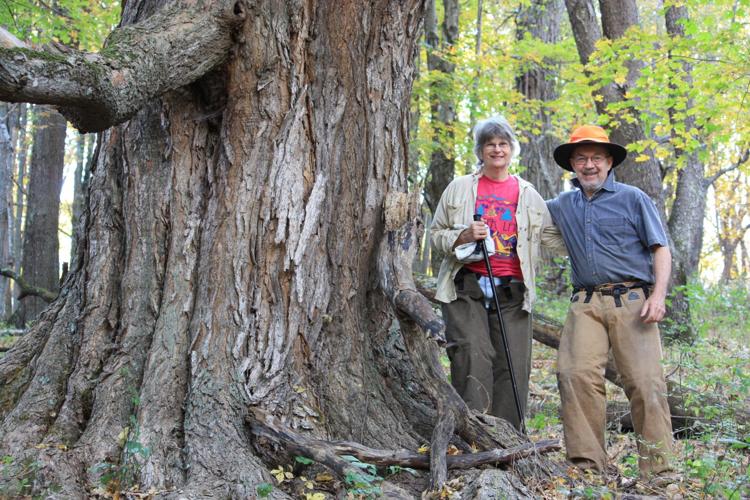 Lynn and William Limpert on their property in Bath County with a tree they expect to lose to the Atlantic Coast Pipeline. It's a sugar maple whose circumference measures 15 feet. Limpert estimates that it is "probably between 250 and 300 years old and too big for the forester's core sampler." Photo Courtesy of William Limpert
The Fourth Circuit Court of Virginia recently stayed the second United States Fish and Wildlife Service (USFWS) biological opinion and incidental take statement for the Atlantic Coast Pipeline (ACP). The USFWS document concludes that construction and operation of the ACP would not further threaten a number of endangered species. We believe otherwise. This is the second time the court has acted on this issue.
The original and similar USFWS statement was vacated in earlier proceedings, and the USFWS quickly wrote another, apparently equally flawed. Rank and file USFWS workers have been told that cases involving natural gas pipelines were particularly important, and opinions need approval from head personnel at USFWS. The USFWS has never inspected any part of the proposed ACP. They based their decision in part on surveys conducted by the ACP, with no independent verification of actual site conditions.
The issuance of a stay generally means that the court believes that the case for vacating the USFWS opinion is strong. The stay was requested because the ACP was about to start tree cutting in areas where endangered species were known to exist. This case is expected to be heard next March.
Perhaps the most endangered species along the proposed route of the ACP is the Rusty Patched Bumble Bee, which could easily face extinction in the near future. Last year surveyors for the ACP found a single Rusty Patched Bumble Bee on National Forest land within about 1/2 mile of our home. They only searched for one additional hour after finding the single specimen. The bee was found on June 7th, but the ACP did not report this to the Federal Energy Regulatory Commission (FERC) until July 21st.
FERC is fully funded by the energy industry, and is the agency that has the authority to approve or disapprove interstate gas pipelines. They have been in operation for a little over 40 years, and have approved over 500 gas pipelines, while turning down only two. They are incredibly pro industry and promote the industry rather than truly regulating it. FERC declined to include the finding of the Rusty Patched Bumble Bee in it's environmental impact statement, and stated that it was too late in the process to include it.
I am a declarant in this case, as are our neighbors. This past summer we searched for and found several Rusty Patched Bumble Bees in our back yard in Bath County, in Little Valley, Virginia. This is within 500 feet of where the ACP is proposed to cut a 125 foot swath of destruction for over 3,000 feet through our certified old growth, and extremely rare never been cut virgin forest. Pipeline construction would cut down about 300 trees on our property which are older than our country. It would also cut down mature groves of Mountain Laurel and Rhododendron, a preferred early season food of the bees. In fact, a large grove of Mountain Laurel on our property has already been cut during an ACP survey of our property last year when the survey crew snuck onto our property.
Further searches by wildlife experts found several more Rusty Patched Bumble Bees on a neighboring property, and elsewhere to our north. This is the largest finding of this extremely rare species in decades.
My wife and I have not received eminent domain papers from the ACP at this time. We expect them at any time, but with the stay in place we are not sure when we will be served. If so, we will argue that the project and the route are in jeopardy, and our property should not be taken under those circumstances. A judge in North Carolina issued a stay in an ACP eminent domain case earlier this year due to uncertainty about the pipeline.
I have seen first hand how ACP surveys do not accurately describe site conditions. Their surveys on our property and elsewhere in Little Valley are inaccurate, and all to the benefit of the ACP. The surveys are conducted by companies hired by the ACP, and I'm sure that they want to give results that are favorable to the company that has hired them. FERC does not survey on their own, and does not require independent verification of ACP survey findings.
I recently learned that the geohazard on site survey for a recent large landslide on the side of Little Mountain very close to the proposed pipeline near our property was made without actually looking at the landslide. The surveyor was nearby, but never bothered to look at the landslide. The report incorrectly compared the slope of the proposed pipeline to the slope of the landslide, and stated that the landslide was far removed from the pipeline. It's about 250 feet down the mountain from the proposed pipeline. I believe this erroneous report brings into question all of the other geohazard surveys made for the ACP through the entire range of the Appalachian Mountains, where several newly installed gas pipelines have experienced catastrophic explosions this past summer as a result of landslides.
The ACP has a blast zone, or zone of incineration that is 2,200 feet wide. Everything in this area would be immediately incinerated in a pipeline explosion. The evacuation zone, which must be vacated within a matter of minutes to avoid death or serious injury is 1.4 miles wide. If my wife and I and our neighbors were not immediately incinerated during a pipeline explosion we would be trapped in the evacuation zone at the head of Little Valley with no chance of escape or rescue, with the pipeline blocking our only route to safety.
A karst [Karst: landscape underlain by limestone that has been eroded by dissolution, producing ridges, towers, fissures, sinkholes, and other characteristic landforms.] survey that was completed on our property is similarly flawed. We are in an area of limestone where sinkholes, caves, and sinking streams make pipeline construction hazardous, and would threaten our well and spring water. We have sinking streams on each side of the proposed pipeline through our property. One of them sinks into the ground within 250 feet of our drinking water well. Much delayed stream flow following heavy storms indicates a large underground void between our home and the proposed pipeline. We have had an expert conduct a positive test for limestone bedrock in those channels. Nevertheless, the ACP karst report states that karst features have not been verified on our property.
Further reading: William Limpert: Appeal to Dominion shareholders about true cost of Atlantic Coast Pipeline
I could go on and on about the injustices that we, and countless other Americans are experiencing at the hands of the natural gas and fossil fuel industry, and the corrupt and complicit government agencies that have allowed this industry to wage war against us. I can tell you that we will not relent in fighting these injustices, and I believe that we will ultimately prevail.—William Limpert, "A Landowner's Experience With Dominion Energy," The Banner, 12/15/18
William Limpert, of Bath County, Virginia is a retired environmental regulator
≈≈≈≈≈≈≈≈≈≈≈≈≈≈≈≈≈≈
≈≈≈≈≈≈≈≈≈≈≈≈≈≈≈≈≈≈
≈≈≈≈≈≈≈≈≈≈≈≈≈≈≈≈≈≈
≈≈≈≈≈≈≈≈≈≈≈≈≈≈≈≈≈≈
The Dozen Years Left
School strike for climate
Save the world by changing the rules
≈≈≈≈≈≈≈≈≈≈≈≈≈≈≈≈≈≈
≈≈≈≈≈≈≈≈≈≈≈≈≈≈≈≈≈≈
≈≈≈≈≈≈≈≈≈≈≈≈≈≈≈≈≈≈
≈≈≈≈≈≈≈≈≈≈≈≈≈≈≈≈≈≈
≈≈≈≈≈≈≈≈≈≈≈≈≈≈≈≈≈≈
≈≈≈≈≈≈≈≈≈≈≈≈≈≈≈≈≈≈
≈≈≈≈≈≈≈≈≈≈≈≈≈≈≈≈≈≈
≈≈≈≈≈≈≈≈≈≈≈≈≈≈≈≈≈≈
≈≈≈≈≈≈≈≈≈≈≈≈≈≈≈≈≈≈
≈≈≈≈≈≈≈≈≈≈≈≈≈≈≈≈≈≈
≈≈≈≈≈≈≈≈≈≈≈≈≈≈≈≈≈≈
≈≈≈≈≈≈≈≈≈≈≈≈≈≈≈≈≈≈
And That's A Wrap! Thanks to everyone who sent in news, action announcements and comments this week. Send kudos, rotten tomatoes and your story ideas, your group's action events, and news of interest to intrepid climate change and environmental justice warriors! Send to editor@thebanner.news.