December 4, 2018
This past year has seen the sociopolitical awakening of children. Though there have always been politically aware young people of course, this year's terrorist attack on Parkland High School brought them to national attention, and to a new self-awareness that they had comrades across the country. And the 21 children who brought suit against the U.S. government in 2015 sent out a pealing bell that woke the nation up to children speaking up to how official intransigence and incompetence was squandering their just inheritance of a place to live, a sustainable environment, and any hope of a fulfilling life. We look at their answer to that prospect, and their demand.
But first the news.
Community Rallies for Cayuga Lake's Day in Court
Community Rallies for Cayuga Lake's Day in Court – clean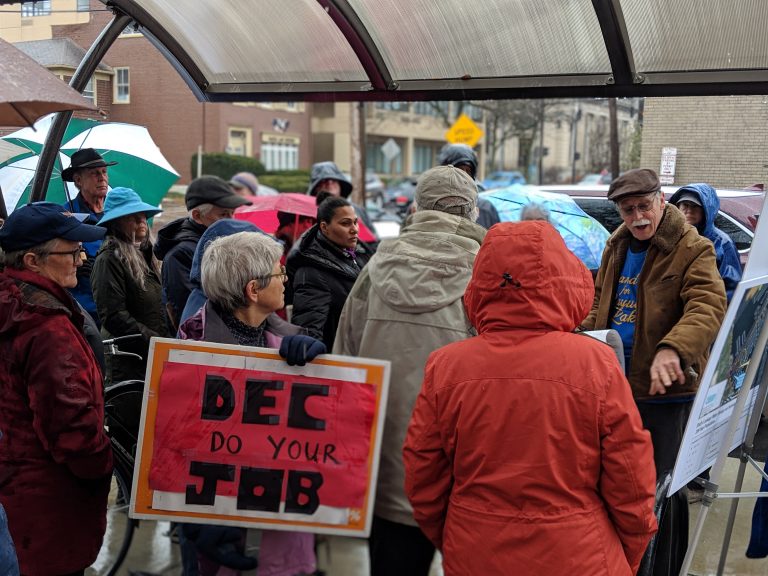 On Monday, November 26, 2018, nearly 30 residents from throughout the Finger Lakes braved the cold rain to rally for Cayuga Lake. They joined a pre-hearing rally at the Tompkins County Courthouse led by Cayuga Lake Environmental Action Now (CLEAN) to support its Article 78 litigation against the New York State Department of Environmental Conservation (NYSDEC)  for not requiring an Environmental Impact Statement for Cargill's proposed mine shaft.
Sachem (Chief), Sam George, from Bear Clan of the Cayuga Nation gave a welcome to the crowd. His welcome was "words before all else", in the language of the Cayuga Nation, a reminder to give thanks for all things, from the mother earth to the skies and everything in between.
John Dennis, President of CLEAN, described risks to groundwater resources posed by the proposed drilling of Shaft No. 4 and the risks associated with ongoing mining beneath thinning bedrock under the lake and south of the Cayuga Power Plant. He said that subsidence risks could extend to downtown Ithaca if the mine were to flood catastrophically, as did the Retsof Salt Mine in Livingston County in 1994.
Enfield resident and CLEAN legal team member, Serenna McCloud, discussed that CLEAN is challenging the DEC's conclusion that no Environmental Impact Statement (EIS) was necessary.  CLEAN argues there certainly is the potential (which is all the regulation requires) for significant environmental impacts from the installation of the shaft that will allow continued mining under thinning bedrock between the bottom of the Lake and the mine itself. Therefore, the DEC should have issued a declaration of positive significance and required the preparation of an EIS.
Tompkins County Environmental Management Council Chair, Brian Eden, began by comparing the long history of the Cayuga Salt Mine with the other major salt mine in NYS, Hampton Corners. The Retsof mine catastrophically failed, flooding that mine in 1994. A new mine at Hampton Corners began operations in 2000 and has been required to do two EIS's in 18 years, whereas Cargill has been operating Cayuga Salt Mine for 48 years without ever having completed an EIS. An EIS would allow, for the first time, transparency, meaningful community participation and the input of third-party experts in a comprehensive environmental review of Cargill's operations beneath Cayuga Lake.…—John Dennis, "Community Rallies for Cayuga Lake's Day in Court," Cayuga Lake Environmental Action Now, 11/27/18
≈≈≈≈≈≈≈≈≈≈≈≈≈≈≈≈≈≈
≈≈≈≈≈≈≈≈≈≈≈≈≈≈≈≈≈≈
≈≈≈≈≈≈≈≈≈≈≈≈≈≈≈≈≈≈
≈≈≈≈≈≈≈≈≈≈≈≈≈≈≈≈≈≈
The Children's Revolt
Greta Thunberg's speech to UN leader in Katowice
≈≈≈≈≈≈≈≈≈≈≈≈≈≈≈≈≈≈
≈≈≈≈≈≈≈≈≈≈≈≈≈≈≈≈≈≈
≈≈≈≈≈≈≈≈≈≈≈≈≈≈≈≈≈≈
≈≈≈≈≈≈≈≈≈≈≈≈≈≈≈≈≈≈
≈≈≈≈≈≈≈≈≈≈≈≈≈≈≈≈≈≈
≈≈≈≈≈≈≈≈≈≈≈≈≈≈≈≈≈≈
Climate Change Goes to Court
≈≈≈≈≈≈≈≈≈≈≈≈≈≈≈≈≈≈
≈≈≈≈≈≈≈≈≈≈≈≈≈≈≈≈≈≈
≈≈≈≈≈≈≈≈≈≈≈≈≈≈≈≈≈≈
≈≈≈≈≈≈≈≈≈≈≈≈≈≈≈≈≈≈
≈≈≈≈≈≈≈≈≈≈≈≈≈≈≈≈≈≈
≈≈≈≈≈≈≈≈≈≈≈≈≈≈≈≈≈≈
≈≈≈≈≈≈≈≈≈≈≈≈≈≈≈≈≈≈
And That's A Wrap! Thanks to everyone who sent in news, action announcements and comments this week. Send kudos, rotten tomatoes and your story ideas, your group's action events, and news of interest to intrepid climate change and environmental justice warriors! Send to editor@thebanner.news.