September 4, 2018
This week we first post notices of all Rise for Climate actions in New York State. Then we delve into stories of incredible attempts to defend unconscionable acts against people and the environment.
Now first the news!
Rise for Climate!
The fight over fracking is still going on in New York, nearly four years after the Cuomo administration decided not to allow drilling here.
The latest battle is happening in the Finger Lakes over the used of fracked gas for power plants.
Explaining more is Irene Weiser and Sandra Steingraber, they are with the 'No Fracked Gas Cayuga' campaign.…—Nick Reisman, "Fighting over use of fracked gas for power plants," Spectrum News, 8/29/18
Rise for Climate Lansing – No Cayuga Power Plant!
Community Forum and Rally  Featuring Activist, Scientist, Poet Sandra Steingraber
Community Forum
WHEN: Saturday, September 8, 10:00 AM
WHERE: Lansing Community Center
29 Auburn Rd.
Lansing, NY 14882
Rally
WHEN: 12:00PM
WHERE: Lansing Middle School
6 Ludlowville Rd
Lansing, NY 14882 (See Map of Lansing Middle School)

≈≈≈≈≈≈≈≈≈≈≈≈≈≈≈≈≈≈
Rise for Climate – Elmira!
Rise for Climate is about making the transition to 100% renewable energy and ending fossil fuel infrastructure build-out at the local and state levels. It is also about green jobs, environmental justice, and people working with local leaders/elected officials to ensure a sustainable future for our children and grandchildren.
All events are family friendly. It takes many hands to lighten the load. Please e-mail Heather and Doug to volunteer. Thank you very much for getting involved!
For more info: email Heather Stanton hstanton6@gmail.com or Doug Couchon dcouchon@gmail.com
RISE FOR CLIMATE – Corning
Creating a Climate Resilient Community!
Presentations on what can be done locally by individuals and cities, plus a roundtable discussion with the candidates for State Senate in the 58th district on what can and should be done in Albany.
WHEN: Saturday, September 8, 1:00 PM
WHERE: Southeast Steuben Library
300 Nasser Civic Center Plaza #101
Corning, NY 14830
For info contact: Elizabeth Whitehouse ew@abetterway.world  607-936-4732 
≈≈≈≈≈≈≈≈≈≈≈≈≈≈≈≈≈≈
RISE FOR CLIMATE, JOBS & JUSTICE – Buffalo
Buffalo's RISE FOR CLIMATE, JOBS & JUSTICE will be held at Canalside – a newly-renovated public, but increasingly gentrified – historic waterfront, to reclaim all the people's rights on this land. We will be standing in solidarity with and for all Puerto Ricans here in Buffalo, as well as throughout the globe as we mark the one year anniversary of Hurricane Maria — calling out the fact that the island and the people still have no clean water and no electricity. We will rise to let our elected officials all throughout the globe know that we care about our people, our planet, and our lives. And it is time they do, too.  
There will be a rally space among repurposing activity tables for all ages, art installations, community leaders speaking on their experiences, performances by local artists, delicious food by local vendors, tabling by organizations tackling climate change/environmental racism related issues and renewable energy agencies. 
Start: September 08, 2018, 12:30 PM
Location: Canalside: Pierce Lawn
44 Prime St.
Buffalo, NY 14202

Contact Info: Geo Hernández – riseforclimatejobsjustice@gmail.com | 917-564-9450
≈≈≈≈≈≈≈≈≈≈≈≈≈≈≈≈≈≈
Rise for a Resilient Rochester
On September 8th people from across the country and around the world will be calling for renewed commitments to climate action.  People are asking for real actions to replace hollow words.
In Rochester, we want to highlight the urgency and the benefits of climate action including improving health, lowering energy costs,creating jobs and improving accessibility.  Our community can be made more resilient and benefit everyone while we reduce emissions and mitigate impacts, if we act accordingly and swiftly.
We have invited leaders from various sectors of our community to come and receive testimonials from impacted individuals.  We will hear personal stories that help us consider the challenges and opportunities inherent in community-based climate action.
Start: September 08, 2018 10:00 AM
End: September 08, 2018 12:00 PM
Where: The Gathering Space, main sanctuary
Asbury First United Methodist Church
1050 East Ave
Rochester, NY 14607
For more info: see our Facebook page: https://www.facebook.com/events/299358853978589/
Contact Info: heatherodonnell@rocpcc.org
RSVP: https://actionnetwork.org/events/rise-for-a-resilient-rochester
≈≈≈≈≈≈≈≈≈≈≈≈≈≈≈≈≈≈
Rise for Climate Jobs and Justice – Syracuse
In Syracuse on September 8, we call on Governor Andrew Cuomo and all New York elected officials to Rise for Climate, Jobs, and Justice by
stopping dangerous fracked gas projects

A just transition to 100 percent renewable energy

Making corporate polluters pay.
The Dewitt Town Hall was chosen as a site for the event to highlight its leadership in renewable energy efforts.
Featured speakers:
Yvonne Chu, CCAA Member and Organizer,  Opening Remarks

Samuel Gordon, Planning and Zoning Director for the Town of Dewitt – Highlighting renewable  energy efforts by the Town of Dewitt and future plans to install a community solar farm on the Town of  Dewitt Landfill.

Jim D'Aloisio, Engineer –  NYS Climate Change Initiative Executive Order 166 is spurring on action to mitigate climate change across the state by setting greenhouse gas reduction goals and creating plans to meet  those goals.

Peter F. Cannavò, Associate Professor of Government and Environmental Studies, Hamilton College – "Climate Change Equals Climate Injustice": Climate change will hurt the poorest and most vulnerable of us, both in the US and abroad.  We cannot create a just world while  ignoring climate change and we cannot fight climate change without addressing its inequitable  impact.
Start: September 08, 2018 2:30 PM
Location: Dewitt Town Court Room
5400 Butternut Dr.
East Syracuse, NY 13057
For More Information: Yvonne Chu at yvchu01@gmail.com
≈≈≈≈≈≈≈≈≈≈≈≈≈≈≈≈≈≈
Albany Rise for Climate
Rally and March for Climate, Jobs and Justice!


Real Climate Leadership Rises From The Grassroots Up
New York has seen enough already, from Superstorm Sandy to Hurricane Irene. And communities
of color are getting hit the hardest. Here in the Capital District, the Governor is proposing a new fracked gas project on Sheridan Avenue near the Capitol and polluting diesel fuel trucks daily go through Albany's South End.
On September 8th, we will take to the streets with people around the world to demand bold action. Governor Cuomo: we need climate action, not just words. Let's stop all new fossil fuel projects, make corporate polluters pay, and create thousands of quality jobs through a transition to a 100%renewable energy economy
Saturday, September 8, 2018, 11:00AM
In Front of the Governor's Mansion
138 Eagle St.
Albany, NY 12202
Contact Info: Bob Cohen, Citizen Action of New York, bcohen@citizenactionny.org; (518) 465-4600 x104
Sponsored by the Green Education and Legal Fund, Citizen Action, PAUSE, SHARE, Capital Region Earth Day, WFP, Upper Hudson Green Party, Sierra Club Mohawk Chapter, Capital District Earth Day, and others.
≈≈≈≈≈≈≈≈≈≈≈≈≈≈≈≈≈≈
Sheridan Hollow for Renewable Energy
The Sheridan Hollow Alliance for Renewable Energy (SHARE)
hosts a panel discussion about the proposed Fracked Gas plant in Sheridan Hollow.
An evening filled with history and engineering facts! There will be a  discussion of  public health concerns as well. The panelists will also give us information on the status of the project's approval and talk about what we can do to stop it./p>
Panelists:
Keith Schue, engineer

Mert Simpson, County Legislator and activist

Susan Dubois, expert on use of Freedom of Information Law (FOIL) for public acces to documents
Thursday, September 6, 7:00 – 9:00 pm
Bethlehem Public Library
451 Delaware Avenue
Delmar, NY 12054
Sponsored by Bethlehem Neighbors for Peace
For more info:  518-466-1192.
≈≈≈≈≈≈≈≈≈≈≈≈≈≈≈≈≈≈
Rise For Climate – Hudson Valley
On Saturday, September 8, Poughkeepsie joins thousands of cities and towns around the world to demand a fossil fuel free world that works for all of us.  A local Hudson Valley Rise For Climate event will take place at 46 Raymond Avenue on the Vassar College campus in the Arlington community of Poughkeepsie from 12pm to 4pm. (Rain date is Sept. 15th.)
Environmental grassroots organizations who are working toward a fossil fuel free future for the Hudson Valley will be gathering to engage and educate residents about climate issues.
Attendees will be provided with opportunities to express concern about environmental issues to their elected representatives through letter writing and a photobooth. Candidates running for local office will be attending.
There will be information tables, activities for children (entertainment, arts and crafts) and music provided by several local musicians and singing groups including the Souls United gospel group and Tin Horn Uprising.
<p" syle="text-align: left;">Learn about how solar energy works and learn about other ways to use the earth's natural energy sources to heat/cool and generate power for buildings and homes!
Start: September 08, 2018 12:00 PM
End: 4:00 PM
Location: Field next to Crafted Kup
46 – 48 Raymond Avenue
Poughkeepsie, NY 12603
 RSVP at: https://actionnetwork.org/events/hudson-valley-rise-for-climate/
≈≈≈≈≈≈≈≈≈≈≈≈≈≈≈≈≈≈
Croton Rise for Climate March
March with us from the Croton Free Library to the Municipal Building, ending at Vassallo Park, inspirational speakers & music. with
Meet at the library:
bring your posters, signs, banners and voice! 

Start: September 08, 2018•10:00 AM
Location:Croton on Hudson
Croton Free Library
Croton on Hudson, NY 10520
Contact Info: Care for Creation – careforcreationministry@gmail.com
≈≈≈≈≈≈≈≈≈≈≈≈≈≈≈≈≈≈
Rise for Climate, Jobs and Justice! – New Paltz
In New Paltz  join New Paltz Women in Black and others in front of the Elting Library for the rally "Rise for Climate, Jobs and Justice".
"The science is clear. We are calling for a clean energy future that has the potential to reverse or mitigate the effects of climate change and will generate millions of new jobs. We also want justice for frontline communities that bear the worst effects of the climate crisis, but contribute to it the least: vulnerable countries, low-income communities of color and poor communities. We're demanding local leaders commit to building a fossil-free world that puts people, the planet and justice before profits," said one of the organizers, Rosalyn Cherry.
The event is free, family-friendly and open to all. Please bring a sign that reflects your desire to end the era of fossil fuels and the need to build 100% renewable energy for all.
To sign up, go to https://riseforclimate.org/ and enter your zip code for the rally closest to you.
When: September 08, 2018•12:30 PM
Location: In front of Elting Memorial Library
93 Main Street NW
Paltz, NY 12561
Contact Info: anahatasun@aol.com
≈≈≈≈≈≈≈≈≈≈≈≈≈≈≈≈≈≈
≈≈≈≈≈≈≈≈≈≈≈≈≈≈≈≈≈≈
Rise for Climate – Long Beach, NY
Cuomo: Be a Climate Leader!
Start: September 08, 2018 11:00 AM
End: September 08, 2018 12:00 PM
Location: Long Beach Boardwalk, Across from Allegria Hotel
80 West Broadway
Long Beach, NY 11561
Contact Info: eweltman@fwwatch.org; 347-778-2743
≈≈≈≈≈≈≈≈≈≈≈≈≈≈≈≈≈≈
The Stop the #BombTrucks Coalition
with support from Halt the Harmed Network
invites you to #BombTrucks 101: "Understanding the Risks!"
Presented by Craig L. Stevens
co-written w/William Huston
THREE dates:
♦ Tompkins County Library
101 E Green Street
Ithaca NY
Tuesday 9/4 @ 2:30 PM
Facebook event page: BombTrucks 101 (Ithaca)
♦ Foothills Theater
24 Market St., Oneonta NY
Wednesday 9/5, 7 PM
Facebook event page: BombTrucks 101 (Oneonta)
♦ Endicott Public Library
1001 Park St.
Endicott NY
Thursday, 9/6, 7:00PM
Facebook event page: BombTrucks 101 (Vestal/Endicott)
Admission: Free
More info: StopTheBombTrucks
≈≈≈≈≈≈≈≈≈≈≈≈≈≈≈≈≈≈
Defending the Indefensible
Court Strikes Down Protection of Children's Schools and Playgrounds:
Not 'Well Enough Defined'
to Warrant Same Protection from Fracking
as Scenic Rivers and Natural Landmarks
Court strikes playgrounds, school yards from places that get extra scrutiny before drilling
Pennsylvania's Commonwealth Court on Thursday broadly upheld the state Department of Environmental Protection's process for considering a shale gas well's impact on public natural resources before granting a drilling permit, but it limited the agency's definition of what counts as a public resource.
The five-judge panel struck down the agency's attempt to expand its scrutiny to a well's impact on playgrounds and common areas at schools, finding DEP's definition of those features "vague, overly broad, and unpredictable."
It also rejected the agency's definition of "critical" plant and animal communities because DEP's classification included species that may not warrant "heightened conservation measures."…—Laura Legere, "Court strikes playgrounds, school yards from places that get extra scrutiny before drilling," Pittsburgh Post-Gazette, 8/24/18
≈≈≈≈≈≈≈≈≈≈≈≈≈≈≈≈≈≈
FERC staff authorizes construction
on Mountain Valley Pipeline
FERC staff authorizes construction on Mountain Valley Pipeline
Dive Brief:
Federal Energy Regulatory Commission (FERC) staff granted developers of the Mountain Valley Pipeline (MVP) permission Wednesday to resume work on most of the project, after approving limited construction for the first 77 miles earlier this month.
At the start of August, FERC issued a stop order on the approximately 300-mile project after the Fourth Circuit Court of Appeals reversed permits granted by the Bureau of Land Management (BLM) and U.S. Forest Service. Additional analysis filed by BLM Friday led FERC staff to modify the stop order to allow construction to resume with a few exemptions.
Further reading: Commissioner Cheryl A. LaFleur and Commissioner Richard Glick Joint Statement on Mountain Valley Pipeline Construction
Democratic Commissioners Richard Glick and Cheryl LaFleur raised concerns with FERC's response to federal court actions in a joint statement on Wednesday. Although FERC staff "acted within its delegated authority," they believe the commissioners should decide whether and how to proceed with pipeline construction.…— Iulia Gheorghiu, "FERC staff authorizes construction on Mountain Valley Pipeline," Utility Dive, 8/30/18
≈≈≈≈≈≈≈≈≈≈≈≈≈≈≈≈≈≈
Strongest, Oldest Arctic Sea Ice Breaks Up
for First Time on Record
Strongest, Oldest Arctic Sea Ice Breaks Up for First Time on Record
The Arctic is warming at a rate twice as fast as the rest of the globe, and now the region's thickest and oldest sea ice—also known as "the last ice area"—is breaking up for the first time on record, the Guardian reported Tuesday.
The breakage has opened up waters north of Greenland that are normally frozen-solid even in the peak of summer.
The loss of ice, which meteorologist Thomas Lavergne called "scary," has already been seen twice this year due to warm winds and a climate-driven heat wave, according to the Guardian.
Much of the Arctic's oldest ice has already disappeared. The exception is a region along the northern shores of Canada and Greenland that scientists have dubbed "the last ice area" because it is projected to be Earth's last stronghold of summer sea ice in the face of climate change.
However, with the new finding, scientists may have to rethink which area of the Arctic will be able to withstand warming the longest.
"Almost all of the ice to the north of Greenland is quite shattered and broken up and therefore more mobile," Ruth Mottram of the Danish Meteorological Institute told the Guardian. "Open water off the north coast of Greenland is unusual. This area has often been called 'the last ice area' as it has been suggested that the last perennial sea ice in the Arctic will occur here. The events of the last week suggest that, actually, the last ice area may be further west."
Wherever this "last ice area" might be, it will be a critical haven for Arctic species that will be pushed out from their habitats from rapid sea ice loss.…—Lorraine Chow, "Strongest, Oldest Arctic Sea Ice Breaks Up for First Time on Record," EcoWatch, 8/21/18
≈≈≈≈≈≈≈≈≈≈≈≈≈≈≈≈≈≈
Youth climate case in Washington State
dismissed by judge
Youth climate case in Washington State dismissed by judge
Judge abdicates responsibility, deeming existential consequences
of law not subject to judicial purview
[Editor's note: We published this story last edition, "Then They Fight You." But it is just as relevant to this issue, focused on "Defending the Unnecessary."]
While a youth-led climate lawsuit continues making its way through federal court, a state-level suit filed by 13 young people against the state of Washington was dismissed by a judge on Tuesday.
The case, Aji P. v. State of Washington, is one of several suits filed in state courts by young people claiming the states are violating their constitutional rights by perpetuating an energy and transportation system dependent on fossil fuels.
But King County Superior Judge Michael Scott sent this one to an early defeat, ruling that these issues should not to be resolved by a court, but are political questions best addressed by the legislative and executive branches.
Andrew Welle, co-counsel for the young plaintiffs, said they would appeal.
"The United States Supreme Court recently ruled that similar claims against the federal government must advance to the trial stage, affirming that the judiciary has a duty to resolve constitutional claims of this nature," Welle said. "Given the urgency of climate change and the important constitutional issues involved, the political branches of government cannot be immune from liability for the constitutional climate crisis of their own making."…—Karen Savage, "Youth climate case in Washington State dismissed by judge," Climate Liability News, 8/15/18
≈≈≈≈≈≈≈≈≈≈≈≈≈≈≈≈≈≈
North Dakota Prosecutors Drop All Serious Charges against Chase Iron Eyes
North Dakota Prosecutors Drop All Serious Charges against Chase Iron Eyes – IndianCountryToday.com
In exchange for his agreement not to violate any criminal law for 360 days, state reduced all charges to misdemeanor
The Lakota People's Law Project
In what defense attorneys are calling a major victory for their client and for the water protectors of Standing Rock, North Dakota prosecutors have dropped all serious charges against former North Dakota congressional candidate Chase Iron Eyes in his case resulting from protests of the Dakota Access pipeline.
Iron Eyes, an attorney who works for the Lakota People's Law Project, was facing a maximum of six years in state prison after his arrest for alleged criminal trespass and incitement of a riot near the Standing Rock Sioux reservation on February 1, 2017. In exchange for his agreement not to violate any criminal law for 360 days, the state reduced all charges to a minor, Class B misdemeanor of disorderly conduct. Under this agreement, Iron Eyes will walk away without jail time or any risk to his law license.
"The world should know that it's legally impossible for me and other Native people to trespass on treaty land, and I never started a riot. I and the water protectors are not terrorists. We and the US veterans who stood with us to protect Mother Earth are the true patriots," said Iron Eyes. "Now I can be with my family and continue defending the sovereignty of my people. This will allow me to keep working nonstop to protect First Amendment, human and Native rights."
The agreement is pending final approval from Judge Lee Christofferson, expected later today.
Iron Eyes' attorneys filed documents on Monday proving that his arrest occurred on treaty land never ceded by the Sioux tribe. The state of North Dakota ruled weeks ago that this land had never been acquired nor legally owned by pipeline parent company Energy Transfer Partners (ETP) due to a North Dakota law prohibiting corporations from acquiring and owning agricultural parcels.
According to documents uncovered earlier this year by investigative journalists at The Intercept, Iron Eyes was identified by the TigerSwan military-style security company as a key leader of the Standing Rock movement. Iron Eyes' attorneys say this led law enforcement to target him for arrest and levy the felony charge of inciting a riot, which carried a potential five years of prison time.
Daniel Sheehan of the Lakota People's Law Project led Iron Eyes' defense team. "Our work to prepare Chase's defense unveiled a racially-motivated criminal conspiracy by oil companies and mercenary security corporations to deny Native Americans and their allies their civil and treaty rights," he said. "Standing Rock focused the attention of the world on the importance of Native sovereignty and the needs to protect water and resist climate change. Chase's willingness to pursue a necessity defense has produced strong legal tools for future protesters."…—ICT editorial team, "North Dakota Prosecutors Drop All Serious Charges against Chase Iron Eyes," Indian Country Today, 8/21/18
≈≈≈≈≈≈≈≈≈≈≈≈≈≈≈≈≈≈'
Portland, Maine, rule blocking pipeline OK'd in court
Portland, Maine, rule blocking pipeline OK'd in court – The Boston Globe
Citing Maine's 'home rule authority' to protect public health, the small city took on Big Oil, which lined up behind a company challenging its tar sands ban.
A federal judge has ruled that the coastal city of South Portland, Maine, did not violate the Constitution when it passed an ordinance that blocked a local pipeline company from bringing tar sands oil through its port.
For the city of 25,000, the ruling was a surprise victory after years of fighting a battle against some of the world's biggest oil companies, which lined up to support the Portland Pipe Line Corp.
Provided the ruling survives an appeal, it slams the door on a significant plan to ship Canadian tar sands oil, one of the most carbon-intensive fuels on the planet, to the East Coast for export to international markets, and it could offer a guide for other communities hoping to block energy projects.
"For other communities looking at opposing fossil fuel infrastructure, this case is a blueprint for how you should do it," said Patrick Parenteau, an environmental law professor at the Vermont Law School. "It's a strong opinion, and it could result in a really significant precedent for local control on petroleum-based industries."
The pipeline company's plan involved a 70-year-old pipeline system that currently carries conventional crude oil in the opposite direction, from a tanker facility in South Portland to refineries in Montreal. After Canada's tar sands oil boom crippled the market for oil traveling from Maine to Montreal, PPLC saw its business dwindle.
A plan to reverse the flow and provide a route for tar sands oil to reach global markets through the port at South Portland represented a golden egg for the company — a way to redefine its business model, provide jobs, and become a linchpin for oil exports.
But it also would have come at a steep price, the grass-roots group Protect South Portland argued.
The plan called for the construction of a pair of 70-foot-high smokestacks next to a beloved waterfront park to burn off volatile compounds from the tar sands oil before it could be loaded into tankers. Concerns about emissions from those smokestacks led to the creation of the so-called Clear Skies Ordinance, which banned the bulk loading of crude oil onto tankers.…— Sabrina Shankman, "South Portland's Tar Sands Ban Upheld in a 'David vs. Goliath' Pipeline Battle," Boston Globe | InsideClimate News, 8/28/18
≈≈≈≈≈≈≈≈≈≈≈≈≈≈≈≈≈≈
Regulators allow company to flare
up to 1 million cubic feet of gas per day
in the Powder River Basin
Regulators allow company to flare up to 1 million cubic feet of gas per day in the Powder River Basin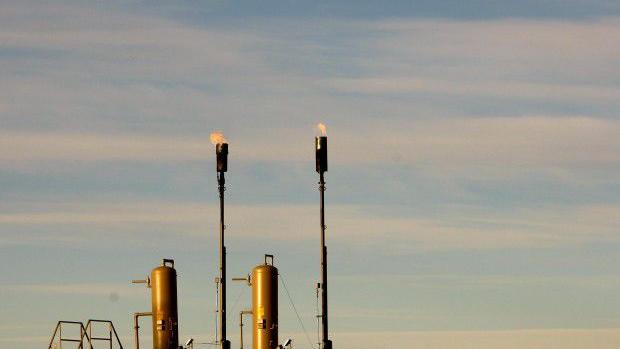 …"They went crazy, permitted some 50,000 coal-bed methane wells," said Jill Morrison, an organizer for the landowners group Powder River Basin Resource Council. "There was gas and pipelines everywhere … Now all of a sudden gas is worth nothing and we're all after oil. So it's just like: Let's just flare the gas."
…ATX said it had done its due diligence, considering existing pipelines, but the infrastructure is degraded or otherwise unusable.
…ATX's pipeline comes with its own challenges. The company reported Tuesday that the pipeline would be largely on private land and would travel through a core habitat for sage grouse. More than half of the right of ways have been negotiated, the company said.
…Sage grouse is a sensitive topic in Wyoming. The state, along with federal agencies like the Bureau of Land Management, put together conservation policies to keep the bird from being listed as an endangered species. Maintaining the bird's habitats, particularly those identified as "core" habitats, is the foundation of those plans.
≈≈≈≈≈≈≈≈≈≈≈≈≈≈≈≈≈≈
Trans Mountain pipeline approval quashed by court
Despite court setback, Ottawa vows to move forward on Trans Mountain pipeline
CALGARY — The Federal Court of Appeal dealt the Trans Mountain expansion project a major setback Thursday, ruling the government of Canada had not fulfilled its duty to consult with First Nations on the pipeline from Alberta to British Columbia.
The decision means the National Energy Board will have to redo its review of Kinder Morgan Canada's project. In a written decision, the court says the energy board's review was so flawed that the federal government could not rely on it as a basis for its decision to approve the expansion.
The court also concludes that the federal government failed in its duty to engage in meaningful consultations with First Nations before giving the green light to the project. That decision means the government will have to redo part of its consultations with Indigenous groups.—Geoffrey Morgan, "Trans Mountain pipeline approval quashed by court," Financial Post, 8/30/18
≈≈≈≈≈≈≈≈≈≈≈≈≈≈≈≈≈≈
Will taxpayers foot the bill
to protect oil industry from climate change?
Will taxpayers foot the bill to protect oil industry from climate change?
It's a rare proposal indeed that sparks criticism from both the Sierra Club and the libertarian and fiscally conservative Cato Institute. But the plan to use nearly $4 billion of federal taxpayer dollars to shore up coastal defenses along Texas's Gulf Coast has done just that.
That plan, a small-scale version of the long-discussed Ike Dike, would protect three areas along the coast against rising sea levels and devastating climate change-fueled storms, specifically to shield oil and gas terminals, refineries and petrochemical facilities—the same industries that have overwhelmingly contributed to climate change. What galls critics is that the industries being protected have been asked to put up nothing.
At the same time, voters in Harris County, which includes the city of Houston, last week voted to shoulder $2.5 billion worth of bond debt. Some will be used to match federal spending on flood control and mitigation projects, roughly a quarter-billion will be used to mount the largest buyout of flood vulnerable homes in American history, and some will be used to lure federal funds for a not-yet finalized menu of projects.
The vote came one year after Hurricane Harvey inundated the area with 60 inches of rain, the largest rain total from any tropical storm in U.S. history. The disaster also highlighted the vulnerability of the oil industry facilities along the coast. Though Harvey caused $125 billion in damage, making it the second-most destructive storm in U.S. history behind Katrina, had it brought a larger storm surge, it could have been exponentially more damaging. Galveston Bay and the Houston Ship Channel are home to 40 percent of the country's oil refining capacity.…—Seamus McGraw, "Will taxpayers foot the bill to protect oil industry from climate change?" Climate Liability News, 8/29/18
≈≈≈≈≈≈≈≈≈≈≈≈≈≈≈≈≈≈
And That's A Wrap! Thanks to everyone who sent in news, action announcements and comments this week. Send kudos, rotten tomatoes and your story ideas, your group's action events, and news of interest to intrepid climate change and environmental justice warriors! Send, along with a half-peck of the last local nectarines, to editor@thebanner.news.