April 10, 2018 It has been happening for some time, but recently the phenomenon of oil and gas drilling and pipelines causing fast-growing sinkholes has cascaded into the news. This could well become a metaphor for the whole O&G industry. We review three of these, and will keep an eye out for more on this. But first the news.
Action Alert: Show Our Support for Teachers on Trial for Arrests During 2014 Blockade
at Crestwood Gas Storage at Seneca Lake
Where: Schuyler County Courthouse 105 Ninth Street, Unit 35 Watkins Glen, NY 14891 When: Thursday, April 12, 9:30AM Oral arguments will be held on Thursday, April 12th at 9:30am for the appeals from six convictions of protesters accused of trespass as part of the We Are Seneca Lake movement. The protesters were arrested on December 16, 2014 during the "Teachers" protest outside of the gates of the Crestwood Midstream gas storage project by the banks of Seneca Lake.
Arguing for the defendants are two Cornell Law School students – Michael Chu and Aaron El Sabrout. The students are part of the law school's new clinic offering – the Protest and Civil Disobedience Practicum, led by We Are Seneca Lake lead attorney Sujata Sidhu Gibson. At issue in these appeals is whether the lower court erred in finding the defendants guilty of trespass when it was stipulated that no one knew that they had entered the private property, and no notice or markings were present to suggest that they should have known.
The protests at Seneca Lake have come to a halt as Crestwood Midstream announced that the controversial gas storage project would not be pursued at this time. The vast majority of the 657 charges from the arrests at the protests were dismissed at various stages, or acquitted at trial. However, Attorney Gibson expressed her belief that appealing these six charges is important to protect future protest efforts as well as to protect the defendants whose convictions are being appealed. "These appeals are important not just to right the wrongful convictions of these six defendants, but to overturn bad precedent that could chill other people's protest rights. We cannot allow such precedent to remain unchallenged. People have a right to gather and protest. In this instance, they were on public land. To the extent that anyone accidentally entered onto Crestwood property, they did so unknowingly. Unknowing entry is simply not enough to constitute criminal trespass, and this precedent cannot stand if we want people to be safe to gather and speak their concerns."
≈≈≈≈≈≈≈≈≈≈≈≈≈≈≈≈≈≈
UNFRACTURED
Film Screenings In Coming Weeks!
≈≈≈≈≈≈≈≈≈≈≈≈≈≈≈≈≈≈
Making Smart Windows Smarter
Julian C. Smith Lecture: Lynn Loo (Princeton University)
Olin Hall, 165 Tuesday, April 10, 2018, 4:00pm to 5:00pm
Yueh-Lin (Lynn) Loo Andlinger Center for Energy and the Environment | Chemical and Biological Engineering Princeton University
Transparent solar cells that exclusively harness UV photons can provide on-board power for electrochromic windows to regulate visible and infrared light transmission without competing for the same spectral irradiance. With more than 40% of national electricity consumption attributed to heating, cooling, and lighting in commercial and residential buildings, this solar cell technology can unlock new markets for electrochromic windows, simultaneously rendering energy savings, reducing carbon emissions, and increasing occupant comfort. The ability to provide onboard power obviates the need for external wiring, which should dramatically decrease installation costs and increase window operability. Starting with the design and synthesis of molecular chromophores possessing wide bandgaps, we recently constructed and tested such UV-absorbing solar cells, and demonstrated their utility in powering electrochromic windows. This technology was highlighted in the Wall Street Journal as "smart windows that can be sunglasses for [one's] house."
In this talk, I will highlight this self-powered smart window technology, focusing on the development of the UV-absorbing solar cells. The use of wide bandgap chromophores has allowed us to exclusively harvest near UV light, leaving visible light and infrared heat to be regulated by the electrochromic window. A necessary consequence of using wide bandgap chromophores is that our solar cells produce high-voltage, low-current power. Coupled with pinhole- and defect-free active layers, this inherently low-loss power production is scalable with the footprint of the solar cells. In our prototype, the energy that is produced by the solar cell in an hour exceeds more than ten times the energy that is required to power the electrochromic window over a 24-hour period. With a simple storage device that trickle charges the electrochromic window, light transmission can be regulated in the evenings and on cloudy days, independent of solar insolation.
≈≈≈≈≈≈≈≈≈≈≈≈≈≈≈≈≈≈
The Falcon Pipeline: Routes, Facilities & Easements
In this segment of the Falcon Public EIA Project, we first focus on the route of the pipeline and prior routes that were considered. We take a closer look at the properties along the route that required easement agreements from landowners. Finally, we locate facilities that will be built as part of the project, such as metering stations and shut-off valves, as well as the pipeline's construction areas and access roads.…
The Falcon Pipeline: Routes, Facilities & Easements
Perhaps the most significant factor that can determine a pipeline route is finding landowners amenable to having their land surveyed and, ultimately, willing to sign easements to allow the pipeline on their property. In some instances, pipeline companies can be granted eminent domain as a "public utility" to take land by force (ME2). However, Shell has stated publicly that eminent domain in not an option for Falcon, due to the fact that the pipeline services a private facility. FracTracker previously produced a guide for landowners who might be approached by pipeline operators seeking to survey their properties.…
The Risks of Proximity
Metering stations and shut-off valves bring particular risks. For instance, when valves are closed at a section of pipeline for maintenance, or in the event of an emergency, excess gasses must vented to relieve pressure. This is one reason why communities have become concerned about the location of these facilities, such as with a Mariner East 2 pipeline valve in West Goshen Township, PA. Similarly, the Falcon pipelines' valve in New Somerset, OH, is especially close to residential areas.…—Kirk Jalbert, PhD, "The Falcon: Routes, Facilities & Easement," FracTracker Alliance, 1/27/18
≈≈≈≈≈≈≈≈≈≈≈≈≈≈≈≈≈≈
SLPWA wants to trap sediment before it enters lake
GENEVA — The flow of sediment containing chemicals, fertilizers, nutrients, road salt and other contaminants into the deepest of the Finger Lakes is the latest target of the Seneca Lake Pure Waters Association.
Officials of the organization want to partner with a county Soil and Water Conservation District or county or town highway department in the Seneca Lake watershed to install a sediment trap or similar improvement to alleviate the impacts of erosion on the lake. Pure Waters will provide one or two grants of up to $4,000 each to cover construction and installation costs. The grants will be awarded to the soil and water conservation district or highway department that can make the best case for achieving a significant impact on the water quality of Seneca Lake.
Pure Waters would prefer to support a project that involves a passive approach to a sediment trap, such as a "wet meadow," which is a constructed low area that becomes a simple wetland and functions as a sediment trap. Ideally, a constructed wet meadow may not need to be cleaned out, while still effectively reducing flow down the ditch into the lake, SLPWA officials explained.…—David Shaw, "SLPWA wants to trap sediment before it enters lake," Finger Lakes Times, 4/6/18
≈≈≈≈≈≈≈≈≈≈≈≈≈≈≈≈≈≈
Excessive Pipeline Rates Cost Customers Billions of Dollars
NGA Section 5 reform needed to rein in cases of excessive pipeline earnings
[Every once in a great while and industry association will tell a truth that is jaw-droppingly candid. Thanks to Ted Glick for bringing this article to our attention.—Editor]
Legislation is needed to provide the Federal Energy Regulatory Commission (FERC) with the authority under the Natural Gas Act (NGA) to require interstate natural gas pipelines to pay refunds from the date a complaint is filed if the pipeline is found to have been charging rates that are too high.
Currently, when FERC determines that a pipeline customer is correct in complaining that the interstate natural gas pipeline's rates are too high, the NGA does not allow FERC to order the pipeline to refund any of the overcharges to the customer. As a result, customers are never reimbursed the money that FERC agrees they were overcharged. Instead, FERC can only order the pipeline to lower its rates going forward from the date of the FERC order. Meanwhile, a considerable amount of time may have passed between the time the customer filed its complaint under Section 5 of the NGA and the time FERC issued its order, since pipelines have a strong incentive to delay the outcome of the proceeding and continue to charge the higher rate until FERC lowers it.
The Federal Power Act (FPA) was amended in 1988 to give FERC the authority to grant refunds in a complaint case involving electricity rates. The NGA must have a comparable provision. The law must provide natural gas customers with the same protections customers.
Excessive pipeline rates cost consumers billions of dollars.
In a study calculating 32 pipelines' return on equity (ROE) over a five-year period, data revealed that 20 pipelines earned above 12% ROE and nine pipelines earned above 16% ROE. The 20 over-earning pipelines cost customers $5 billion over that five-year period.…—"Excessive Pipeline Rates Cost Customers Billions of Dollars," Natural Gas Supply Association, 8/31/15
≈≈≈≈≈≈≈≈≈≈≈≈≈≈≈≈≈≈
JKLM Energy Withdraws From Controversial Fracking Waste Treatment Project On Allegheny River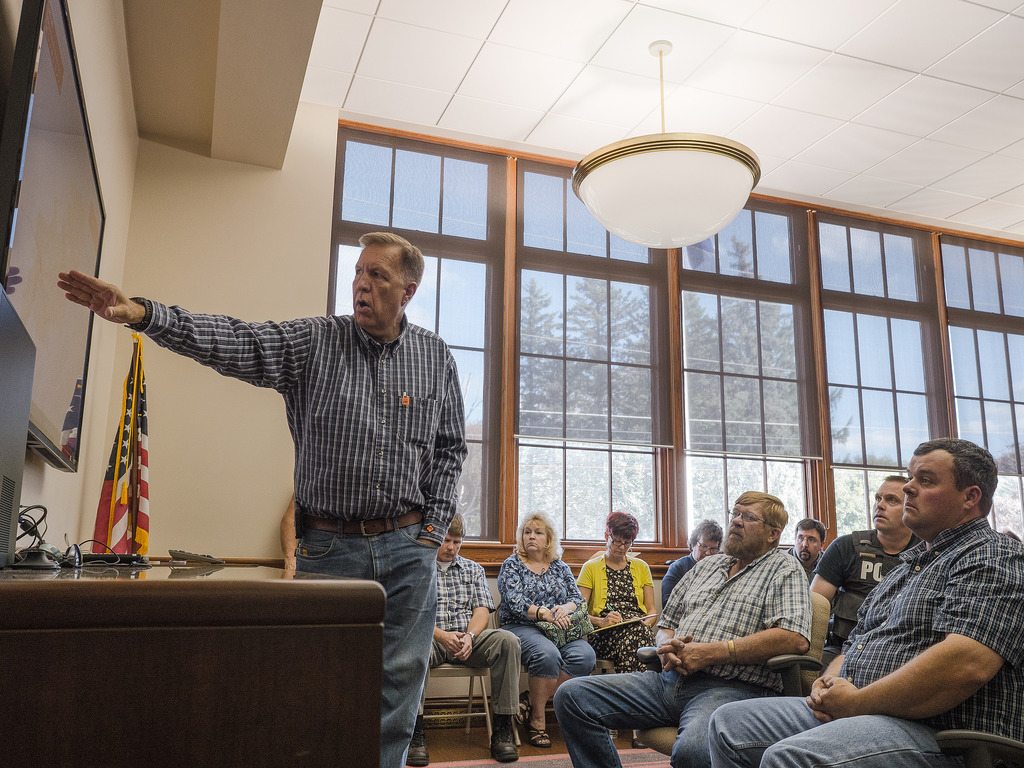 JKLM Energy, the primary customer for a controversial fracking waste treatment facility slated for the headwater region of the Allegheny River, has announced it will withdraw from the project, adding that "a number of factors" impacted its decision to pull the plug.
The wastewater treatment facility is a project of Epiphany Allegheny, LLC, which is a part of Epiphany Water Solutions based in Pittsburgh, Pa. The project has caught the attention of a growing list of concerned organizations and regulatory agencies, including the Seneca Nation of Indians.
JKLM Energy is owned by Buffalo Bills, Sabres and Bandits owner Terry Pegula, touted on Wikipedia as a "natural gas tycoon."
According to the announcement, the company will continue to "responsibly produce natural gas, protect the environment, workers and the community, and benefit the local economy."
JKLM's History in Potter County
JKLM has amassed 62 violations from the Pennsylvania Department of Environmental Protection (PADEP) since it began drilling in Potter County in 2015. The company operates less than 20 well pads in the county and has permits for 60 wells.
In 2016, PADEP levied a $472,317 civil penalty against JKLM Energy for groundwater contamination at a natural gas drilling site in Potter County, home of a Triple Continental Divide. In 2015, the company violated Pennsylvania state law when it injected unapproved chemicals into an uncased well bore and polluted drinking water supplies.…—Joshua Pribanic, Melissa Troutman, "JKLM Energy Withdraws From Controversial Fracking Waste Treatment Project On Allegheny River, Public Herald, 4/6/18
≈≈≈≈≈≈≈≈≈≈≈≈≈≈≈≈≈≈
Sinking
Large portions of West Texas sinking at alarming rate, new report finds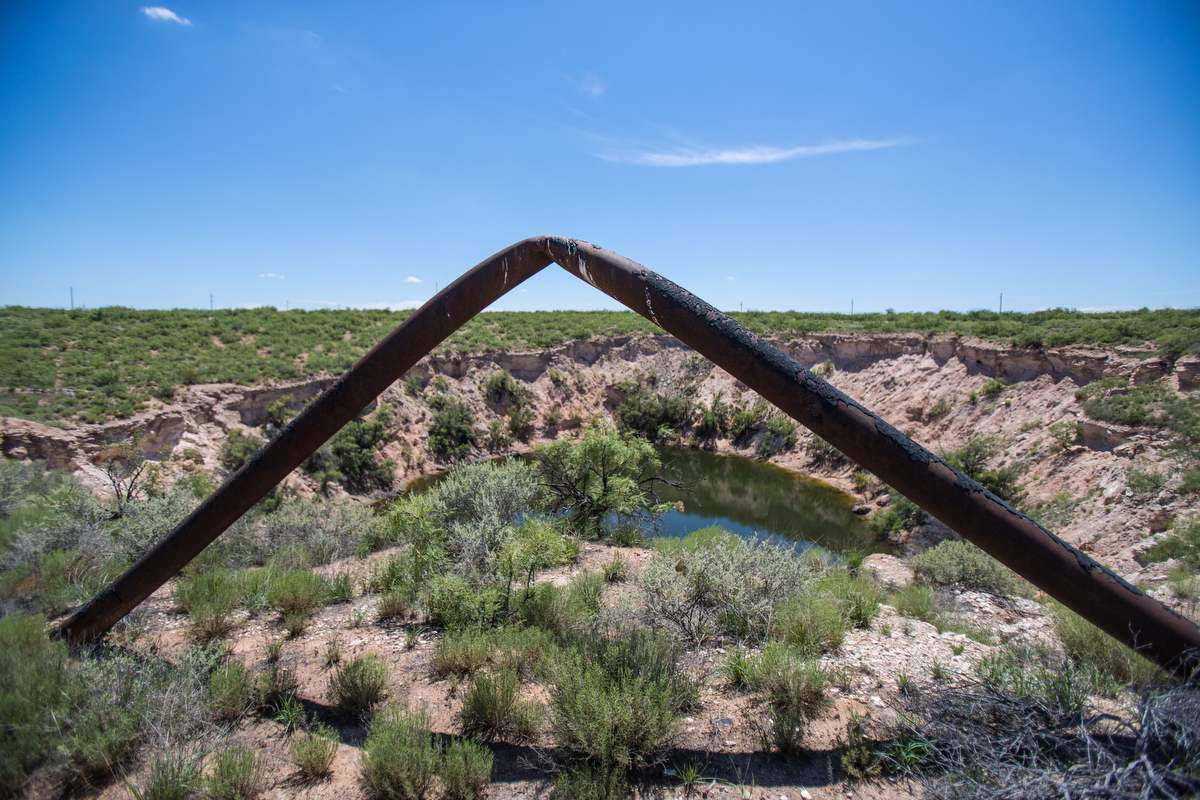 Nearly two years after a pair of giant West Texas sinkholes gained national attention, new research in the area shows they likely won't be the last in the region.
A report released Thursday by geophysicists at Southern Methodist University says a 4,000-square-mile area near the "Wink Sinks" is showing signs of alarming instability.
"The ground movement we're seeing is not normal. The ground doesn't typically do this without some cause," SMU geophysicist Zhong Lu said in a statement.
The Wink Sinks — two gaping sinkholes that sit between the small towns of Wink and Kermit atop the largely tapped out Hendrick oilfield — gained national attention in 2016 after a study revealed they were at risk of collapsing into each other as they grew and the land around them sank.…—Sydney Greene, "Large portions of West Texas sinking at alarming rate, new report finds," The Texas Tribune, 3/22/18
≈≈≈≈≈≈≈≈≈≈≈≈≈≈≈≈≈≈
Sunoco to residents near sinkholes: We'll pay to relocate you during investigation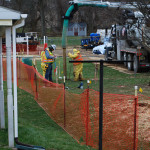 Sunoco is offering to relocate residents at a Chester County site where drilling for the Mariner East pipelines has caused sinkholes to open up in recent weeks.
The company sent at least one letter to homeowners at Lisa Drive, West Whiteland Township last week, saying that it would pay for their relocation, plus a food allowance for an estimated four to six weeks while it conducted an "additional investigation" of geological conditions behind their houses.
"To alleviate any inconvenience to you, SPLP has offered to relocate you and provide a per diem reimbursement for the food for the duration of the scheduled work," said a letter dated March 30.
The letter said the company will be looking for "any subsurface anomalies and additional areas that should be investigated further."
Sunoco spokeswoman Lisa Dillinger confirmed that the company sent the letters to Lisa Drive residents. She did not respond to questions on the reasons for the new investigation.
The company has already been working to secure the site since the Public Utility Commission ordered a halt to the operation of the Mariner East 1 pipeline on March 7 because of its concern that the sinkholes, unstable geology, and the adjacent construction work for two new Mariner pipelines could endanger public safety.…—Jon Hurdle, "'Sunoco to residents near sinkholes: We'll pay to relocate you during investigation," StateImpact Pennsylvania, 4/2/18
≈≈≈≈≈≈≈≈≈≈≈≈≈≈≈≈≈≈
Lafayette elementary school sees tensions over fracking
Fracking tensions have seeped down to the elementary school level in Lafayette, where a meeting is set this week after a principal took steps to limit bannering activities relating to oil and gas issues.
East Boulder County United, which has been vocal in opposing plans for large-scale expansion of oil and gas development across broad sections of the area along the U.S. 287 corridor, has drawn attention to the school's stance and is contesting the school's actions.
The school community's interest in the subject is more than just academic. One example of the drive to dot the eastern county with hundreds of wells is the application by Extraction under its subsidiary 8 North for a state drilling and spacing order on a 1,280-acre area between Arapahoe and Baseline roads in the Lafayette-Erie area, which encompasses at its southwest corner the Escuela Bilingue Pioneer Elementary property.
Emily Love, who is a member of the Parent-Teachers Association and has a son in the fourth grade at Pioneer, said, "My son and I are very involved in planning a lot of the bannering at the school.
"It is a youth-led effort. The kids come out after school and they hand out signs to friends and parents, and from 3:20 to 4 p.m. every Friday after school, they meet and they walk to Baseline (Road) and they hold up signs and they share the chants that they have made up."
In recent days, however, Principal Guillermo Medina sent an email that school community members in opposition to fracking see as an effort to quash their activities.
"Guillermo's an incredible leader. He has been extremely supportive of the kids, in particular, getting involved, and he sees this as a deeper learning activity and I have felt very grateful for his leadership around that," said Love, a member of East Boulder County United.
"He said that a parent emailed and said they were scared of the picketing…—Charlie Brennan, "Lafayette elementary school sees tensions over fracking," Boulder Daily Camera, 3/21/18
≈≈≈≈≈≈≈≈≈≈≈≈≈≈≈≈≈≈
E.P.A. Officials Sidelined After Questioning Scott Pruitt
WASHINGTON — At least five officials at the Environmental Protection Agency, four of them high-ranking, were reassigned or demoted, or requested new jobs in the past year after they raised concerns about the spending and management of the agency's administrator, Scott Pruitt.
The concerns included unusually large spending on office furniture and first-class travel, as well as certain demands by Mr. Pruitt for security coverage, such as requests for a bulletproof vehicle and an expanded 20-person protective detail, according to people who worked for or with the E.P.A. and have direct knowledge of the situation.
Mr. Pruitt bristled when the officials — four career E.P.A. employees and one Trump administration political appointee — confronted him, said the people, who were not authorized to speak publicly.…—Eric Lipton, Kenneth Vogel, Lisa Friedman, "E.P.A. Officials Sidelined After Questioning Scott Pruitt," The New York Times, 4/5/18
≈≈≈≈≈≈≈≈≈≈≈≈≈≈≈≈≈≈
Bus routes over future sink hole scare parents
Every day on the way to school, Mattie Campbell's three daughters could be riding into a tragedy.
School buses pick them up each morning and take Campbell's two fifth graders to Desert Willow and her youngest to kindergarten class at the Early Childhood Education Center.
The family lives on Etcheverry Road, minutes from the site of the I&W Brine Well which is in danger of a collapse that experts say could happen at any time.
Further reading: Experts warn of risk of sinkhole in popular New Mexico area, Chicago Tribune, 2/3/18
Carlsbad school buses must drive north over the brine well — and potential massive sinkhole — every day.…—Adrian C Hedden, "Bus routes over future sink hole scare parents," Carlsbad Current-Argus, 5/9/09
≈≈≈≈≈≈≈≈≈≈≈≈≈≈≈≈≈≈
Utility Giant FirstEnergy Calls for Emergency Subsidy, Says It Can't Compete
FirstEnergy echoed Rick Perry's 'grid reliability' argument, saying its coal and nuclear plants can't be allowed to lose out to cheaper renewables and natural gas.
Deep in debt and undercut in the marketplace by renewable power, the big utility company FirstEnergy appealed to the Trump administration on Thursday to use emergency powers to let it charge more for standby power from its coal and nuclear plants.
The request, in a letter to Energy Secretary Rick Perry, followed an announcement that the company plans to close three nuclear plants in Ohio and Pennsylvania unless they can get a break.
FirstEnergy said that if it has to shutter outmoded or uncompetitive plants, the nation's largest regional grid operator—PJM Interconnection—might lose the capacity to reliably serve its customers from the Atlantic Coast into the Midwest.
The highly unusual request would benefit not only FirstEnergy's own subsidiaries in the 13-state region, but any other company in a similar position.…—John H. Cushman, "Utility Giant FirstEnergy Calls for Emergency Subsidy, Says It Can't Compete," InsideClimate News, 3/29/18
≈≈≈≈≈≈≈≈≈≈≈≈≈≈≈≈≈≈
Keystone pipeline leak in South Dakota about double previous estimate
(Reuters) – The Keystone crude oil pipeline leak in November in rural South Dakota was nearly double the original estimate, making it one of the largest U.S. inland spills since 2010, a newspaper report on Saturday said.
Robynn Tysver, a spokeswoman for Calgary-based TransCanada Corp, which owns the pipeline, told the Aberdeen American News some 9,700 barrels of oil leaked in the Nov. 16 spill, the South Dakota paper reported. The original estimate was 5,000 barrels.
The spill gave further ammunition to environmental groups and other U.S. opponents of another pipeline the company has proposed, the long-delayed Keystone XL.…
Keystone has leaked substantially more oil, and more often, in the United States than the company indicated to regulators in risk assessments before operations began in 2010, according to documents reviewed by Reuters.—Jon Herskovitz, "Keystone pipeline leak in South Dakota about double previous estimate: paper," Reuters, 4/7/18
≈≈≈≈≈≈≈≈≈≈≈≈≈≈≈≈≈≈
Warm Arctic? Expect Northeast Blizzards: What 7 Decades of Weather Data Show
The warmer the Arctic, the more likely the Northeast will be clobbered by blizzards, says a team of researchers who analyzed winter weather patterns going back to 1950.
Citing disruptive storms like Snowzilla (2016), Snowmaggedon (2010) and Snowpocalypse (2009), the climate scientists wrote that "heavy snowfalls are generally more frequent since 1990, and in many cities the most extreme snowfalls have occurred primarily during recent decades."
Their study, published in the journal Nature Communications, links the increased frequency of extreme winter storms with the rapid and persistent warming of the Arctic since around 1990. When temperatures over the Arctic spike, especially high in the atmosphere, extreme winter weather is two to four times more likely in Boston and New York, while the U.S. West tends to see warmer and drier conditions, they conclude.
Jennifer Francis, a Rutgers University climate researcher and co-author of the study, said that while the study doesn't show causation, the pattern they found reinforces other studies showing that the declining temperature contrast between the Arctic and the mid-latitudes leads to a wavier jet stream that disrupts normal weather patterns.…—Bob Berwyn, "Warm Arctic? Expect Northeast Blizzards: What 7 Decades of Weather Data Show," InsideClimate News, 3/13/18
≈≈≈≈≈≈≈≈≈≈≈≈≈≈≈≈≈≈
First Study on Climate Change and Internal Migration: World Bank Finds 140 Million Could Be Displaced by 2050
Much of the discussion around climate refugees has focused on movement between countries, with the Syrian refugee crisis serving as a chilling preview of the global exodus to come.
But a new report released by the World Bank on Monday honed in on the problem of internal displacement, finding that as many as 140 million people in three densely-populated, developing regions might be forced by climate change to migrate within their countries' borders by 2050. It is the first report to focus on the impact of climate change on intra-country migration specifically, The Guardian reported.
According to the report's worst-case-scenario prediction, Sub-Saharan Africa could see as many as 86 million internal migrants, South Asia could see up to 40 million, and Latin America could see 17 million.
The climate-change effects most likely to force migration will be drought, crop failure, sea level rise, and increased storms. But the report also found that swift action on the part of governments to limit greenhouse gas emissions in time and develop plans to help populations in vulnerable areas could reduce the number of migrants by 100 million.
"We have a small window now, before the effects of climate change deepen, to prepare the ground for this new reality. Steps cities take to cope with the upward trend of arrivals from rural areas and to improve opportunities for education, training and jobs will pay long-term dividends. It's also important to help people make good decisions about whether to stay where they are or move to new locations where they are less vulnerable," Word Bank Chief Executive Officer Kristalina Georgieva said in the release of the report.…—Olivia Rosane, "First Study on Climate Change and Internal Migration: World Bank Finds 140 Million Could Be Displaced by 2050," EcoWatch, 3/20/18
≈≈≈≈≈≈≈≈≈≈≈≈≈≈≈≈≈≈
Concerns on sea-level rise, but some 'good news'? » Yale Climate Connections
"At the end of the day, the biggest source of uncertainty is still the emissions. It's the human element in all of this."
The speaker of those words taken from this month's Yale Climate Connections "This is Not Cool" video, is Rob DeConto, PhD, of the University of Massachusetts.
He's speaking specifically about the future of global sea-level rise in a warming world. It's a point others have made in the context of climate change generally, and also in the context of other projected adverse impacts: How much and how soon? Many physical scientists agree: Despite a plethora of real and imagined uncertainties in the context of climate change, the one that's perhaps most befuddling and most unresolved is how humans will act and how and when their policy makers in the U.S. and internationally may take action.
The video can serve as a valuable instructional tool for those wanting to better explain or understand global sea-level rise trends and prospects. There are some painful, and even dire, concerns expressed about the potential that Greenland ice sheets could be "entirely lost" if emissions continue at a business-as-usual pace; about the rate of sea-level rise increasing "faster and faster with time"; and about the planet's ice sheets likely becoming "more active" over coming decades than they have been over recent decades.…—Peter Sinclair, "Concerns on sea-level rise, but some 'good news'?" Yale Climate Connections, 3/26/18
≈≈≈≈≈≈≈≈≈≈≈≈≈≈≈≈≈≈
And That's A Wrap! Thanks to everyone who sent in news, action announcements and comments this week. Send kudos, rotten tomatoes and your story ideas, your group's action events, and news of interest to intrepid climate change and environmental justice warriors! Send to editor@thebanner.news.