April 3, 2018 The Triple Divide is a hill about ten miles south of the NY-PA border near the town of Gold in Potter County. There is no other like it east of the Mississippi River, as this hill divides the watershed for three major rivers: The Genesee, the Susquehanna West Branch, and the Allegheny. The owner has been fracking around this hill for a few years now. And now a company wants to take his fracking waste, treat it and turn it over to the Coudersport municipal water treatment plant, for dumping into the Allegheny. We have been looking at stories about this over the past few editions. In this edition we focus attention on the fracking of a unique watershed that impacts huge sections of New York, and the Seneca Nation. But first the news.
Call to Action! "Cuomo: Walk the Talk On Climate"
On April 23, New Yorkers will march from Sheridan Hollow in Albany to the State Capitol Building to insist that Governor Cuomo meet the following demands:
Stop all fracking infrastructure projects

Move to 100% renewable energy beginning now

Make corporate polluters pay
The day will kick off at Noon and consist of three stages; the march, a rally at the Capitol steps, and an optional civil disobedience action. Why is the "Cuomo: Walk the Talk on Climate" event important? Governor Cuomo claims that New York is a "leader" on climate change; that not to address climate change is "gross negligence"; and that he has taken "decisive action" on climate. Actually, New York's climate pollution is unchanged since Cuomo took office in 2011. Only 3% of the State's electricity comes from wind and solar. And New York is failing to effectively cut the 80% of its climate pollution which comes from cars and trucks, buildings and other sources outside the electric grid.
In 2017, New York has seen continued expansion of gas pipelines, compressor stations, and power plants. Fracked gas fired micro grids are being built at an alarming rate.
A micro grid could come to your community in the not too distant future.

Cuomo still holds the authority to approve the expansion of propane storage at Seneca Lake when favorable political winds blow in that direction.

The State continues to import toxic, radioactive frack waste from Pennsylvania which is deposited in our landfills.

Fleets of compressed-gas trucks occupy our roads and explosive oil trains run through residential communities.

Medical associations have documented increased cancer rates, respiratory illness and neurological problems and endocrine disruption where fracking infrastructure projects are located. Pregnant women, children and the elderly are at especially high risk.

Working-class neighborhoods, communities of color such as Sheridan Hollow, and Indigenous Peoples are disproportionately targeted by fracked gas infrastructure. This contradicts the goals of Environmental Justice, human rights, and stewardship of Earth.
So, why is it imperative that we hold Cuomo's feet to the fire on climate? In his 2017 State of the State address, Governor Cuomo promised New Yorkers that he would "double down on the fight against dirty fossil fuels." Instead, he has enabled an expansion of fracking infrastructure across the state. Yes, we must hold him accountable to walk his talk.
Join us, a large coalition of groups and individuals in Albany on April 23 to let Cuomo hear the truth about climate change and fracking infrastructure from his constituents. We will accept no more false promises!
Sign up for the march, rally and/or the civil disobedience action here: Cuomo: WalkTheTalk!
Want to participate in the civil disobedience action or to provide support for those who do? Please attend a required preparatory training. The training scheduled for the greater Central New York, Western New York and the Southern Tier region is happening in Elmira on Tuesday, April 17 from 6:30-9:00PM For more info go to the training's Facebook Event Page.
To link up with a bus near you, register for the event: Cuomo! Walk The Talk On Climate!
≈≈≈≈≈≈≈≈≈≈≈≈≈≈≈≈≈≈
FERC, No more dog and pony shows
Last year, for various reasons, the Federal Energy Regulatory Commission (FERC) was down to one commissioner by mid-year and had been without a quorum since February. The Trump administration filled four open slots over the remainder of the year. Kevin McIntyre, the new FERC chair, announced shortly after starting his new job that he wanted the commission to take a look at the pipeline review process. He wasn't clear about what exactly that would entail or when it would begin.
The FERC is the nation's energy regulator, but, about 30 years ago, it was tasked with reviewing applications for natural gas transmission line projects. A big part of that review is siting, or determining the location, of the pipeline and that involves studying its potential environmental impacts.
FERC has reviewed hundreds of pipeline projects in the past 30 years and has approved all but one. FERC's website provides a list of projects approved in the past 20 of those years. In that time, the commission has approved about 460. For that reason, it is viewed as a rubber stamp commission.  Its reputation isn't helped by the fact that it was created as an independent commission that is funded by the fees it charges of the companies it is supposed to be regulating.
The potential conflicts of interest don't end there. Many on FERC's staff and even some commissioners have had ties to the industry that are too close for comfort. Many staffers pass through a revolving door between government and industry, taking jobs at pipeline companies eager to have new hires who are current on all the latest rules and regulations, but, often, they are still on the job at FERC when they are applying for their new jobs.
These are among the issues more than 200 organizations have raised in letters, petitions, Congressional lobby visits, and protests over the past few years calling for urgent reforms of the way FERC does business.
Some of the problems, and one of the reasons why the organizations are pressing for Congressional intervention, stem from the Natural Gas Act. One of those issues is eminent domain. The government's ability to take private property for projects that serve a public benefit is controversial, at best, but becomes downright enraging when pipeline companies use eminent domain for profit… legally. That it legal under the Natural Gas Act is just part of the problem. How and when it is allowed by FERC is another.
Most projects are initially approved by FERC on a conditional basis. For instance, FERC will issue a conditional approval before states have decided on whether or not to issues federal and state water quality permits, the only authority the states are given over pipeline projects. Without those permits, the project is effectively dead. Knowing that hasn't stopped FERC from issuing 'notices to proceed' once they've conditionally-approved a project. The notices allow for some preliminary work to begin, like tree clearing to create the right-of-way. A conditional approval also allows companies to start eminent domain proceedings against any landowners who have not signed easement agreements.
In 2016, the Holleran family in Susquehanna County, Pennsylvania had not signed an easement agreement with Williams for its Constitution pipeline when FERC granted conditional approval of the project. The Hollerans have been operating a maple syrup business on the land that has been the family's homestead since the 1950s. FERC issued the notice to proceed with clearing trees, including those the family taps for its business. A federal court upheld Williams' right to take the property and fell the trees using eminent domain. The judge also ordered U.S. marshals to accompany the tree cutters. The marshals arrived armed with assault weapons and pistols.
In that case, Pennsylvania's environmental regulators had issued the water quality permits prematurely, as they always do, but New York's regulators take a more considered approach and had not yet issued the permits for their state's side of the pipeline. On Earth Day, a month and a half after the trees came down in Pennsylvania, New York rejected the permits. The project is dead and so are the Hollerans' trees.
Concerned that the FERC review will be a dog and pony show, the organizations that had been actively lobbying Congress to take advantage of the lack of a quorum at FERC to hold hearings into its practices, have refocused their attention on the FERC commissioners. Since the beginning of the year, projects approved by  the Commission and the way they've been approved lead the groups to believe that nothing is improving and, in fact, may be getting worse.
The courts don't always rule against the people, as they did in the Constitution pipeline case. A federal court ruled in favor of the Delaware Riverkeeper Network in a case involving another practice in need of reform, FERC's handling of segmentation. Pipeline companies submit projects in segments that make it impossible to assess the cumulative environmental impacts of the pipeline once the segments are stitched together. The Delaware Riverkeeper Network argued that FERC should not accept applications for segments and the court agreed. Unfortunately, rulings like that don't stop FERC from continuing its bad practices. They simply provide a precedent for the next court case. Those decisions come too late, however. In fact, by the time the court found in favor of the Delaware Riverkeeper Network in the precedent-setting case, the pipeline was built. That's because of another abuse of power at FERC – the use of tolling orders.
One of the key reforms the groups have raised is that of the use of tolling orders to put the public in legal limbo. When FERC approves a pipeline, individuals and organizations submit a rehearing request. At that point, FERC issues tolling orders that allow the commission time to consider whether or not it will grant the request. Tolling orders are not injunctions, however. The parties seeking a rehearing are unable to take any legal action until FERC makes a decision on the request, but the pipeline company is allow to proceed with the taking of land by eminent domain and other actions. By the time the rehearing request is denied (it always is) and the parties try their cases in court, the pipeline is built and operational.
FERC's recent issuance of tolling orders on the rehearing requests for the PennEast pipeline that would cut through six counties in Pennsylvania and New Jersey shows that they have made no effort to reform that part of the process to date. If anything, the indication from recent pipeline approvals is that things are getting worse.  A new policy announced by FERC will put even more limits on the already-limited "public participation process".
Next week, a delegation from the network of organizations will meet with Commissioner Richard Glick. Over the next months, as we pressure FERC commissioners to reform the agency and pressure Congress to make them, we will be delivering letters and petitions signed by organizations and individuals demanding reform.
The petition provides a summary of the key reforms we seek. You can read and sign the petition here.—Karen Feridun, "FERC, No more dog and pony shows!' The Banner, 4/3/18
≈≈≈≈≈≈≈≈≈≈≈≈≈≈≈≈≈≈
Sportsmen's group joins anti-incinerator crowd
ROMULUS — The Seneca County Federation of Sportsmen's Clubs has joined the opposition against the waste-to-energy incinerator proposed for the former Seneca Army Depot.
Federation President Dieter Kraemer expressed the opposition in a letter to the governor and a host of other state officials, as well as to Seneca County Board of Supervisors chairman Bob Shipley.
Further reading: PSC docket for Incinerator Project
"The Seneca County Federation of Sportsmen's Clubs, which represents all of the sportsmen's clubs in the county, strongly opposes this incinerator project,'' Kraemer wrote.
Circular EnerG of Rochester has applied to the state Board on Electric Generation Siting and the Environment under an Article 10 proceeding for a permit to build and operate a $356 million facility on a 48-acre parcel.
The federation's letter notes that 176 tractor-trailers or 30 railcars loaded with trash would be traveling on local roads and rail lines. It also mentions the withdrawal of 445,000 gallons of water a day from Seneca Lake; the discharge of warmed water into Reeder Creek; the generation of 126,000 gallons of leachate per day; and Seneca Lake's role as the drinking water source for several communities.…—David L. Shaw, "Sportsmen's group joins anti-incinerator crowd," Finger Lakes Times, 3/30/18
≈≈≈≈≈≈≈≈≈≈≈≈≈≈≈≈≈≈
Anti-pipeline campaigners found not guilty by judge because 'protest against climate change crisis' was legal 'necessity'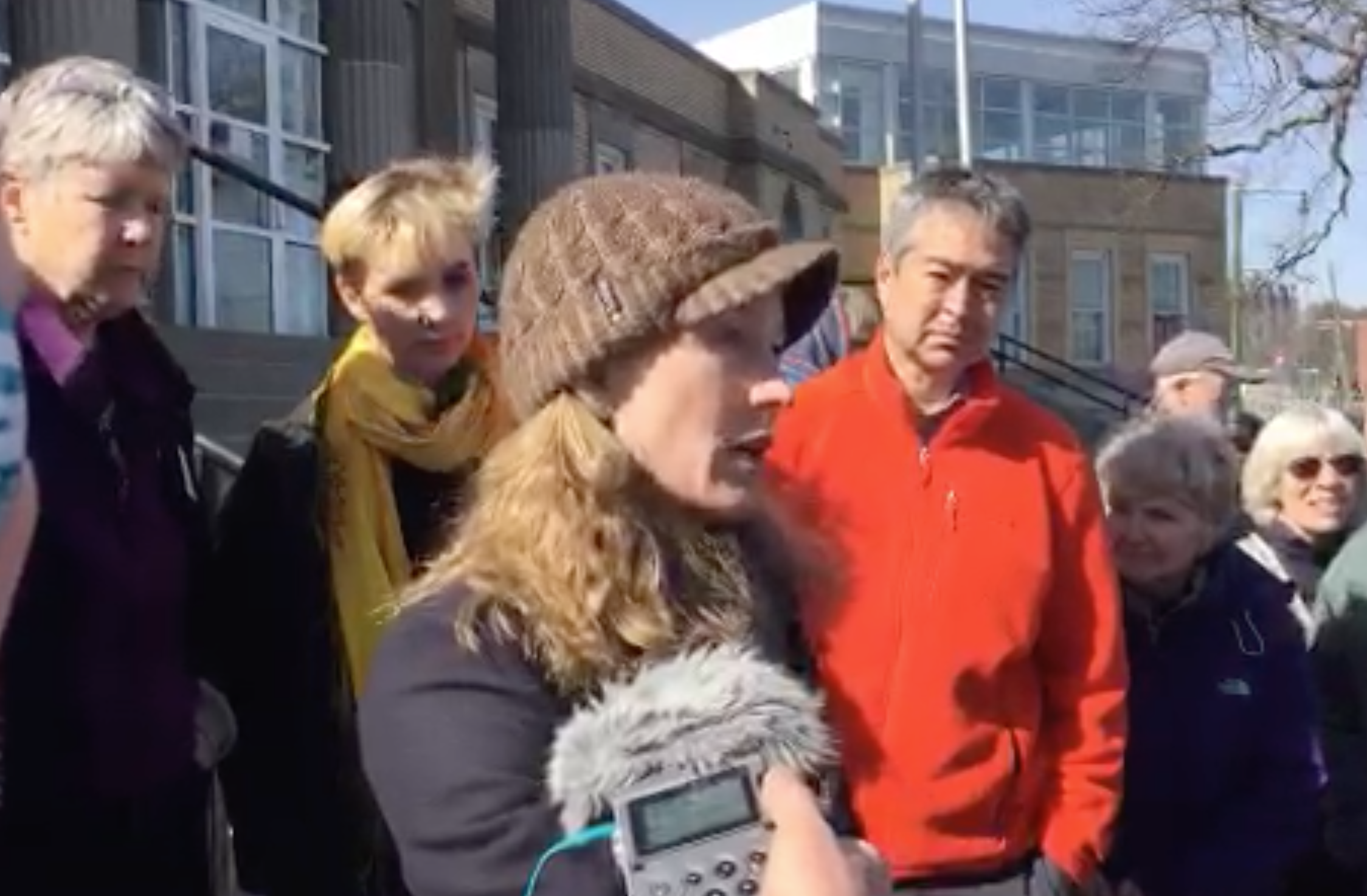 More than a dozen protesters who clambered into holes dug for a high pressure gas pipeline said they had been found not responsible by a judge after hearing them argue their actions to try and stop climate change were a legal "necessity".
Karenna Gore, the daughter of former Vice President Al Gore, was among more than 198 people who were arrested because of their 2015 actions protesting the pipeline in West Roxbury, Massachusetts, a suburb of Boston. Thirteen people were to go on trial this week, though prosecutors downgraded their original criminal charges to one of civil infraction.
On Tuesday, Judge Mary Ann Driscoll of West Roxbury District Court, found all 13 defendants not responsible, the equivalent of not guilty in a criminal case. She did so after each of the defendants addressed the judge and explained why they were driven to try and halt the pipeline's construction.
Speaking outside the court afterwards, Ms Gore, 44, Director of the Centre for Earth Ethics at Union Theological Seminary in New York, said the court's decision was historic. "What happened today was really important," she said.
"The people….were found not responsible by reason of necessity. The irony is that we are making ourselves responsible. We're part of the the movement that is standing up and saying we won't let this go by on our watch. We won't act like nothing's wrong."…—Andrew Buncombe, "Anti-pipeline campaigners found not guilty by judge because 'protest against climate change crisis' was legal 'necessity'," The UK Independent, 3/27/18
≈≈≈≈≈≈≈≈≈≈≈≈≈≈≈≈≈≈
Judge Rejects Exxon's Attempt to Shut Down Climate Fraud Investigations
The federal judge called Exxon's claim that its free speech rights were being violated by the state investigations 'a wild stretch of logic.'
With a sharp rebuke, a federal judge on Thursday rejected Exxon's attempt to shut down two state investigations into whether the oil giant misled investors for years about the risks of climate change.
U.S. District Court Judge Valerie Caproni dismissed Exxon's complaint with prejudice, meaning the company can't refile it.
In the first line of her ruling, the judge describe Exxon's actions as "running roughshod over the adage that the best defense is a good offense."
"The relief requested by Exxon in this case is extraordinary: Exxon has asked two federal courts—first in Texas, now in New York—to stop state officials from conducting duly-authorized investigations into potential fraud," she wrote. "It has done so on the basis of extremely thin allegations and speculative inferences."
Further reading: How Big Oil Lost Control of Its Climate Misinformation Machine
Caproni dismissed Exxon's claim that Attorneys General Maura Healey of Massachusetts, Eric Schneiderman of New York, and others had launched a conspiracy to deprive the company of its First Amendment rights and silence its views on climate change.…—John H. Cushman, David Hasemyer, "Judge Rejects Exxon's Attempt to Shut Down Climate Fraud Investigations," InsideClimate News, 3/29/18
≈≈≈≈≈≈≈≈≈≈≈≈≈≈≈≈≈≈
Fracking Up The Triple Divide
Seneca Nation & Award-Winning Filmmakers Threatened By Fracking Industry For Defamation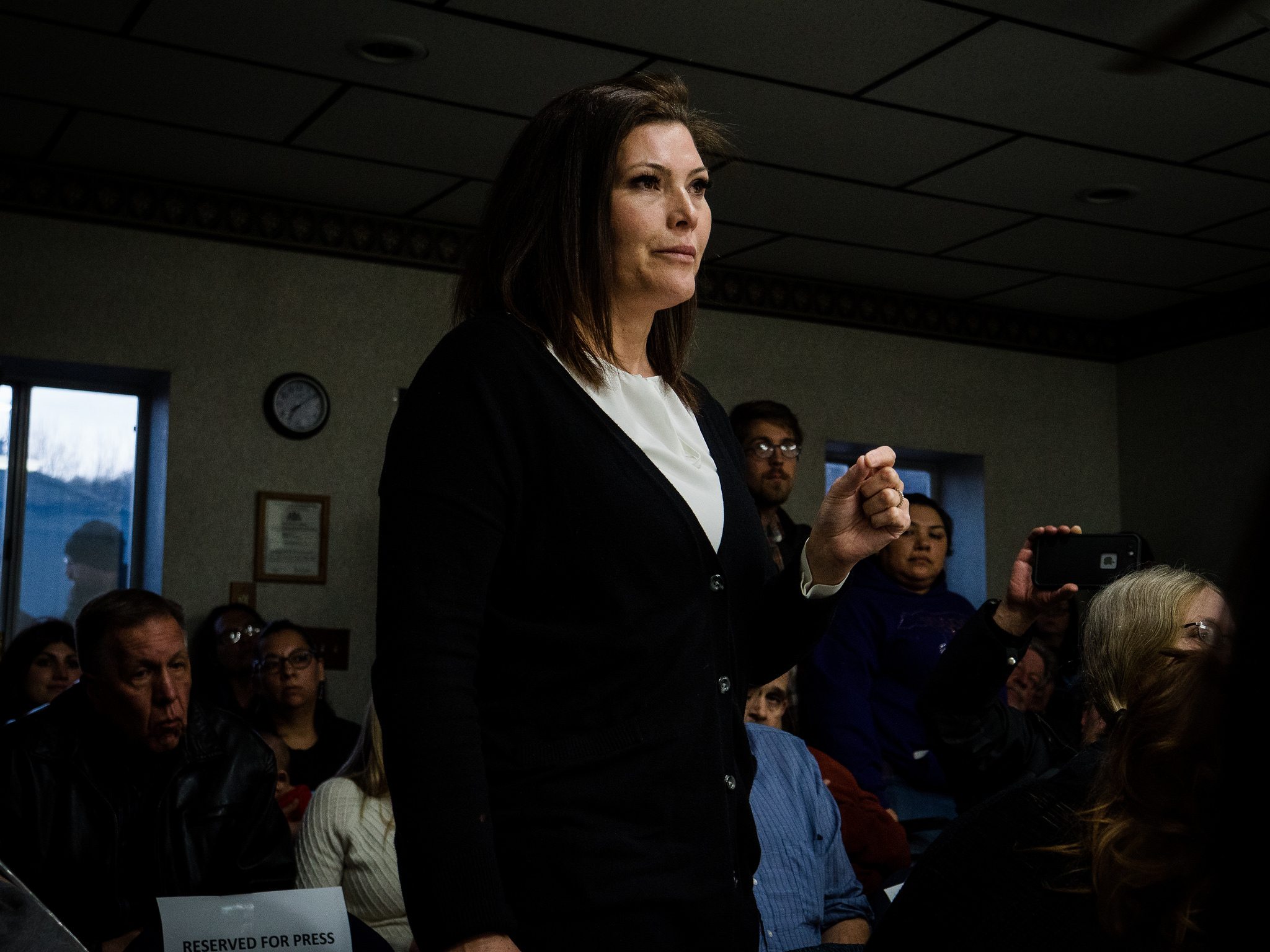 Directors of the award-winning fracking documentary, Triple Divide [Redacted] and the Seneca Nation of Indians have received cease and desist letters for slander against two companies in the fracking industry.
The targeted filmmakers, Melissa Troutman and Joshua Pribanic, are the journalists behind the investigative news nonprofit Public Herald.
"This is a baseless attempt to thwart open discussion of a controversial waste facility," said Public Herald's attorney Victor Pribanic, a nationally renowned trial lawyer from Pribanic & Pribanic.
The law firm Blank Rome, an oil and gas heavyweight representing Epiphany Allegheny LLC, issued slanderous statements of its own to the press accusing Pribanic and Troutman of operating outside "the laws of man, the laws of science, and the laws of God." The controversy surrounds a plan submitted to Pennsylvania authorities by the Pittsburgh-based Epiphany Allegheny to treat fracking wastewater and discharge effluent into the Allegheny River. Epiphany and its CEO, Tom Joseph, has taken aim at the directors after they raised the alarm that Marcellus Shale fracking wastewater is radioactive and toxic.
Troutman and Pribanic voiced concerns about contaminants finding ways into the river, a precaution also expressed by downstream voices like the Seneca Nation of Indians, New York State Senator Catherine Young, the legislature of Cattaraugus County and several state and federal agencies.…—Joshua B. Pribanic, Melissa A. Troutman, "Award-Winning Filmmakers & Seneca Nation Threatened By Fracking Industry For Defamation," Public Herald, 3/28/18
≈≈≈≈≈≈≈≈≈≈≈≈≈≈≈≈≈≈
At Allegheny River's headwaters, treatment plant for fracking wastewater stirs debate
COUDERSPORT, Pa. — The Allegheny River begins its 325-mile meander to Pittsburgh's Point in rural Potter County, flowing through town as a still, small stream — no wider than a country lane and rarely deeper than a fisherman's chest waders.
In Pennsylvania's northern tier, the river riffles and pools through a landscape with more deer than people, more trees than telephone poles and more pickup trucks than sedans.
As the river flows west, through the backyards of homes along State Route 6, it passes the Coudersport Area Municipal Authority sewage treatment plant where Epiphany Water Solutions, a Lawrenceville-based startup, has proposed hooking up its first commercial shale gas drilling and fracking wastewater treatment plant.
A long history of hurt
And so do the Seneca. More than 100 Seneca attended the regular CAMA board meeting last month, banging drums and singing outside the meeting room and carrying signs saying "Stop Fracking with our children's future," "Defend Ohi:yo'," and "Water is Sacred."
A half-dozen spoke passionately against the Epiphany proposal, with several warning against "poisoning" the river that has played a central role in their tribe's culture and heritage."This is one of those things you can't afford to play around with at the headwaters of a major river," Jason Corwin, a Seneca spokesman, said at the meeting.
Seneca President Todd Gates, in a phone interview, said that even if the Epiphany facility works as advertised, unintentional pollution releases could occur from the process and from the six to eight large wastewater holding tanks that will be built within the river's 100-year flood plain.
"There is no proven technology that allows for the complete treatment of wastewater from fracking, particularly in the Marcellus Shale region," Mr. Gates said. "Allowing this project to move forward would be a reckless assault on Mother Earth, the resources of the Ohio:yo', the health of thousands of downstream and future generations."
Mr. Gates said the Seneca have a long history of hurt when it comes to encroachments, intentional and otherwise, on its lands and rivers, "and the Kinzua Dam, that's always in the back of our minds."…—Don Hopey, "At Allegheny River's headwaters, treatment plant for fracking wastewater stirs debate," Pittsburgh Post-Gazette, 3/18/18
≈≈≈≈≈≈≈≈≈≈≈≈≈≈≈≈≈≈
'Extreme' Iceberg Seasons Threaten Oil Rigs and Shipping as the Arctic Warms
As the planet warms, giant icebergs and sea ice that once would have remained trapped in the frozen Arctic are moving southward faster and more frequently, menacing shipping and oil and gas drilling operations.
In the North Atlantic, scientists say the number of icebergs spotted south of 48 degrees latitude—where they start to get into more shipping lanes—is up again this year, following a series of extreme iceberg seasons.
"So far, iceberg numbers crossing south of 48 degrees look to be higher this year than last, and last year saw a relatively high iceberg flux year—about 1,000 icebergs crossing 48 North, compared to the long-term mean of 450," said University of Sheffield geographer Grant Bigg, who studies icebergs and climate.
That ice can pose serious risks to ships and offshore oil and gas rigs. Last year, strong storms sent a swarm of icebergs surging into the oil and gas drilling field at the Grand Banks off Newfoundland, marking the fourth extreme iceberg season in a row, according to International Ice Patrol Commander Gabrielle McGrath.…—Bob Berwyn, "'Extreme' Iceberg Seasons Threaten Oil Rigs and Shipping as the Arctic Warms," InsideClimate News, 3/27/18
≈≈≈≈≈≈≈≈≈≈≈≈≈≈≈≈≈≈
Senecas Ramp Up Opposition to Pegula Fracking Proposal
There's an old expression that comes close to describing billionaire Bills and Sabres owner Terry Pegula's business philosophy, and that is, "Don't make a mess in your own nest."
The thrills and enjoyment Pegula provides to Western New York sports fans, as his teams go forth to do battle against rival municipalities, are in stark contrast to the misery of the land, air and water pollution his natural gas fracking operations inflict on communities south of the state line, in northwestern Pennsylvania.
In 2015, two public drinking water systems and at least six private water wells were allegedly contaminated by pollution from a natural gas fracking operation run by JKLM Energy LLC in Potter County, Pennsylvania. Terry Pegula is the owner of JKLM. JKLM ended up paying hundreds of thousands of dollars in fines, and pay for other remedial actions, as documented at the state website PA.gov.
This was the first time anywhere in the nation that not one, but two public water supplies had been impacted by groundwater pollution from fracking operations.
An emergency press conference was held in downtown Coudersport, PA to inform the public that their drinking water was potentially contaminated, and to stop using it for cooking, bathing, etc.
Can you imagine if the Niagara Falls Water Board suddenly announced that our water was no longer safe to use? That's what many people in Potter County, PA actually endured just a couple of years ago. Not something you heard very much about up here in Bills and Sabres Country.…
…As we reported last week, Pegula and JKLM are in the process of obtaining final government approvals to construct a wastewater treatment plant on the Allegheny River at Coudersport to process their radioactive frack-water, and dump it in the river. Millions of people of metropolises including Pittsburgh, Cincinnati and Louisville live downstream of the proposed plant site.
Monday evening over 75 concerned citizens attended a screening of the award-winning documentary "Triple Divide Redacted", which portrays the ongoing struggle to protect the area's water resources from fracking, at the Seneca Nation Administration Building down in Salamanca, NY, a film produced by investigative journalists at the Public Herald.
A fascinating aspect of geography, a triple divide is the intersection of three watersheds, or river basins.
The headwaters of three major rivers — the Genesee (which flows up through New York State to Lake Ontario), the Susquehanna (which empties into Chesapeake Bay) and the Allegheny (which extends to the Mississippi River via the Ohio) all begin their descent from a single 2,500-foot hill near Gold, PA in Potter County, epicenter of Pegula's fracking operations. The potential risk to the water supply of nearly a third of the land area of the continental United States should be obvious.…—James Hufnagel, "Senecas Ramp Up Opposition to Pegula Fracking Proposal," The Niagara Reporter, 2/24/18
≈≈≈≈≈≈≈≈≈≈≈≈≈≈≈≈≈≈
Coudersport Council Rejects Proposed Wastewater Treatment Plant
Senecas say plant could harm Allegheny River
Salamanca, NY— On the same day the Seneca Nation hosted a conference on meeting to discuss concerns over the dangers a proposed wastewater treatment plant would present, the Coudersport Borough Council rejected the plan.
The Borough Council voted 5-1 opposing a proposed wastewater treatment plant that would allow for the transport, treatment and release of thousands of gallons of  wastewater from hydraulic fracturing (fracking) into the Allegheny River. The proposed facility would be located in Eulalia Township, at the river's headwaters.
"We were very happy to learn of this latest action, by yet another government defending the river from what we believe is a dangerous plan," said Seneca Nation President Todd Gates. "The risk of contamination along the river, and the potential environmental and health risks it could impose, simply should not be tolerated."
"The headwaters of the Allegheny River are some of the purest I have tested. They need to be protected," Dr. John Stolz, director of the Center for Environmental Research and Education at Duquesne University said at the Seneca Nation's meeting. "We have learned from other brine treatment facilities operating in the Allegheny basin that their discharges have degraded the water quality."…—Tom Puckett, "Coudersport Council Rejects Proposed Wastewater Treatment Plant," WBEN, 3/22/18
≈≈≈≈≈≈≈≈≈≈≈≈≈≈≈≈≈≈
McDonald's takes action on plastic straws
Soon, diners will have to request a straw if they want one. And it might be paper.
It is rare that we have happy news from the fast food sector, but McDonald's has made a pleasing new promise to tackle plastic waste. It appears the company is taking a two-pronged approach.
First, two test locations in London, England, will be phasing out plastic straws entirely. Starting in May this year, the straws in these two restaurants will be replaced by paper versions made with recycled content.
Second, and arguably much more importantly, all 1,300 McDonald's restaurants in the United Kingdom will start handing out straws only upon request. Paul Pomroy, head of McDonald's UK, told Sky News:
"Customers have told us that they don't want to just be given a straw, they want to have to ask for one, because straws [are] one of those things that people feel passionately about, and rightly so. We're now moving those straws behind the front counter, so if you come into McDonalds going forward, starting next month, you're going to be asked if you want a straw."
It might seem like a minuscule change, but the act of having to ask for a straw will force people to think, even for just a few seconds, about whether or not they really need such a product, and that's likely to make a dent in consumption.
Pomroy also pointed out that the fast food chain has been working toward fully-recyclable packaging. So far it's at 80 percent, and dealing with the straw issue will help address the remaining gap. No more foam or polystyrene boxes are handed out.…—Katherine Martinko, "McDonald's takes action on plastic straws," TreeHugger, 3/28/18
≈≈≈≈≈≈≈≈≈≈≈≈≈≈≈≈≈≈
What's causing a chaotic spring?
…Is spring weather getting more chaotic?
That's why it may surprise you to learn that by some measures, spring weather has gotten less chaotic.
Elizabeth Weatherhead, a research scientist with the Cooperative Institute for Research in Environmental Sciences in Boulder, Colorado, says that while weather near the poles has become more variable in the spring, the trend in the mid-latitudes – where mainland U.S. residents live – is the opposite: Weather is getting "stuck."
This means that, in general, weather – be it high temperatures, extreme storms, or a lack of rain – stays the same for longer than it used to. Researchers and meteorologists have a term for this phenomenon of stuck weather: persistence.
The trend toward increased persistence is still the subject of debate among climate scientists. But Jennifer Francis, a research professor at Rutgers University, has suggested that it's the result of a shrinking difference between the temperatures of the tropics and the temperatures of the rapidly-warming Arctic.
When that difference decreases, the jet stream, a river of air in the atmosphere that travels the boundary between hot and cold air, grows weaker and more prone to creating weather patterns that stick around for a while.
But Francis said, "The increase in persistence is most supported for winter and summer – less so in fall and spring." She noted that the impact of the warming Arctic on spring and fall weather patterns are not well studied and that it is something she's working to address in her current research.
So if the weather in much of the U.S. might be growing less changeable, why does this spring feel so wild?
The answer may lie in two other climate-linked phenomena: the early onset of spring and the increased frequency of nor'easters.…—Samantha Harrington"What's causing a chaotic spring?" Yale Climate Connections, 3/30/18
≈≈≈≈≈≈≈≈≈≈≈≈≈≈≈≈≈≈
America's Biggest Beef Eaters Responsible for Large Chunk of Climate Emissions
The biggest eaters of burgers, steaks and ribs contribute the largest hunk of diet-related greenhouse gas emissions in the United States, according to a new study that examined individual eating habits across the country.
New research from the University of Michigan and Tulane University finds that 20 percent of American eaters accounted for nearly half of total diet-related emissions, and that their diets were heavy on beef.
If those people consumed fewer calories and shifted to a more moderate diet with less beef, that could achieve almost 10 percent of the emissions reductions needed for the U.S. to meet its targets under the Paris climate agreement, the researchers found.
The study, published Tuesday in Environmental Research Letters, adds to a growing pile of evidence linking beef with high greenhouse gas emissions, but it is the first to look at what people ate—or recalled eating—rather than at data from the U.S. Department of Agriculture, which measures how commodities flow through the economy.…—Georgina Gustin, "America's Biggest Beef Eaters Responsible for Large Chunk of Climate Emissions," InsideClimate News, 3/20/18
≈≈≈≈≈≈≈≈≈≈≈≈≈≈≈≈≈≈
Climate Change Adaptation and Mitigation Could Affect Cities' Bond Ratings
In December, Moody's Investors Service issued a report encouraging cities to invest in climate adaptation and mitigation. Cities will be evaluated in the future at least in part on how they prepare for both short-term climate "shocks" and longer-term trends associated with climate change.
Moody's is the largest credit rating agency to date to publicly outline how it evaluates climate change risk and integrates it into its credit rating assessments.
In the report, the United States is divided into seven "climate regions," identified by both geography and the type of mostly common regional impacts—for example, drought, extreme heat, and wildfires in the Southwest; rising sea level and its impact on coastal development in the Northeast; and flooding and other impacts on agriculture in the Midwest. The report stresses, "If federal, state, and local governments do not adapt, these risks are forecast to become more frequent and severe over time."
Cities that are already taking proactive steps to address climate change mitigation and resilience may welcome this additional level of scrutiny. A municipal credit rating based in part on climate change preparation could lead to a virtuous circle—cities that invest in climate preparedness would see a higher bond rating, allowing them to attract more low-interest capital to invest in a broader range of strategies to prepare for the short- and long-term impacts of climate change.…—Billy Grayson, "Moody's: Climate Change Adaptation and Mitigation Could Affect Cities' Bond Ratings," Urban Land Magazine, 1/17/18
≈≈≈≈≈≈≈≈≈≈≈≈≈≈≈≈≈≈
And That's A Wrap! Thanks to everyone who sent in news, action announcements and comments this week. Send kudos, rotten tomatoes and your story ideas, your group's action events, and news of interest to intrepid climate change and environmental justice warriors! Send to editor@thebanner.news