February 6, 2018 A certain political speech last week, a couple of days before Groundhog Day, was oddly coincidental with a week of stories either unaware of the subjects' hubris or calling that vaunting exuberance by its true name, one way or another. Of course, the environmental movement can also be afflicted with greenish irrational exuberance. We excerpt a few from that spectrum, noting which are intended by the editor to be straight stories worthy of attention (But dear reader, never let your guard down! Even in these pages). But first the news.
How to Comment on the Hakes Landfill Expansion Project
Sat., Feb. 10, 2018 11:00 am First Methodist Church 144 Cedar St., Corning
A program on how make comments on the Draft Supplemental Environmental Impact Statement (DSEIS) for the Hakes C&D Landfill Expansion Project, sponsored by the Sierra Club Atlantic (New York) Chapter.
The program is designed to assist those wishing to make comments at the public hearing on the DSEIS and the Town of Campbell Site Plan review scheduled for 6:00 p.m. Tuesday February 13, 2018 at the Campbell American Legion Post 1279, 8458 County Route 333, Campbell.  DEC is accepting written comments on the expansion project through February 26, 2018.
Dr. Raymond Vaughan will be the featured speaker at the program.  Dr. Vaughan will discuss his examination of the landfill's leachate radionuclide analytical test results which were obtained through a FOIL request.  His examination of the test results identified high levels of the radionuclides lead-214 and bismuth-214 in some of the results.  Dr. Vaughan will discuss the significance of the presence of these radionuclides in leachate samples from the landfill.
Other Sierra Club representatives will discuss the process of making comments at a DEC legislative hearing and summarize the status of the recent legal challenge to DEC's final scoping document for the Hakes DSEIS filed in Steuben County Supreme Court by the Sierra Club, People for a Healthy Environment Inc., Concerned Citizens of Allegany County and three individuals who live near the landfill.
The program is free and open to the public.  For more information visit https://www.facebook.com/events/337179820116101/
The Hakes DSEIS and Town of Campbell Site Plan application materials are available at https://hakesexpansion.blogspot.com/
DEC's hearing notice and address for commenting is posted at http://www.dec.ny.gov/enb/112350.html
≈≈≈≈≈≈≈≈≈≈≈≈≈≈≈≈≈≈
N.Y. power plant opponents seek support
SHERMAN — New York residents are hoping to get some support from their Connecticut neighbors as they fight a power plant already being built in Dover Plains, N.Y.
Several New Yorkers who live near the new Cricket Valley plant shared health and environmental concerns about the project at last Thursday's Board of Selectmen meeting and encouraged Sherman residents to sign a petition or visit their Facebook page opposing the project.
The Cricket Valley plant would generate 1,100 megawatts of power using natural gas. The plant was proposed in 2009 and approved by the New York Department of Environmental Conservation in 2012. Construction has started and the plant is expected to be online in 2020.
Environmental advocates and residents are concerned the nitrogen oxides, carbon monoxide and volatile organic compounds emitted by the plant will harm their health and the environment.
Several speakers noted these chemicals can travel a distance and will harm communities downwind. Sherman is 8 miles from the plant, New Milford is 10 miles away and Kent is 6 miles from the 193-acre site.
Some speakers said the emission meet the federal standards, but said those standards are for regions and don't protect those living directly around the plant.
"I'm not reassured," said Johanna Fallert, of Poughkeepsie, N.Y. "This plant is an abomination and must be stopped."…—Katrina Koerting, "N.Y. power plant opponents seek support," Laredo Morning Times, 1/31/18
≈≈≈≈≈≈≈≈≈≈≈≈≈≈≈≈≈≈
Finger Lakes Climate Fund Presents Carbon Foot-print Reductions for Low Income Households
Feeling guilty about heating with gas or flying in a jet?  Need help with insulation? Sustainable Tompkins, Ithaca, has a program of providing tax-deductible CARBON OFFSETS that drive real, local, CARBON FOOT-PRINT REDUCTIONS for low income households in the Finger Lakes region.  Find out how we can have a  team that helps households in Monroe County 
WHO: Gay Nicholson, Ph.D., President, Sustainable Tompkins WHEN: Sunday, February 11, 2 PM WHERE: First Unitarian Church, 220 S Winton Rd, Rochester, NY
All are invited, free.
Co-sponsors: Rochester People's Climate Coalition  and First Unitarian Church Environmental Task Force.
For more info about other projects of the Fund, visit their website Finger Lakes Climate Action Fund For questions about weather email John Keevert
≈≈≈≈≈≈≈≈≈≈≈≈≈≈≈≈≈≈
N.H. Site Evaluation Committee Rejects Eversource's Northern Pass Project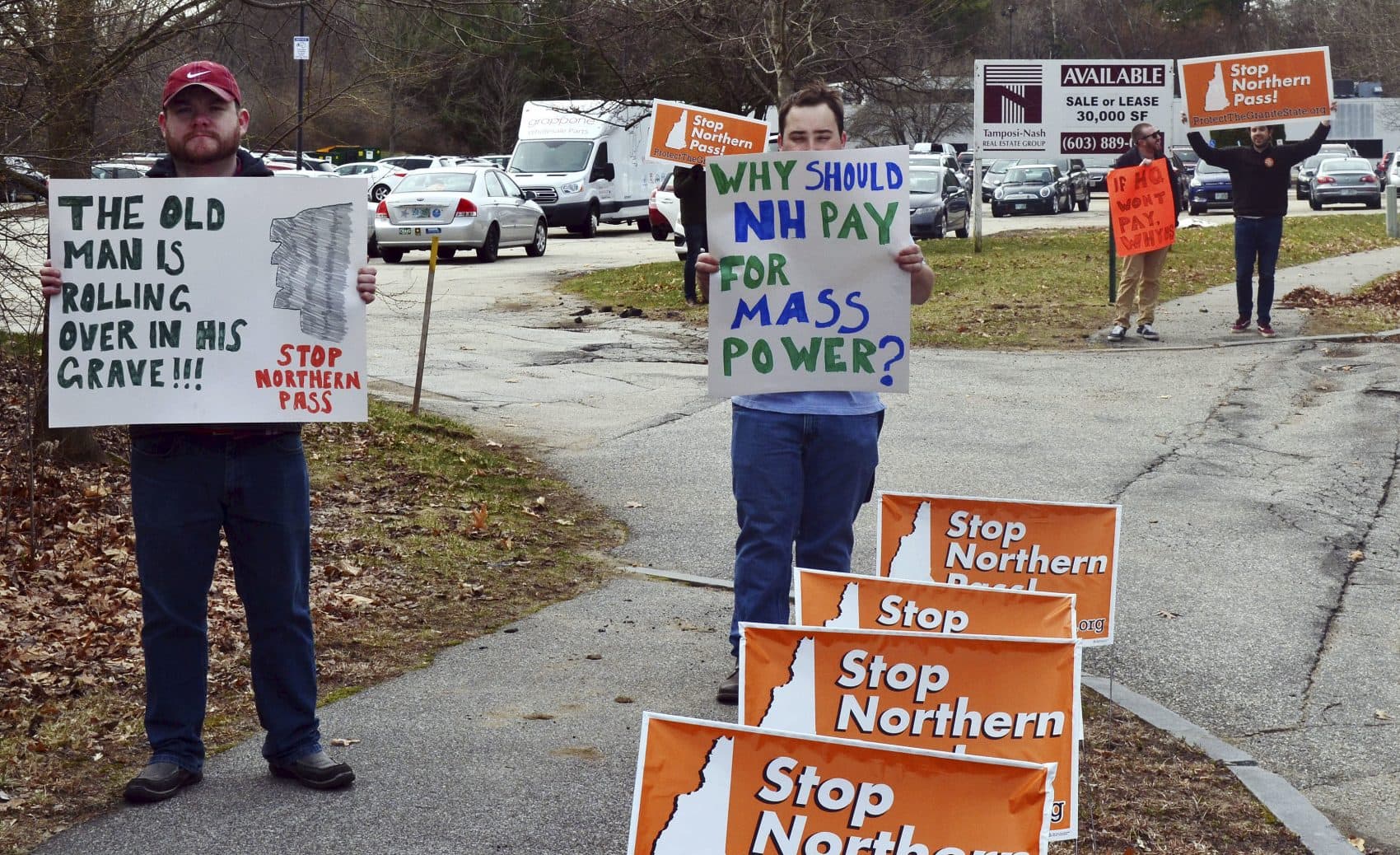 The New Hampshire Site Evaluation Committee on Thursday voted unanimously to deny Eversource's controversial Northern Pass project a permit.
The panel was in its third day of deliberations on whether to let the 192-mile transmission line proposal move forward.
They had informally agreed Wednesday morning that they did not feel Eversource, the utility developing the project, had proven the power line would not unduly affect the orderly development of the region.
That was one of four criteria the project had to meet in order to get a permit. The committee had only discussed one other criteria so far — the project's financial and technical stability, which they'd agreed was sound.
On Wednesday afternoon, according to attendees, Public Utilities Commission representative Kathryn Birchard moved she and her fellow SEC members vote to deny the project. She argued it couldn't overcome their concern that it would have an out-sized impacts on land uses and local planning along its route through the North Country and central New Hampshire.
The commission's initial vote on Bailey's motion was 5 to 2 in favor of denial. They then voted again and were unanimous, denying Northern Pass a permit to begin construction this spring as planned.…—Annie Ropeik, "N.H. Site Evaluation Committee Votes Against Eversource's Northern Pass Project," WBUR, 2/1/18
≈≈≈≈≈≈≈≈≈≈≈≈≈≈≈≈≈≈
Irrational Exuberance, Empowered
Exuberant Taking THE U.S. SHALE OIL INDUSTRY Swindling & Stealing Energy To Stay Alive
Financial analyst Deborah Rogers has served on the Advisory Council for the Federal Reserve Bank of Dallas since 2008. She was appointed in 2011 by the Texas Commission on Environmental Quality (TCEQ) to a task force reviewing placement of air monitors in the Barnett Shale region in light of air quality concerns brought about by the natural gas operations in North Texas. She joined a regional steering committee for the Oil and Gas Accountability Project (OGAP) in 2011 with responsibility for economic questions. Ms. Rogers got involved in natural gas when she learned that an energy company planned 12 high impact wells next to her property, Deborah's Farmstead, a nationally recognized artisanal cheese-making dairy. Her website, Energy Policy Forum (http://energypolicyforum.com/), discusses the complex problems inherent in shale gas. In September 2011, New York State issued a second draft generic environmental impact statement, as well as proposed regulations to guide hydro-fracking drilling in New York. The comment period is still open, so New Yorkers need to inform themselves on this issue and make their views and concerns known to the Department of Environmental Conservation.
While the U.S. Shale Energy Industry continues to borrow money to produce uneconomical oil and gas, there is another important phenomenon that is not understood by the analyst community.  The critical factor overlooked by the media is the fact that the U.S. shale industry is swindling and stealing energy from other areas to stay alive.  Let me explain.
First, let's take a look at some interesting graphs done by the Bloomberg Gadfly.  The first chart below shows how the U.S. shale industry continues to burn through investor cash regardless of $100 or $50 oil prices [click link to the whole article, below, to view charts].
The chart above shows the negative free cash flow for 33 shale-weighted E&P companies.  Even at $100 oil prices in 2012 and 2013, these companies spent more money producing shale energy in the top four U.S. shale fields than they made from operations.  While costs to produce shale oil and gas came down in 2015 and 2016 (due to lower energy input prices), these companies still spent more money than they made.  As we can see, the Permian basin (in black) gets the first place award for losing the most money in the group.
Now, burning through investor money to produce low-quality, subpar oil is only part of the story.  The shale energy companies utilized another tactic to bring in additional funds from the POOR SLOBS in the retail investment community… it's called equity issuance.  This next chart reveals the annual equity issuance by the U.S. E&P companies…—SRSrocco, "The U.S. Shale Oil Industry: Swindling & Stealing Energy to Stay Alive," Zero Hedge, 12/27/17
≈≈≈≈≈≈≈≈≈≈≈≈≈≈≈≈≈≈
Exuberant Policy: A modern land run? Trump move opens Utah to mining claims under 1872 law
WASHINGTON (Reuters) – U.S. President Donald Trump's decision to withdraw federal protections from millions of acres of Utah wilderness will reopen much of the iconic terrain to gold, silver, copper, and uranium land claims under a Wild West-era mining law, according to federal officials.
Starting at 6 a.m. on Feb. 2 – the moment Trump's proclamation reducing the size of the Bears Ears and Grand Staircase-Escalante National Monuments takes effect – private citizens and companies will be allowed to stake claims for hard rock mining in a process governed by the General Mining Law of 1872, according to the U.S. Bureau of Land Management.
The process for staking a claim remains much as it did during the Gold Rush: A prospector hammers four poles into the ground corresponding to the four points of a parcel that can be as big as 20 acres, and attaches a written description of the claim onto one of them. A prospector then has 30 days to record the claim at the local BLM office.…—Valerie Volcovici, "A modern land run? Trump move opens Utah to mining claims under 1872 law," Reuters, 1/31/18
≈≈≈≈≈≈≈≈≈≈≈≈≈≈≈≈≈≈
As Trump Unfurls Infrastructure Plan, Iowa Bill Seeks to Criminalize Pipeline Protests
The Iowa Senate has advanced a bill which critics say could lead to the criminalization of pipeline protests, which are being cast as "terrorist activities." Dakota Access pipeline owner Energy Transfer Partners and other companies have lobbied for the bill, Senate Study Bill 3062, which opens up the possibility of prison time and a hefty fine for those who commit "sabotage" of critical infrastructure, such as oil and gas pipelines.
This bill, carrying a criminal punishment of up to 25 years in prison and $100,000 in fines, resembles the Critical Infrastructure Protection Act, a "model" bill recently passed by the American Legislative Exchange Council (ALEC). That ALEC bill, intended as a template for state and federal legislation, was based on Oklahoma's HB 1123, which calls for citizens to receive a felony sentencing, $100,000 fine, and/or 10 years in prison if their actions "willfully damage, destroy, vandalize, deface, or tamper with equipment in a critical infrastructure facility."
According to disclosure records, corporations lobbying for the Iowa bill include not only Energy Transfer Partners, but also Koch Industries, the American Petroleum Institute, Valero Energy, Magellan Midstream, and others. The Iowa State Police Association has also come out in support of the bill, while the American Civil Liberties Union (ACLU) of Iowa is against it. The bill has passed out of subcommittee and next goes in front of the state Senate Judiciary Committee.…—Steve Horn, "As Trump Unfurls Infrastructure Plan, Iowa Bill Seeks to Criminalize Pipeline Protests," DeSmog Blog, 2/1/18
≈≈≈≈≈≈≈≈≈≈≈≈≈≈≈≈≈≈
Exuberant Mania:
Exxon Mobil Tripling Its Bet on the Hottest U.S. Shale Field
HOUSTON — Exxon Mobil announced on Tuesday that it would triple its oil and gas production in the nation's hottest shale field by 2025 in the newest sign that the boom in national crude production is gaining momentum.
The company cited the recent reduction in the corporate tax rate as one reason for its increased interest in investing more in the Permian Basin, which straddles West Texas and New Mexico. It is also a logical sequel to its acquisition of 275,000 acres of Permian fields in New Mexico from the Bass family of Fort Worth last year for up to $6.6 billion in stock and cash.
The Permian Basin is leading the way in a national recovery of oil production after a three-year fall in crude prices. Roughly the size of South Dakota, the Permian has multiple layers of thick shale, easing the costs of exploration, drilling and production.…[Follow the Mania] —Clifford Krauss, "Exxon Mobil Tripling Its Bet on the Hottest U.S. Shale Field," The New York Times, 1/30/18
≈≈≈≈≈≈≈≈≈≈≈≈≈≈≈≈≈≈
Irrational Green Exuberance: The end of natural gas is near
[Irrational exuberance exists among some sprouting green credentials also. It always pays to look for the existence of valid counter-narratives—Editor]
Amidst the madness of 2017, a bigger shift was missed than probably any other — right at the commanding heights of the economy: Natural gas fizzled out of the plan for the future.
That's major.
…Here's what I'm thinking:
The big signal that got some coverage in the pink pages (FT) and energy-wonk trade press in November was the closure of Siemens and GE's gas turbine-making capacities. Just to recap for those that missed it, first Siemens, the giant European champion of the electric power revolution, laid off 7,000 workers. It reported that it had a capacity to make 400 100MW gas turbines annually but only had received orders for 110 in 2017. Ouch. Retrain!
And then GE: Two weeks later, it laid off 20,000 workers in its gas-related business, including turbine-making teams around the world. Remember, just about five years ago Siemens and GE battled for the gas business of Alstom, the French descendent of the same companies GE came out of in the early 20th century. GE paid $10 billion for it and declared a coup..…—Danny Kennedy, "The end of natural gas is near," GreenBiz, 1/22/18
≈≈≈≈≈≈≈≈≈≈≈≈≈≈≈≈≈≈
Imperial Exuberance America's Natural Gas Hurdles
Despite American sanctions against Russian natural gas producers, a cargo of liquefied natural gas that was most likely produced at Russia's Yamal plant arrived in Boston this past weekend.
This development would seem to fly in the face of the sanctions imposed by President Barack Obama in 2014, though those restrictions apply to the financiers and producers of Russian oil and natural gas, not the output. But the arrival of the gas in the Northeast after frigid temperatures does raise questions about whether President Trump's efforts to pursue American energy dominance in the world are falling short.
The journey of this liquefied natural gas from the Yamal Peninsula in northern Siberia to Boston may at first appear like a well-orchestrated move from the Kremlin playbook to hide what might be an embarrassing delivery for the United States. On Dec. 8, President Vladimir Putin oversaw the opening of Yamal L.N.G., Russia's second liquefied natural gas plant. The project was personal for Mr. Putin for several reasons.
…If the United States plans to continue imposing sanctions on Russia and its energy sector, it should consider how to approach output from projects like Yamal L.N.G. This is because the original source of such gas will become increasingly difficult to determine as the trade becomes more global. The gas can be loaded and unloaded multiple times and its carrier redirected to various destinations while at sea.
At the same time, the United States should not restrict L.N.G. exports to meet domestic demand [emphasis added—Editor]. Such exports benefit American allies that have been dependent on imports from hostile state-owned monopolies like Russia's Gazprom.…—Agnia Grigas, "America's Natural Gas Hurdles," The New York Times, 1/30/18
Agnia Grigas, a senior fellow at the Atlantic Council, is the author of "The New Geopolitics of Natural Gas."
≈≈≈≈≈≈≈≈≈≈≈≈≈≈≈≈≈≈
Kids sue Colombian government to save Amazon, protect climate
A group of 25 young people in Colombia are petitioning a court to protect their constitutional rights to life and a healthy environment. The group is asking the court to require the government to honor its climate commitment and stop deforestation in the Amazon.
The case, filed this week, comes as land that was previously in conflict zones is opening up for development. The government and the rebels signed a peace treaty in 2016 to end the fighting that lasted more than five decades.
How much of the former battle ground is up for development and whether any land deep in the jungle has already been illegally cleared for commercial activities isn't clear because the government has failed to monitor it, said Camila Bustos, a researcher with Dejusticia, the nonprofit advocacy group that filed the petition on behalf of the group young people ranging from 7 to 26 years old.
"Colombia knew it had a deforestation problem, but the situation has become more urgent," Bustos said. "The land that was naturally protected because of the conflict with the guerrillas is now opening up. More deforestation is happening in this transition to peace. The challenge to protect the environment is huge."…—Ucilia Wang, "Kids sue Colombian government to save Amazon, protect climate," Climate Stability News, 2/1/18
≈≈≈≈≈≈≈≈≈≈≈≈≈≈≈≈≈≈
Exuberant Ignorance: Trump to Withdraw Nomination of Climate Skeptic as Top Environmental Adviser
WASHINGTON — The Trump administration plans to withdraw its nomination of Kathleen Hartnett White, a climate change skeptic, to lead the Council on Environmental Quality, a White House official said.
President Trump in October appointed Ms. White, a former Texas environmental regulator who has said that carbon dioxide should be considered the "gas of life" rather than a pollutant, to be the White House senior environmental adviser. Carbon dioxide emissions contribute to global warming.
The Senate Environment and Public Works Committee approved Ms. White on a party-line vote, but her nomination languished at the end of 2017. That was in part, lawmakers acknowledged, because of Ms. White's performance at her hearing in which she not only espoused controversial views on climate change but also stumbled over science questions.…—Lisa Friedman, "Trump to Withdraw Nomination of Climate Skeptic as Top Environmental Adviser," The New York Times, 2/4/18
≈≈≈≈≈≈≈≈≈≈≈≈≈≈≈≈≈≈
Solar Boom in Trump Country: It's About Economics and Energy Independence
When Brandon Presley was elected to the Mississippi Public Service Commission in 2007, he said, he couldn't have found a solar farm "with a SWAT team and a search warrant."
A decade later, Mississippi is one of the fastest-growing solar markets in the United States, according to GTM Research. The state's public service commission approved several solar projects this summer, and the state is expected to gain more than 700 megawatts of solar capacity over the next five years.
One of its newest projects is a 52-megawatt solar farm near Hattiesburg. A partnership between Mississippi Power, the state's largest utility, and Silicon Ranch, a solar energy company based in Nashville, Tennessee, the 450-acre solar farm will eventually power 6,500 homes.
"I think everybody wants to be more energy independent, and that's part of the public buzz around the solar industry in our state," Presley said.…—Lyndsey Gilpin, "Solar Boom in Trump Country: It's About Economics and Energy Independence," InsideClimate News, 11/6/17
≈≈≈≈≈≈≈≈≈≈≈≈≈≈≈≈≈≈
Always take a deep breath before plunging in with Monbiot: System Failure
Is complex society on the brink of collapse?
It's a good question, but it seems too narrow: "Is Western civilisation on the brink of collapse?", the lead article in this week's New Scientist asks. The answer is probably. But why just Western?
Yes, certain Western governments are engaged in a frenzy of self-destruction. In an age of phenomenal complexity and interlocking crises, the Trump administration has embarked on a mass deskilling and simplification of the state. Donald Trump might have sacked his strategist Steve Bannon, but Bannon's professed intention, "the deconstruction of the administrative state", remains the central – perhaps the only – policy.
Defunding departments, disbanding the teams and dismissing the experts they rely on, shutting down research programmes, maligning the civil servants who remain in post, the self-hating state is ripping down the very apparatus of government. At the same time, it is destroying the public protections that defend us from disaster.
A series of studies published in the past few months have started to explore the wider impact of pollutants. One, published in the British Medical Journal, suggests that the exposure of unborn children to air pollution in cities is causing "something approaching a public health catastrophe". Pollution in the womb is now linked to low birth weight, disruption of the baby's lung and brain development, and a series of debilitating and fatal diseases in later life.
Another report, published in the Lancet, suggests that three times as many deaths are caused by pollution as by AIDS, malaria and tuberculosis combined. Pollution, the authors note, now "threatens the continuing survival of human societies." A collection of articles in the journal PLOS Biology reveals that there is no reliable safety data on most of the 85,000 synthetic chemicals to which we may be exposed. While hundreds of these chemicals "contaminate the blood and urine of nearly every person tested", and the volume of materials containing them rises every year, we have no idea what the likely impacts may be, either singly or in combination.…—George Monbiot, "System Failure," George Monbiot Blog, 1/29/18
≈≈≈≈≈≈≈≈≈≈≈≈≈≈≈≈≈≈
And That's A Wrap! Thanks to everyone who sent in news, action announcements and comments this week. Send kudos, rotten tomatoes and your story ideas, your group's action events, and news of interest to intrepid climate change and environmental justice warriors! Send, along with fresh oranges, to editor@thebanner.news.
And if you're reading this from a borrowed or shared copy, you too can be a subscriber for $0.00/eternity. Just email your full name to editor@thebanner.news!</span
[/protected]
if