October 3, 2017 For some time now, news has been coming in of multiple sources of threats to lakes. And now our beloved Great Lakes and Finger Lakes are struggling as they become sources of toxins rather than mni wiconi. We will review these threats this week. And for the first time in these pages, this introduction is not ending with "But first the news." The news is not a prelude.
LPG Storage in Seneca Lake Caverns Doesn't Require New Hearing, ALJ Rules
Public safety issues raised by community groups opposed to a plan to store liquid petroleum gas, or LPG, in unlined storage caverns next to Seneca Lake do not require an evidentiary hearing with cross-examinations, an administrative law judge ruled earlier this month.
The 74-page decision is a major procedural victory for Texas-based Crestwood Equity Partners LP, though not necessarily a green light for the long-stalled project.
James McClymonds, the chief administrative law judge for the state Department of Environmental Conservation, wrote that while the opponents' evidence need not be aired in a formal adjudicatory hearing, it would all be included in material considered by "the final agency decision maker."
That would be Basil Seggos, commissioner of the DEC, and ultimately, Gov. Andrew Cuomo, who have faced intense public pressure to block the project.
Since then community groups representing more than 100 agriculture and tourism businesses in the Finger Lakes have rallied against the project on the grounds that a major accident could damage the regional economy. Meanwhile, hundreds of protestors have been arrested for trespassing at Crestwood's property gate in Reading, about 2.5 miles northwest of Watkins Glen.
After the DEC released a draft underground storage permit in late 2014, McClymonds held a public issues conference in February 2015 to hear evidence from Crestwood and project opponents. The DEC staff tended to side with the company. His long-awaited decision signed Sept. 8 is in effect a summary judgement of those arguments presented without cross-examination.
Well before that, however, Crestwood declared that it intended to trim back the project considerably. In a surprise announcement last August, the company said it would eliminate rail and truck transportation to the site and reduce the LPG it stored from 2.1 million barrels of propane and butane to 1.5 million barrels of only propane.
By dropping butane storage, which was earmarked for a cavern often referred to as "Cavern 58," the company sidestepped major safety issue. Expert geologists hired by project opponents said documents showed Cavern 58 was unstable and had suffered a roof collapse. The company and the DEC staff insisted there was never any collapse. Cutting out butane storage removed that debate from the table.
Opponents of the project have until Oct. 20 to appeal McClymonds' ruling. Whether or not they file an appeal, opponents are sure to push McClymonds' bosses for an outright denial of the permit.
"We trust DEC Commissioner Seggos will deny the permit to avoid the potentially devastating impacts of this ill-conceived project, including its threat to Gov. Cuomo's economic development efforts," said winery owner William Ouweleen, secretary of the Finger Lakes Wine Business Coalition.
Joseph Campbell, president of Gas Free Seneca, which was founded in 2011 to oppose Crestwood's proposed LPG storage, added: "Soon the ultimate decision will be in Gov. Cuomo's hands. We trust that in light of his legacy to promote wine and tourism in the region and reduce the use of climate changing fossil fuels, he will side with the people of the Finger Lakes and not a Texas gas corporation." Campbell said he expected to appeal the ALJ's ruling. Crestwood has not made a public statement on the ruling or responded to my request for comment. I will update when/if they do. Shares of Crestwood's stock, symbol CEQP, were trading at $24.50 mid-day Sept. 27, virtually unchanged from their close of $24.70 on Sept. 8, the day of the McClymonds ruling.
Finger Lakes LPG Storage, a Crestwood subsidiary, first applied for a state underground storage permit eight years ago.
Further reading: Judge permits propane storage at Seneca Lake salt cavern
In reaching his conclusions, McClymonds hewed closely to the arguments laid out by the company and the DEC staff, brushing aside — at least for any formal adjudication — several well-documented opposition stances. Here is a sampling of his positions:
— The state geologist. (Clarified Sept. 29). A terse two-paragraph letter written in 2013 by an "acting associate state geologist" was sufficient to meet the legal requirement that all underground storage projects must be approved by the state geologist, a statutorily-defined position filled by the Board of Regents that has been vacant since 2010. McClymonds wrote that there was no "proof" that the "acting associate state geologist" didn't have the same authority as a Board of Regents-appointed state geologist.
— Risk assessments. Dr. Rob Mackenzie of Trumansburg was not qualified to provide a risk assessment based on 40 years of data on hydrocarbon storage in U.S. salt caverns. The Harvard-trained Mackenzie, a retired hospital administrator, had calculated the chance of a serious or extremely serious accident at Crestwood at 40% over 25 years. A Crestwood-funded analysis by Quest Consultants that found far lower risks was deemed valid despite the fact it disregarded past storage accidents that involved human error.
— Cavern 58. An alleged roof collapse documented in DEC letters did not in fact occur, based Crestwood sonars years later and a Crestwood-paid engineer's 2013 letter retracting his previous conclusion that the roof did collapse. (The engineer, Larry Sevenker, told me in a phone interview that a company official had dictated the wording of his retraction letter.)…—Peter Mantius, "LPG Storage in Seneca Lake Caverns Doesn't Require New Hearing, ALJ Rules," Waterfront, 9/28/17
[Peter Mantius is a Watkins Glen journalist and publisher of the blog Waterfront at https://waterfrontonline.blog]
≈≈≈≈≈≈≈≈≈≈≈≈≈≈≈≈≈≈
Guest Commentary: New York leaders are not protecting environment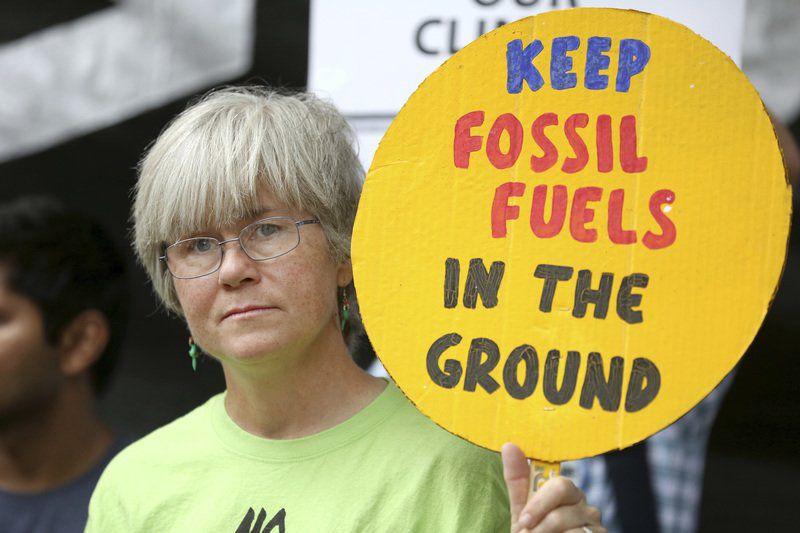 It's definitely not the best of times. You'll have to judge for yourself if it's the worst of times. But here's a tale of two cities, Albany and Washington, D.C., both driven by politics and rhetoric rather than any clear dedication to the health of citizens or protection of our environment.
Despite Gov. Andrew Cuomo's promise to defend us from Environmental Protection Agency Secretary Scott Pruitt, who is dismantling the EPA, and Donald Trump, who is dismantling our democracy, Albany and D.C. are collaborating in their efforts to cook the planet with methane.
Cuomo repeated his mantra of greenhouse gas emissions reductions and renewable deployment so often that we were hypnotized. But now we've snapped out of it and realize that there is no plan to change anything in the next 13 years. Albany is instead committed to lots more fracked gas. Our Department of Environmental Conservation has recently approved 1,750 mw of gas power for Competitive Power Ventures in Orange County and Cricket Valley in Dutchess County. And there's more on the way.…—Dennis Higgins, "Guest Commentary: New York leaders are not protecting environment ," Oneonta Daily Star, 9/29/17
≈≈≈≈≈≈≈≈≈≈≈≈≈≈≈≈≈≈
Energy Democracy Advocates Disrupt New York's Energy Czar To Spotlight New Yorkers Left Out of State's REV Program
Brooklyn, NY–  At the REV Future 2017 Conference today in downtown Brooklyn, a group of energy democracy advocates briefly interrupted Richard Kauffman's keynote address, with a humorous skit to call attention to the vast majority of New Yorkers who have yet to benefit from the State's renewable energy transition. Kauffman, Chairman of New York State Energy and Finance is also known as New York's first "Energy Czar." The energy democracy advocates are calling on Kauffman and New York's energy leadership to make good on the state's unmet promise of affordable and accessible renewable energy options for all New Yorkers.
During the conference speed networking session, the group also took to the event location lobby to drop a 15 foot banner that read: "NY REV Future: For the Wealthy, Connected & Few; Only 200 Low Income Families Have Solar Access with REV; NO Utility Domination; YES Affordable Accessible Renewables"
The two-day REV Future conference, sponsored by GreenTech Media, focused on the state strategy known as "Reforming the Energy Vision" or REV and business models to increase renewable energy in New York. The conference sold tickets at around $1,000 per person and had an agenda that included topics like enabling distributed energy resource integration, results from REV demonstration projects, and long term planning for REV.
The protest at this event highlighted the realities of working class New Yorkers and New Yorkers of color who still face enormous challenges when it comes to accessing clean, renewable energy options in Governor Cuomo's current REV program.…—Kim Fraczek, Energy Democracy Advocates Disrupt New York's Energy Czar To Spotlight New Yorkers Left Out of State's REV Program, Sane Energy Project, 9/26/17
≈≈≈≈≈≈≈≈≈≈≈≈≈≈≈≈≈≈
Conference on NY State Compressor Station emissions and health impacts
8:00 – 10:00 AM (Reservations requested: See below) 1199 SEIU 155 Washington Avenue (between Dove and Lark Streets) Albany, NY
8:00 – 9:00AM Presenters: Pat Russo and Dr. David Carpenter, MD
Based on industry data reported to the U.S. Environmental Protection Agency, this is the first U.S. study to systematically identify and document the volume of pollutants from routine compressor station operations and the potential health effects from these contaminants. Authors Pat Russo and David Carpenter will reveal important research findings on the health effects associated with natural gas compressor stations operating in New York State.
David Carpenter M.D. is the former Director of the Wadsworth Center, New York Department of Health, and former Dean of School of Public Health, University at Albany. His primary research interests are the environmental causes of human disease.
Pat Russo's focus is the use of large federal and state data sets to analyze the sources of pollution in the U.S. and associated health and environmental impacts. He also teaches at University at Albany's Department of Atmospheric and Environmental Sciences, and has previously taught undergraduate courses in sociology and philosophy.
RSVP for the 8 AM presentation here.
9 AM – 10 AM Presenters David Brown ScD, Celia Lewis, PhD, Sujit Joginpally, MD, MPA, MBA, MAS
The Environmental Health Project will host a public meeting for anyone interested in learning more about the newly released report, which provides quantitative data on emissions and health impacts associated with the 70 chemicals reported to the National Emissions Inventory for the 18 Title V compressors in NY State. EHP staff will discuss highlights of the report and address methods for applying this information to other compressor sites, assessing the associated health risks and options for protecting public health.
RSVP for the 9 AM presentation here. Questions? Contact clewis@environmentalhealthproject.org
≈≈≈≈≈≈≈≈≈≈≈≈≈≈≈≈≈≈
High Toxins Confirmed in Seneca Lake and 4 Others; Testing Lab Overwhelmed
Samples of blue-green algae taken in recent days from Seneca, Skaneateles, Canandaigua, Keuka and Owasco lakes exceeded the state's threshold for "high toxins," according to laboratory test results.
But the extent of the crisis that has mushroomed across the Finger Lakes since Sept. 15 is still not fully understood because the lab at the state College of Environmental Science and Forestry in Syracuse (SUNY-ESF) has been overwhelmed with thousands of samples that await testing from around the region. Results are only trickling in.
"They are snowed," said Edwin Przybylowicz, who coordinates 80 volunteer lake monitors for Seneca Lake Pure Waters Association. "The lab is working its way through over 3,000 samples and I am not sure how the samples are being triaged."…—Peter Mantius, "High Toxins Confirmed in Seneca Lake and 4 Others; Testing Lab Overwhelmed – Water Front," Water Front, 9/27/17
≈≈≈≈≈≈≈≈≈≈≈≈≈≈≈≈≈≈
NY Climate Solutions Summit
The climate summit aims to build a larger movement across the region that is prepared to take action to implement effective climate solutions. We seek to provide an opportunity for clean energy and climate organizers to come together to share projects, case studies, resources, experiences and skills to tackle climate change and implement solutions.
We are in the process of finalizing programming and will be updating this information as often as possible. (Watch this space!)
Harley School 1981 Clover St. Rochester, NY 8AM – 5PM
MORNING SESSION
Keynote Speaker: Sierra Club Former President, Aaron Mair Opening Panel on renewable energy, land use, transportation and energy efficiency. Confirmed panelists: Anne Reynolds, ACE NY Bill Nowak, NY-GEO Amanda Lefton, Nature Conservancy **More to be announced
Case Study Presentations on Wind, Solar, Energy Efficiency, Transportation, Land Use and Environmental Justice
AFTERNOON SESSION
Technical Workshops on: 
Understanding How our Electricity System Works

Tapping into NYSERDA's Resources

How to Meaningfully Participate at the NY Public Service Commission

Understanding REV (Reforming the Energy Vision)

Energy Democracy in NYS

Navigating the Power Plant Siting Process
Skill/Movement Building Workshops on:
Anti-Oppression, Environmental Racism, Environmental Justice

Consultation and Collaboration with Indigenous Peoples

Lobbying

Engaging across Race, Class, Political ideology

Campaign Planning 101

Engaging Business and Community Leaders on Clean

Energy Solutions

Resist, Recruit, Train & Sustain: Building Grassroots Volunteer Leadership

Creative events and Engagement Strategies (Art in Activism)
New Interactive Clean Energy Map presented by Fractracker 
Closing Keynote Speaker: Acclaimed Author and Ecologist, Sandra Steingraber 
Regisration: http://nyclimatesummit.org/registration/ RSVP on Facebook here About Us: http://nyclimatesummit.org/about/ Contact us: info@nyclimatesummit.org
≈≈≈≈≈≈≈≈≈≈≈≈≈≈≈≈≈≈
Federal Railroad Administration Nominee Plans to Push Rail Industry to Self-Regulate
Ronald Batory — President Trump's nominee to lead the Federal Railroad Administration (FRA) — will be pushing for the controversial self-regulatory approach to safety known as "performance-based regulations," according to his July 26 statement for the U.S. Senate Committee on Commerce, Science and Transportation. Shifting toward this self-regulatory approach could have major implications for the safety of trains carrying potentially dangerous cargo, including oil and ethanol.
"I recognize the Federal Railroad Administration has a multitude of responsibilities, but safety will always be the priority just as it has been throughout my career. Moving to performance-based rulemaking will focus FRA's efforts on getting the desired outcomes and safety improvements, not just on enforcement of rules and processes."
If you have been following the rail industry, this shouldn't come as a surprise. In May, after the first Trump-era Congressional hearing on rail industry regulation, I wrote that we should "prepare to hear a lot about performance-based regulation in the Trump era."
In that hearing Rep. Bill Shuster got right to the point about why performance-based regulations are better for industry when he said that government should "allow the railroad industry to keep more of their profits." It would seem, then, that profits rather than safety is the goal of performance-based regulations.…—Justin Mikulka, "Federal Railroad Administration Nominee Plans to Push Rail Industry to Self-Regulate," DeSmogBlog, 9/27/17
≈≈≈≈≈≈≈≈≈≈≈≈≈≈≈≈≈≈
"The Desperate Climate Fight: Ordinary People in an Extraordinary Moment"
Bill McKibben
Albright-Knox Art Gallery
1285 Elmwood Ave Buffalo, NY 14222 Friday, Sept. 29, 8pm
Bill McKibben is the author of a dozen books about the environment, beginning with The End of Nature in 1989, which is regarded as the first book for a general audience on climate change, and has appeared in 24 languages. He is a founder of the first planet-wide, grassroots climate movement, 350.org, which has coordinated tens-of-thousands of rallies in 189 countries since 2009.
Time Magazine called him 'the planet's best green journalist' and The Boston Globe said that he was 'probably the country's most important environmentalist.'
Schumann Distinguished Scholar in Environmental Studies at Middlebury College, he holds honorary degrees from a dozen colleges and universities, including the State University of New York. In 2011 he was elected a fellow of the American Academy of Arts and Sciences. In 2014 was awarded the Right Livelihood Prize, sometimes called the 'alternative Nobel.'
Bill McKibben will deliver the featured lecture of the Buffalo Humanities Festival, a three-day event featuring  environmentally-themed talks, music, performances, community debates and other activities that focus on issues of local, regional and national environmental justice and economic sustainability.
≈≈≈≈≈≈≈≈≈≈≈≈≈≈≈≈≈≈
Road salt a threat to freshwater lakes, study suggests
TORONTO — A new study suggests the use of road salt is posing a rising threat to freshwater lakes in parts of North America, including Ontario.
The research, published in the Proceedings of the National Academy of Sciences, predicts thousands of lakes will contain too much salt to sustain their current levels of aquatic life if current road salt trends continue over the next 50 years.
Further reading: Study finds North American lakes at risk of rising salt levels
Researchers studied 371 North American lakes, including nine in Ontario, to gauge changes in chloride levels over several years.
The study found lakes near roadways covered in salt during inclement weather recorded significantly higher chloride concentrations, bringing them closer to the U.S. Environmental Protection Agency's legal pollution standard for chloride in freshwater.
Lakes in more remote areas did not record the same chloride increases.
In Ontario, for instance, Lake Simcoe's chloride levels have climbed five-fold in the past 10 to 20 years, while those in the less urbanized northwest region of the province have stayed relatively stable and well below the EPA's threshold of 230 millilitres of chloride per litre of water.…—Michelle McQuigge, "Road salt a threat to freshwater lakes, study suggests," CTV Toronto News, 4/12/17
≈≈≈≈≈≈≈≈≈≈≈≈≈≈≈≈≈≈
Could California Join China in Banning Gas Guzzlers?
After China announced plans to ban new diesel and gasoline-powered cars, California Gov. Jerry Brown is said to be considering the same option, according to Bloomberg.
"I've gotten messages from the governor asking, 'Why haven't we done something already?'" Mary Nichols, chairwoman of the California Air Resources Board, told the publication. "The governor has certainly indicated an interest in why China can do this and not California."
Besides China, Britain, France, Norway and India have announced similar intentions to phase out conventional gas guzzlers to cut fossil fuel emissions and promote electric vehicles.…—Lorraine Chow, "Could California Join China in Banning Gas Guzzlers?" DeSmogBlog|EcoWatch, 9/28/17
≈≈≈≈≈≈≈≈≈≈≈≈≈≈≈≈≈≈
Ohio Communities Face 'Voter Suppression' in Push to Rein in Oil and Gas Development
Three years in a row, communities in Ohio have attempted to vote on initiatives that would grant them greater say over oil and gas development in their jurisdictions, but over and over again, appointed officials, some with direct ties to the fossil fuel industry, have put up roadblocks preventing these initiatives from reaching the ballot.
"We're losing our ability to legislate and be a check and balance on the government," Tish O'Dell of the Ohio Community Rights Network told DeSmog on September 15.
O'Dell had just learned that yet another local ballot measure — this one in Bowling Green, Ohio — was facing a possible legal challenge. "The Bowling Green initiative is the only one that made it through all the administrative hurdles to get on [the ballot]," O'Dell said.
It is the latest in a flurry of anti-fossil fuel ballot initiatives across Ohio which have gained the required number of signatures but likely won't appear on ballots come election day. This year, initiatives in Youngstown, Medina County, and Athens County have all been taken off the ballot.…—Simon Davis-Cohen, "Ohio Communities Face 'Voter Suppression' in Push to Rein in Oil and Gas Development," DeSmogBlog, 9/24/17
≈≈≈≈≈≈≈≈≈≈≈≈≈≈≈≈≈≈
Brazil abolishes huge Amazon reserve in 'biggest attack' in 50 years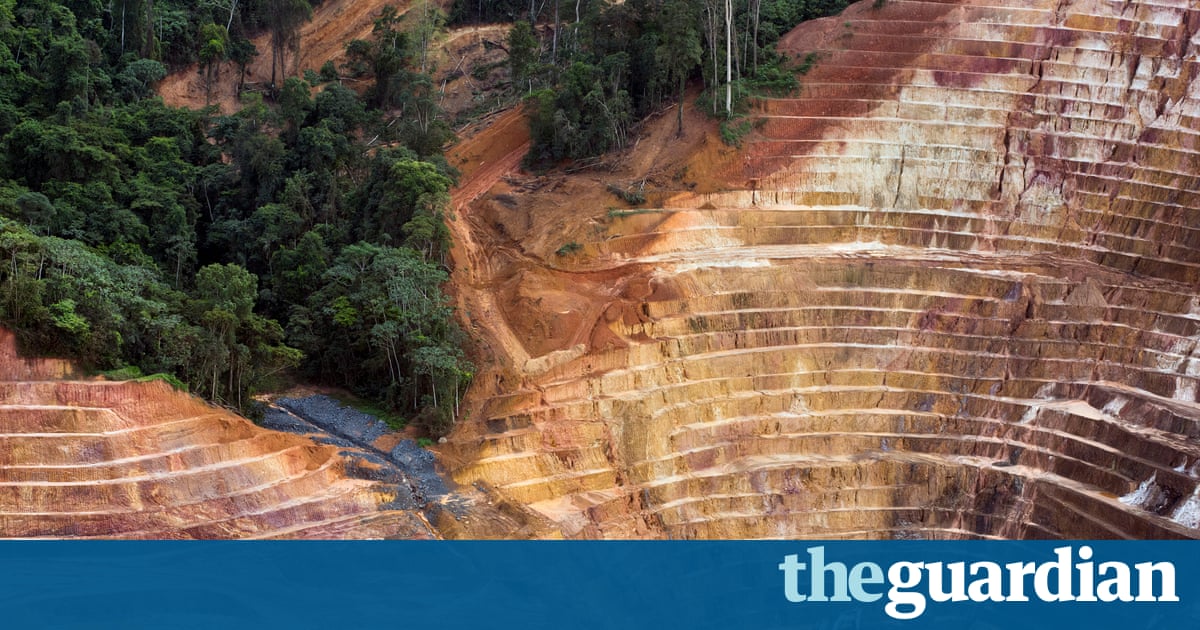 The Brazilian president Michel Temer has abolished an Amazonian reserve the size of Denmark, prompting concerns of an influx of mineral companies, road-builders and workers into the species-rich forest.
The dissolution of the Renca reserve – which spans 46,000 sq km on the border of the Amapa and Para states – was described by one opposition senator Randolfe Rodrigues of the Sustainability Network party, as the "biggest attack on the Amazon of the last 50 years".
Conservationists said it will open the door for mining companies to enter Renca – the Portuguese acronym for the National Reserve of Copper and Associates – which was set up in 1984 and encompasses nine protected areas.
Further reading: Norway issues $1bn threat to Brazil over rising Amazon destruction, 6/22/17
More than 20 domestic and multinational firms have expressed an interest in the region which is thought to contain deposits of gold, copper, tantalum, iron ore, nickel and manganese.
The government said the reserve is being abolished to attract foreign investment, improve exports and boost an economy that has been struggling to emerge from its deepest recession in decades.…—Jonathan Watts, "Brazil abolishes huge Amazon reserve in 'biggest attack' in 50 years," The Guardian, 8/24/17
≈≈≈≈≈≈≈≈≈≈≈≈≈≈≈≈≈≈
Critics say Senate measure puts Great Lakes at risk
WASHINGTON — A Senate committee Thursday approved a measure that would set a single national standard for ballast water discharges from maritime vessels, pre-empting states from enacting stricter standards and, critics say, exposing the Great Lakes to greater danger from invasive species.
Thursday's voice vote by the Senate Commerce, Science and Transportation Committee represented a key hurdle crossed by the so-called Vessel Incidental Discharge Act, which maritime shippers have backed for years, arguing that a confusing patchwork of regulations wastes money and time while doing little to help water quality.
"Without (this change), thousands of commercial vessels will spend billions of dollars installing ballast water management systems to meet the federal standard but will still be at risk of fines and penalties for violating several different state standards these (systems) can't meet," the Lake Carriers Association, representing vessel operators in the Great Lakes, said in an earlier statement in support of the legislation.
But dozens of environmental groups as well as various federal, state and local officials across the country have voiced serious reservations. They say the change — which also places sole responsibility for regulating discharges with the Coast Guard rather than the Environmental Protection Agency under the Clean Water Act — increases the risk posed by invasive species that can harm habitat and infrastructure.…—Todd Spangler, "Critics say Senate measure puts Great Lakes at risk," USA Today|Detroit Free Press , 5/18/17
≈≈≈≈≈≈≈≈≈≈≈≈≈≈≈≈
And That's A Wrap! If you're reading this in an email, you'll notice a new look! We are close to finishing our transition to our own independent publishing and web facilities. http://www.thebanner.news will be ready soon to host our online edition! Meanwhile, please keep sending your organizations action announcements, news stories, and your own writing. Letters to the Editor are always welcome! Send to editor@thebanner.news.