January 17, 2017 A perfect storm is brewing for the fossil fuels industry. Among banks, financiers, investors, insurers as well as in alternative power technologies, the message is becoming strong. We are basically done with fossil fuel. In this issue, we delve into several of these dimensions. But first the news.
Come Support Those Who Defended Seneca Lake Reading Court, This Friday
More Teachers on Trial
Friday, January 20, 2017 9:30AM Reading Town Court 3914 County Rd 28, Reading, NY
Join us to support the next group of Seneca Lake Defenders — all teachers — as they go on trial. All were arrested on 12/16/14 and charged with trespass:
Neil Clifford Margaret Ehly Cynthia Gorham-Creveling David Kunath Susan Zakos
Defending them will be Luke Z. Fenchel, Esq, working in coordination with our Seneca Legal Resource Center overseen by Attorney Sujata Gibson.
Bear witness; wear blue for solidarity. Your presence will demonstrate to the Judge, the DA, the Defendants, the public and the press that when these brave water protectors took a stand, they stood for all of us.
RSVP here, and share widely on We Are Seneca Lake's Facebook event page.
A big Thank you goes to all of our donors who have been keeping the Seneca Legal Resource Center afloat this year. The Center, which is overseen by Defense Attorney Sujata Gibson, costs $4,000/month. It provides free legal counsel to our Defenders, and supports paralegals who communicate with Defenders about their cases and file voluminous court documents. After 657 arrests, and with over 300 open cases still to resolve, we expect trials and appeals to continue through 2017, and into 2018. To donate via PayPal at our web site, click here: wearesenecalake.com . If you prefer to pay by check, please make it payable to "We Are Seneca Lake," and mail it to WASL, PO Box 914, Trumansburg, NY 14886. We are an all-volunteer-run campaign, so all of your donation will go to the Seneca Legal Resource Center.
We Are Seneca Lake is a citizen-based, grassroots campaign that began on 10/23/14 in protest against FERC's permitting of Crestwood's plan to expand gas storage in the unlined, crumbling salt caverns on the banks of Seneca Lake, a few miles north of Watkins Glen, NY.  To date, construction has not begun. Check WASL's Facebook page for frequent updates on the campaign.
≈≈≈≈≈≈≈≈≈≈≈≈≈≈≈≈≈≈
Get Smart Seneca: The QuizBowl WASL Fundraiser
Sunday, January 29th (4:00 pm to 8:00 pm) Atlas Bowl Bar and Restaurant  61 W Main St. Trumansburg, NY 14886
Join We Are Seneca Lake (WASL) for a special fundraising edition of QuizBowl and support the grassroots campaign to protect Seneca Lake and surrounding communities from gas storage expansion and ensure our families and the future generation have safe drinking water.
Hosted at the classy Atlas Bowl restaurant and bar in the heart of Trumansburg by Quiz Master Chris Wofford, QuizBowl is the best trivia event in the area, and sure to make for an entertaining way to support WASL. Chris is designing a trivia game, based on facts about the Finger Lakes, that we'll play in teams. 
No cover charge. All are welcome. 
Tentative event schedule: 4-5:00 PM Happy Hour 5-7:00 PM Dinner Service and QuizBowl Trivia 7-7:30 PM Raffle prize winners and other WASL announcements 7:30 PM Silent Auction 
Net proceeds go to WASL's legal defense fund that provides free legal counsel to our Defenders. After 657 arrests, we still have over 300 trials to support, in addition to some appeals, which will take us through 2017 and beyond. If you'd like to donate, please go to our WeAreSenecaLake web site, which gives you options to pay by credit card or check.
If you have items to donate to raffle or auction, please contact Jan Quarles: janq99@gmail.com
RSVP and share the Get Smart Seneca: The QuizBowl WASL Fundraiser Facebook event page.
≈≈≈≈≈≈≈≈≈≈≈≈≈≈≈≈≈≈
Fresh off national honor, Geneva restaurant owner speaks out on gas storage project
GENEVA — The owner of the "Best New Restaurant" in a nationwide poll conducted by USA Today has taken a stand on Seneca Lake gas storage.
Christopher Bates, also the chef at FLX Table on Linden Street, issued a statement Monday opposing Crestwood Midstream Partners' plan to store liquid propane on its 576-acre property in Schuyler County, near Seneca Lake.
"When we (Bates and his wife, Isabel Bogadtke) returned to the Finger Lakes three years ago, we opened FLX Winery in Dundee and have been able to bring a lot of attention to the region in the national press," Bates said. "Most recently, we have opened FLX Table in Geneva and have been a part of the city's economic development plan that is taking the future of tourism as a serious economic factor. This approach has created a very solid plan for economic growth that has no limit, based on creating an industry and preserving our resources, not destroying them.
"Gas storage, landfills and fracking are all the opposite," he continued. "They take and destroy our resources and once used, simply leave our community drained, with nothing left to build future economic stimulation on."
In addition to his existing enterprises, Bates said he is targeting his residence in Montour Falls for another food and wine business.
In the same press release, Gas Free Seneca, a group opposed to Crestwood's plan, applauded Bates' stance and urged the state to reject the storage application that has been pending before the Department of Environmental Conservation since 2009.
"Gas Free Seneca is calling on Governor Cuomo to protect the region and allow it to continue to contribute to the state economy by producing some of the nation's finest foods and wines," Gas Free Seneca president Joseph Campbell said. "It is time to choose Finger Lakes families and successful small businesses over a Texas-based corporation."
Campbell said some people have made it clear they would halt significant investment in the area if Crestwood's plan is approved, identifying two of those potential investors as highly acclaimed winemakers Paul Hobbs and Johannes Selbach.…—David Shaw, "Fresh off national honor, Geneva restaurant owner issues statement on gas storage project," Finger Lakes Times, 1/6/17
≈≈≈≈≈≈≈≈≈≈≈≈≈≈≈≈≈≈
Indian Point & the Algonquin Pipeline
One week ago today a story was leaked to The New York Times about the agreement to shut down the Indian Point nuclear plant by 2021. We all held our breaths over the weekend waiting to see if Governor Cuomo would confirm that a deal had be finalized. Even without that, ripples of joy ran through the communities close to the plant.
By the time final confirmation of the closure came, many of us were ecstatic.
Yes, we're concerned: for the workers, for the town and the school system supported by payments from the plant, for the businesses in the area that worry about loss of income. But those problems are dwarfed by the very real threat that a nuclear catastrophe could make the workers, the town, the school, the businesses all history within minutes. Unfortunately, one still can.
The aging, failing plant will probably be running for at least four more years. The 'spent' fuel rods will keep piling up in overcrowded pools where they will wait for years and years until they are 'cool' enough to be moved into safer cask storage. And a brand new high pressure 42-inch diameter pipeline will be sending fracked gas within 105 feet from critical safety structures [the plant's emergency power facility.—Editor] at the plant. That line is in addition to two much older lines that are still in service on the property. All three need to be shut down to reduce the risk of a 'Fukushima-on-the-Hudson' debacle.
Government figures show that there were an average of six pipeline accidents per week in the U.S. in 2015 – and there is more fissionable material stored at Indian Point than there was at the Fukushima plant when it was destroyed due to the disabling of its emergency power facility by a tsunami caused by an earthquake.
The Indian Point plant sits near the intersection of two different earthquake fault lines.

The Nuclear Regulatory Commission has rated one of its reactors the most likely to suffer core damage from an earthquake of any nuclear plant in the U.S.

It's located in the most densely populated region of any nuclear plant in the world.

The area affected by a serious nuclear accident would encompass all of Manhattan, the financial center of the country and home of the U.N.
Gov. Cuomo and Riverkeeper have begun the task of making our region safer from nuclear disaster. Let's make sure it's not a question of one step forward and two steps back! Please read my comment in The New York Times and visit http://www.senrg.org/ to find out more about the dangerous Spectra-Algonquin Pipeline and Indian Point Nuclear Power Plant.—Nancy Vann, "Indian Point & the Algonquin Pipeline," Safe Energy Rights Group blog, 1/13/17
≈≈≈≈≈≈≈≈≈≈≈≈≈≈≈≈≈≈
≈≈≈≈≈≈≈≈≈≈≈≈≈≈≈≈≈≈
≈≈≈≈≈≈≈≈≈≈≈≈≈≈≈≈≈≈
The New York Way
Notes from film-maker Christine Macpherson
How I got involved: A few days after moving from Albany to Rensselaer County two years ago, I learned that a 91K HP fracked gas compressor station was being proposed to be built about 1 mile from my new home, as part of Kinder Morgan's Northeast Energy Direct (NED) pipeline project. You can bet I was sincerely shocked and wondered how this could be possible, given our celebrated fracking ban? Luckily a lot of people in the area were already well-organized fighting NED, led by Stop New York Fracked Gas Pipeline. I got involved in their fight and decided to make a short film about our community's fight against the compressor station, called Complete It Cuomo. In the process of fighting our local project, I met more and more New Yorkers from around the state that were in the same boat. Once the NED was cancelled it seemed impossible to just forget about the fights they were still fighting, so I have stayed involved.
It is obvious to most New Yorkers that industry rules over the little guy. This is the reality of the "New York Way"—corruption in Albany sticking it the little guy for centuries while big businesses and politicians enjoy the benefits of that model. What is less obvious is a collective sense of what that really means for everyday people. I wanted to try to tell that story (in the context of the incomplete fracking ban) because I don't believe most New Yorkers even know this huge fracked oil and gas build-out is going on.;
But the positive vision of the "New York Way" is also reality—which Cuomo himself describes in the film. Being resilient, honest, and helpful to others—taking care of each other, and deeply appreciating the natural beauty of New York. That's what the majority of New Yorkers are doing every day. So I also hoped to inspire people who may not have gotten involved in an issue before to believe that the positive aspects of our sense of identity as New Yorkers matter, and that their civic participation can actually have an impact. 
What I hoped to accomplish with this film is not only telling the story of the thousands of New Yorkers still on the hook when it comes to fracking but to offer some basic questions for all New Yorkers to consider: Are we okay with being "a people" who won't demand more of our Governor when positions himself as an environmental and climate change hero while letting thousands be poisoned? What does leadership mean and how can we lead as individuals to create collective change? What does community mean and how far does your community extend? Are you willing to go out of your comfort zone to help out your fellow New Yorkers?
I also wanted to challenge the Governor directly to live up to the ideology he expresses regularly. This is a moral problem. But not just on Cuomo—on all of us. If we don't account for each other and take responsibility for each other, then we won't be able to hold our governors, senators, and presidents accountable either. It's a two way street. We cannot let these communities and our state be poisoned so others can merely profit. We must do whatever it takes to stop it. Plain and simple.
I hope people will use the film as a tool. Share it outside the circles of activism and environmentalism. We all know Cuomo has political aspirations and that he will be pointing to his successes as a state leader as he tries to pursue the next level of leadership. Let's make sure we hold him accountable for protecting all New Yorkers' basic health and safety.
Ultimately a moral imperative to both Cuomo and individual citizens to live up to New York's espoused values of doing the right thing and leading the rest of the country, "The New York Way" also illustrates the current State Administration's disconnect between rhetoric and action, and their blind spot when it comes to the serious public health and environmental risks and impacts of fracking infrastructure.—Christine Macpherson, "The New York Way," YouTube, 1/15/17
≈≈≈≈≈≈≈≈≈≈≈≈≈≈≈≈≈≈
Telling Oil It's Over
Shell: Peak Oil Demand Could Be Reached In 2021
A senior executive for Royal Dutch Shell claimed demand could reach its peak as early as 2021, which is much sooner than anticipated by other analysts.
"We've long been of the opinion that demand will peak before supply," said Shell Chief Financial Officer Simon Henry, in a Tuesday conference call.
"And that peak may be somewhere between 5 and 15 years hence, and it will be driven by efficiency and substitution, more than offsetting the new demand for transport," Henry added.
Other major oil providers have estimated that peak demand is farther down the line. Exxon Mobil in its annual outlook said "global demand for oil and other liquids is projected to rise by about 20 percent from 2014 to 2040."
The government of Saudi Arabia claimed oil demand would continue to grow based on increasing consumption in emerging markets.
Meanwhile, the World Energy Council believes peak demand will arrive in 2030 should renewable energy and other technologies such as electric cars keep their fast level of growth. Yet Henry noted that Shell is in a prime position to adapt to the increased popularity of clean energy options.…—Erwin Cifuentes, "Shell: Peak Oil Demand Could Be Reached In 2021," OilPrice, 11/2/16
≈≈≈≈≈≈≈≈≈≈≈≈≈≈≈≈≈≈
Science and Human Rights Coalition Meeting: The Human Right to Water
AAAS Science and Human Rights Coalition Meeting The Human Right to Water January 26-27, 2017 #shrcoalition
Throughout the first day, participants will discuss the role of the science and technology communities in upholding the human right to water and the implications of the human rights framework for scientists, engineers, and health professionals who work to improve access to safe, affordable water supplies. Sessions will highlight examples of actionable scientific research that is contributing to human rights-based water policies. In addition, panelists will share models for collaborative partnerships with frontline communities. Meeting attendees will be invited to participate in small group discussions in which they will identify specific actions members of the Coalition can take within their associations and institutions.
Coalition meetings convene scientists, engineers, and health professionals with human rights leaders and policy makers to discuss emerging issues at the nexus of science and human rights. The Coalition serves as a catalyst for the increased involvement of scientific, engineering, and health associations and their members in human rights-related activities. 
Learn More About the Human Right to Water
The following resources provide an overview of the challenge and work in progress: 
"Special Rapporteur on the Human Rights to Safe Drinking Water and Sanitation," the website of the UN Special Rapporteur on these rights;
The Human Right to Water Bill in California: An Implementation Framework for State Agencies, a report by the Berkeley Clinic; and 
Tapped Out: Threats to the Human Right to Water in the Urban United States by the Georgetown Law Human Rights Institute Fact-Finding Practicum—American Association for the Advancement of Science, "The Human Right to Water," AAAS, 1/26/17
≈≈≈≈≈≈≈≈≈≈≈≈≈≈≈≈≈≈
Oil Industry Anticipates Day of Reckoning
Prospect of 'peak demand' prompts debate and long-term planning by global producers
Forecasters see demand for oil-based fuels shifting to natural gas and renewable energy sources over the long term.
This month, European oil company MOL Group delivered a stark message to investors: Demand for fuel in its key markets is bound to fall.
So-called peak oil demand is a mind-bending scenario that global producers such as Royal Dutch Shell PLC and state-owned Saudi Aramco are beginning to quietly anticipate. But MOL has a transformation plan that is among the most explicit responses to the trend, indicating how the landscape may change for big energy providers over the next decade.
The Hungarian company is rethinking its traditional focus on fuel supply and shifting investment to petrochemicals, the key ingredient of everyday plastic products and a sector where MOL believes growth will continue even when its fuel business falters.
Further reading: From Peak Oil to Peak Oil Demand in Just Nine Years
Although there will still be customers for its fuel, the company reckons demand will soon flatten and then start falling in its Eastern European markets around 2030. "We see that as an inevitability," MOL Chief Financial Officer Jozsef Simola said.
Big oil players such as Exxon Mobil Corp, BP PLC and Saudi Arabia—which is leading recent efforts by the Organization of the Petroleum Exporting Countries to boost oil prices—are also anticipating significant shifts in demand, though there is no consensus on the timing and their moves have been gradual. They are increasing their investment in petrochemicals, pumping more natural gas, driving down costs and even diversifying into alternative energy sources like solar power.…—H. Karner, "Oil Industry Anticipates Day of Reckoning," Finanzwirtschaft, 11/28/16
≈≈≈≈≈≈≈≈≈≈≈≈≈≈≈≈≈≈
Climate Change Is the World's Biggest Risk, in 3 Charts
Extreme weather tops the likelihood list a year after floods ravaged Louisiana and Hurricane Matthew inflicted $10 billion in damage. There were 15 disasters that cost the U.S. $1 billion or more in 2016, trailing only 2011 for a record number of billion-dollar disasters.
The rise of the machines isn't the biggest threat to humanity. It's climate change, extreme weather and other environmental factors.
…The World Economic Forum surveyed 750 experts on what the most likely and impactful risks facing humanity are in 2017. In a report released Thursday, they ranked extreme weather as the most likely risk and the second-most impactful, trailing only the use of weapons of mass destruction. Climate change is responsible for driving an increase in the likelihood and intensity of extreme weather events, notably heat waves.
Failing to adapt to or mitigate climate change and a host of other climate-connected risks including water and food crises and involuntary migration also rank in the top 10….—Brian Kahn, "Climate Change Is the World's Biggest Risk, in 3 Charts," Climate Central, 1/12/17
≈≈≈≈≈≈≈≈≈≈≈≈≈≈≈≈≈≈
The Catastrophic Consequences Of Peak Oil Demand
With OPEC's 2016 World Oil Outlook now grimly forecasting that peak oil demand could become a reality in just over a decade, and natural gas and renewables chomping at the bit to cannibalize commodity market growth, it may be good for the environment, but the trade-off will be global instability on a catastrophic level.
The dynamics of the rush to adopt natural gas and renewable energies – launched by the landmark climate change agreement signed in Paris last year – was about protecting our planet. But without an effective back-up plan, resource-cursed nations such as Venezuela, Libya, Nigeria and Iraq—among others—will not survive this evolution and economic destabilization and sociopolitical instability would irrevocably change the geopolitical landscape. Destitution spells disaster in this scenario.
Weaning off 'Black Gold'? Not in our Lifetime, and not Without Repercussions
Hundreds of trillions of dollars have been spent worldwide over the past century to develop technologies for the safe transport and use of "black gold," which, in turn has built energy-driven economies on practically every single continent, aside from Antarctica.
Venezuela, Libya, Nigeria and Iraq are the first nations that come to mind when compiling a list of oil-dependent states, mostly because of their current plights caused by the two-year oil price crisis, as well as the political instability, civil war, domestic militancy and terrorism threats that each country faces, respectively.
Chronically low prices compromise the ability of oil-addicted economies to tackle domestic unrest, which was brought about by stinted revenues in the first place.
If OPEC's predictions on the imminent-ness of peak oil prove to be true, underdeveloped producers that have not yet planned for a fossil fuel-free world will inevitably face sociopolitical collapse. As oil demand spirals downward, the world's major exporters are expected to ramp up output in order to profit as much as possible before the commodity becomes a relic of the past.
Oil Majors See Reserves Evaporate: Write Downs Continue
And, as we know from the state of current markets, the bigger the glut, the sadder the prices.
The four countries mentioned earlier, along with Algeria, represent the nations most vulnerable to the global abandonment of oil. But even Mexico, which has invited public and private actors to set up a sophisticated governmental hedge against depressed prices for the next year, will see its economy falter when there's no market left to hedge.
Sovereign Wealth Fund or Bust
The Gulf nations have amassed a vast amount of fuel wealth over the past few decades. Wielding their financial-savvy as an economic shield, the countries have stored the revenues in sovereign wealth funds that invest internationally, paving the way for post-oil revenue streams. This starkly contrasts with the situation in Venezuela and Nigeria, both of which are on the hunt for billions in lost—as in nowhere to be found—profits.
On the other end of the spectrum, European producers—especially Norway and France, as well as the United States and Canada—enjoy diversified economies that subsidize fossil fuel, but do not play a direct role in its extraction or distribution. In this group of states, it is the private companies that weather the bulk of the losses in a market downturn.
Of course, these governments must still provide the unemployment benefits entitled to workers who are fired during a downturn, and budget specialists must maintain a plan to navigate lower tax revenues from domestic oil majors, but overall, their public sectors remain far more insulated from the volatilities of the oil sector than those nations with mammoth nationalized firms.
These are just the domestic implications of the end of the oil era. Foreign policies, especially of the world's biggest superpowers, have long revolved around energy needs.…—Zainab Calcuttawala, "The Catastrophic Consequences Of Peak Oil Demand," OilPrice, 11/14/16
≈≈≈≈≈≈≈≈≈≈≈≈≈≈≈≈≈≈
Michigan Tribe Aims to Block Enbridge Pipeline Spill Settlement
A Native American tribe from the northeast shore of Lake Michigan is trying to halt the approval of a multi-million-dollar settlement between Canadian pipeline giant Enbridge, Inc., and the U.S. Environmental Protection Agency. And it is using arguments similar to those made by a Sioux tribe in its campaign against a North Dakota oil pipeline that has so far succeeded in stopping construction.
The Grand Traverse Band of Ottawa and Chippewa Indians has objected to a deal that calls for Enbridge to pay a $61 million fine for its 2010 Michigan oil spill and spend $110 million on safety upgrades across its North American pipeline network.
One of those pipelines is the aging Line 5, which carries oil under the Straits of Mackinac, a 4.5-by-30-mile stretch of pristine water where the tribe has fishing rights.  
The tribe says it was never consulted on that part of the settlement. And that, they contend, ignores a 180-year-old treaty that gives members some say over the Straits of Mackinac.
Had the tribe of nearly 4,000 been consulted, it would have raised the same issues stoking the standoff in North Dakota between the Standing Rock Sioux tribe and developers of the Dakota Access pipeline, according to Bill Rastetter, an attorney representing the Michigan tribe.
The tribe, he said, would have requested a full environmental impact review of any work on Line 5 under the National Environmental Policy Act and Clean Water Act because of potential tragic consequences of a rupture. Under the current deal, safety improvements would not be subject to extensive environmental review.
"We're saying, 'Wait a minute, you should look at those arguments that have been put forth in Standing Rock and think about a NEPA analysis,'" he said.
Enbridge did not respond to a request for comment. On its website the company says the federal Pipeline and Hazardous Materials Safety Administration has "concluded that the Line 5 Straits crossing is safe and fit for purpose."
Before finalizing the proposed consent decree, the tribe is demanding that the EPA and the Department of Justice consult with it on the possible treaty impacts, according to the objection filed in U.S. District Court for the western district of Michigan. And it has asked the government to reopen the public comment period after the consultation process.
According to the tribe, the settlement agreement breaches the 1836 Treaty of Washington, which granted it fishing rights to the Straits of Mackinac; consequently, any agreements that might affect those rights should have involved them, it said.
"The 1836 Treaty Tribes' immediate concern is whether the Line 5 provisions might preclude the Tribes from litigating CWA [Clean Water Act] and/or other potential claims against Enbridge with respect to the imminent likelihood of a catastrophic failure of Line 5 within the Straits of Mackinac," the objection said.
Wyn Hornbuckle, a spokesman for the Justice Department, said the agency is reviewing the tribe's objection.…—David Hasemeyer, "Michigan Tribe Aims to Block Enbridge Pipeline Spill Settlement," InsideClimate News, 9/13/16
≈≈≈≈≈≈≈≈≈≈≈≈≈≈≈≈≈≈
World Energy Scenarios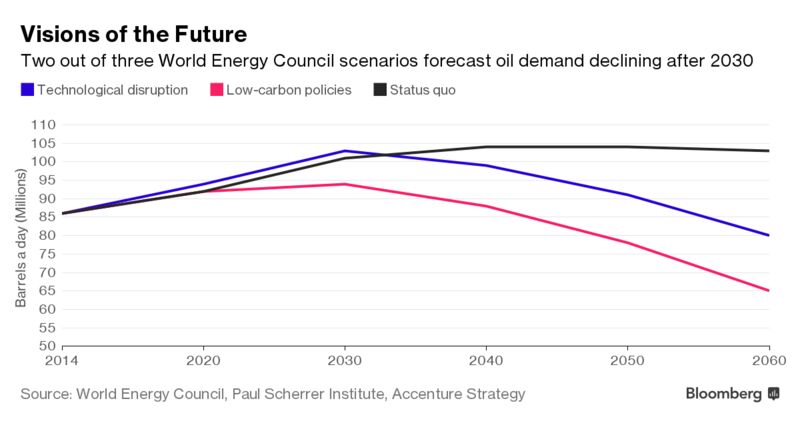 This is a difficult time for the energy industry. Many of the new signals emerging—disruptive digitalisation, the commitment to decarbonisation and desire, in some countries, for a more national focus—indicate that new frameworks for thinking are needed. We cannot banish uncertainty but we can offer to stimulate thinking of what might be certain and uncertain, and where the new opportunities and risk exposures might be.
The three scenarios developed are Modern Jazz, which represents a 'digitally disrupted,' innovative, and market-driven world. Unfinished Symphony, a world in which more 'intelligent' and sustainable economic growth models emerge as the world drives to a low carbon future, and a more fragmented scenario called Hard Rock, which explores the consequences of weaker and unsustainable economic growth with inward-looking policies.
These three scenarios are a set of plausible and challenging energy futures with a time horizon to 2060. They are designed to illuminate how enterprise strategies and government policies, initiated in the period to 2030, will play out over the longer period.
The 2016 World Energy Scenarios are the product of a three year process. Developed by World Energy Council members from across the globe, and produced with our collaborators Accenture Strategy and the Paul Scherrer Institute.
The process began with expert interviews with energy leaders, several workshops focused on framing the energy problematique and then building the scenario narratives and quantification.
The central tool used for quantification was the Paul Scherrer Institute's global multi-regional energy system model. The iteration between development of the narratives and the quantification provided the foundation for a powerful set of scenarios.
The scenarios were not framed or built by a central team rather they were the outcome of a series of workshops around the world. These took place in Beijing, Buenos Aires, Cartagena, Johannesburg, London, Manila, New Delhi, Paris and Washington DC. Those present who shaped the scenarios were members of the World Energy Council, many active in the Scenarios Study Group. And a wide rang of experts, for example Arup on urban innovation, who provided advice and insights across a wide range of pertinent topics shaping the future of energy, from technology and economics, to societal, environmental and geopolitics. This was complemented by strong country and regional contributions.…—Marie-José Nadeau, Christoph Frei, "World Energy Scenarios 2016: The Grand Transition/Preface," World Energy Council, 10/10/16
≈≈≈≈≈≈≈≈≈≈≈≈≈≈≈≈≈≈
Lockdown at Trans-Pecos Pipeline Site in West Texas Consecrates New Indigenous-Led Resistance Camp
Marfa, Texas—An Indigenous Water Protector and an Alpine, Texas, resident were arrested Saturday morning after locking themselves to pipe-laying equipment at an Energy Transfer Partner (ETP) easement and work site in Presidio County, Texas. The lockdown temporarily halted construction on the company's 143-mile Trans-Pecos pipeline that, if completed, would carry 1.4 billion cubic feet of fracked gas from West Texas to Mexico every day.
The action was the first to be organized by a new Indigenous-led prayer and resistance camp on private land in far west Texas' pristine Big Bend region. The camp is acting in solidarity with the Sacred Stone and Oceti Sakowin camps' historic standoff against the Dakota Access pipeline at the Standing Rock Sioux reservation in North Dakota. The same Dallas-based company is behind both the Trans-Pecos and Dakota Access pipelines.
Jakki Hagans and Mark Glover, the two Water Protectors arrested Saturday, have been
working to organize the "Two Rivers" or "La Junta de Los Rios" camp as members of the Society of Native Nations (SNN) and the Big Bend Defense Coalition (BBDC), respectively, during the last several weeks. They were each charged with trespassing and released on $250 bonds that same afternoon.
"It isn't right what [ETP] is doing," Hagans, who is Cherokee, told Truthout as she sat, locked to a sideboom (a machine used to lay pipe) during the frigid morning hours on January 7 before police arrested her and Glover. "It isn't right that they're able to take the land from people. It's not right that they're able to run these pipelines, contaminate the water with their fracking. It's not right that they don't care about the people."
The high-pressure Trans-Pecos pipeline is already close to completion and is billed to run from Coyanosa, Texas to the border near Presidio, Texas — cutting right through the heart of the Big Bend area's ecologically sensitive Chihuahuan desert bioregion, a place that is both breathtakingly serene and extremely remote. The region is one of the only areas of the state that has, until now, remained unadulterated by oil and gas infrastructure. Mexican billionaire Carlos Slim, who was the world's richest man from 2010 to 2013, and ETP CEO Kelcy Warren head the pipeline project.…—Candice Berndt, "Lockdown at Trans-Pecos Pipeline Site in West Texas Consecrates New Indigenous-Led Resistance Camp," Truthout, 1/10/17
≈≈≈≈≈≈≈≈≈≈≈≈≈≈≈≈≈≈
Texas Sets New All-Time Wind Energy Record
On December 20, a low-pressure weather system crossed through the Texas panhandle and created sustained wind speeds of 20 to 30 mph. The burst of wind propelled Texas to surpass its all-time record for wind energy production, with wind providing 45 percent of the state's total electricity needs — or 13.9 gigawatts of electric power — at its peak.
That's 13,900,000,000 watts: enough electricity to power over 230 million conventional 60 watt incandescent light bulbs, or more than 11 times the 1.21 gigawatts that Doc Brown's time machine needed in Back to the Future. In other words, a heck of a lot of power.
The latest record is news not only because wind provided nearly half of Texas's electricity needs, but also that it did so for so many hours in a row. The sustained winds brought on by the low-pressure front caused wind energy production to exceed 10 gigawatts for essentially the entirety of December 20.
The duration of the record is a big deal because it shows that the rest of the Texas grid can handle a whole lot of wind energy for an extended period of time without suffering instability or brownouts that some predicted. Texas was able to balance the intermittent wind because it has a lot of natural gas power plants, which can adjust their power output more quickly than coal-fired power plants. Considering this fact, it seems like a happy coincidence that market forces are transitioning the U.S. electricity system toward a mix of renewable energy and natural gas.
How Did Texas Get Here?
Texas's latest wind energy milestone is the culmination of years of forward-looking policy and steady wind energy development.
Despite its reputation as a pro-fossil-energy, anti-renewable-energy state, Texas was the second state after Iowa to pass a renewable portfolio standard, a policy which requires a certain amount of electricity come from renewable sources. Furthermore, Texas invested billions in high-voltage power lines linking Texas cities to windy West Texas way back in 2008. The so-called "Competitive Renewable Energy Zones" (CREZ) wind energy transmission project is one of the key reasons Texas calls itself the national leader in wind energy today, with over double the wind generation capacity of any other state.…—Robert Fares, "Texas Sets New All-Time Wind Energy Record," Scientific American Blog, 1/14/17
≈≈≈≈≈≈≈≈≈≈≈≈≈≈≈≈≈≈
Oil Majors See Reserves Evaporate: Write Downs Continue
In its third-quarter report, Exxon warned it might have to write off 4.6 billion barrels of oil and oil equivalent from its proved reserves if international prices remain at the current level into the end of the year. The company explained that at these prices, the reserves were uneconomical to tap, and therefore fail to meet the Securities and Exchange Commission's definition of proved reserves.
Most of these assets that are no longer in play are in Canada in the Alberta oil sands, and about a billion barrels of oil equivalent are in the U.S.
Exxon's warning suggests that the new normal for oil prices continues to take its toll on the industry despite the hype about lower-than-ever production costs in the shale patch and the supermajors started refocusing on smaller, quicker-return projects.
The true significance of these developments seems to be much more fragmentary than the industry would like to admit. For instance, in the shale patches, some producers are indeed pumping crude at breakeven prices that make it possible for them to turn in a profit. But this, as Oilprice wrote last month, is not really thanks to any special efforts undertaken after the price crash. Rather, it is a combination of geology and length of presence, and most of all, discounts on oilfield services as that industrial segment also struggles to survive.
All shale is not equal, however, and in some places, the breakeven is higher than current market prices. This is also true for conventional oil extraction in parts of the oil sands, if we are to trust Exxon. And there is no reason why we shouldn't, when it comes to matters of reserve de-booking.
According to the Motley Fool, things are not much different for Canadian oil companies. Even though they are not yet de-booking reserves, they might start doing it soon, as they approach the end of their current development phases. If prices remain low, which is very likely unless OPEC hammers out a production cut agreement, a lot of these projects may become economically unviable.
Related: 
The good news is that the de-booking does not need to be permanent. The oil and gas will still be there when prices start improving. If they don't, there won't be any point in developing these higher-cost reserves.
Things are different with reserve replacement ratios, however. These are essential for the valuation of oil companies: the ratio serves to inform investors and traders about the future production of a company.
Last year, Big Oil saw the worst year of new discoveries since 1952, with the combined reserve replacement ratio of the supermajors falling below 100 percent, which is the minimum required to maintain current levels of production. At the time, Morgan Stanley warned that even if oil demand falls to 86 million bpd, from the current 90-plus million bpd, E&Ps would need new fields to satisfy it.…—Irina Slav, "Oil Majors See Reserves Evaporate: Write Downs Continue," OilPrice, 11/11/16
≈≈≈≈≈≈≈≈≈≈≈≈≈≈≈≈≈≈
And That's A Wrap! Thanks for sending the several action notices this week! And a tip o' the hat to Christine Macpherson for her thoughtful, provocative video. One of our regular readers sent it in, so a tip o' the hat to him also (You know who your are)! Keep feeding your friendly neighborhood editor with news! Send with hot soups or Indian curries to banner@wearesenecalake.com