May 10, 2016 The trend in fossil fuel business discussions of climate change presumes there is no viable case for responding to the climate change unless economic growth is part of the process. And thus, the response will have to be incremental and suited to business needs. The results of this reasoning are proving disastrous for the industry. And unacceptable by the world's people.
Rallying Share-holders Against Con Ed-Crestwood Combination
When the people lead, the leaders will follow.—Mahatma Gandhi
One of our upstate NY fights developed some downstate connections just before Earth Day when Con Ed announced they are buying a 50% stake (for nearly $1 billion) to invest in gas storage and pipelines upstate to store and transport fracked gas to their customers downstate. 
Over the past year and a half, over 500 of us have been arrested protesting the proposed storage of fracked gas in the salt caverns under beautiful Seneca Lake, the largest of the Finger Lakes, in the heart of prize-winning wine country. Geologists tell us that the salt caverns are unstable, too close to the bottom of the lake, and that gas storage there risks ruining the drinking water of over 100,000 people – to say nothing of risks of gas leakage or explosions.
So members of We Are Seneca Lake are coming to NYC on Monday May 16th for a rally and press conference outside Con Ed's headquarters when they hold their shareholder meeting. I hope you can join us!! —Doug Couchon
Sign up here. Please share the event flyer and the Facebook event!
Thanks to Irene Weiser, actor James Cromwell will be standing by our sides!  We also have support from Sane Energy Project, NYC Environmental Justice Alliance, United for Action, NY Climate Action Group, Food & Water Watch, People Not Pipelines, Concerned Residents of Oxford, Deep Green Resistance NY, and Frack Free Genesee.
Monday May 16 – Con Ed HQ – 4 Irving Pl., NYC
9:00 AM – coordinated flyering at entrances
9:30 AM – Protest begins at corner of 14th and Irving
10:00 AM – shareholder meeting starts inside.  Keep protesting!
10:30 AM – if you're a busy NYC resident with only an hour to protest, this is when to show up!
11:00 AM – press conference
Transportation: Because we hail from far and wide, carpools are making more sense than a bus from Ithaca. If you need a ride/want to share a ride, sign up for the carpool form. Email Mariah Plumlee if you have questions. Couch-surfing: Mariah Plumlee is also helping coordinate places to stay in NYC for Sunday night for those who sign up through the form above. If you have friends in the city who are willing to put up some defenders, please let Mariah know!
General Event info: Lindsay Speer, (315) 925-7773 lindsayspeer@creatingchangeconsulting.com
≈≈≈≈≈≈≈≈≈≈≈≈≈≈≈≈≈≈
Do Not Be ConnEd!
Watkins Glen, NY – Sending a message with an act of civil disobedience aimed at the recently announced gas storage partnership between downstate energy giant Consolidated Edison and Houston-based Crestwood Midstream, 15 residents from across the Finger Lakes, the Southern Tier, Albany, and Long Island formed a human chain across the main entrance of Crestwood, blocking traffic in and out of the facility.
Starting at 7 a.m. and continuing until their arrests by Schuyler County deputies for disorderly conduct shortly after 8 a.m., protesters blocked tanker trucks from leaving and entering the facility.
Three of the 15, who ranged in age from 19 to 73, were Schuyler County residents. Another three were college students.
With her commencement ceremony days away, SUNY Geneseo honors student, Julia Mizutani, 22, was arrested wearing her graduation cap.
Cornell students Elizabeth Chi, 19, and Gabrielle Illava, 27, were also arrested with the group.
This morning's protest was a direct response to the April 21 announcement by utility giant Consolidated Edison that it had formed a joint venture with Crestwood Equity Partners to own three pipelines and four gas storage facilities, including the controversial Seneca Lake storage facility where Houston-based Crestwood has been pursuing a massive expansion project. Con Ed will invest $975 million to own a 50 percent stake in the newly named entity, dubbed Stagecoach Gas Services.
The protest was timed to correspond with a two-week wave of civil disobedience actions against fossil fuel projects that is taking place all around the world under the banner Break Free 2016.
Among those arrested this morning was the co-founder and executive editor of Fresh Dirt magazine, Rebecca Barry, 48, of Trumansburg in Tompkins County.  As part of a statement of solidarity with residents of New York City, where she lived for ten years, Barry said, "Everyone who lives downstate is a Con Ed ratepayer, and, with this 50 percent purchase in Crestwood's gas storage facility at Seneca Lake, they are all now participating in a threat to an important source of drinking water here in the Finger Lakes." Fresh Dirt is a profile-driven, green living magazine that celebrates sustainability in the Finger Lakes region.
The protesters this morning were all charged with disorderly conduct and transported to the Schuyler County Sheriff's department, where they were ticketed and released.
The total number of arrests in the eighteen-month-old civil disobedience campaign now stands at 564.
Laura Salamendra, 32, Geneva, Ontario County, said,  "I'm here today to introduce myself to Con Edison. I'm a daughter, a sister, and an aunt who will fiercely protect her family from the threats associated with Crestwood's dangerous gas storage plan. The people of the Finger Lakes oppose this project and if Con Edison plans to align with Crestwood, they should plan on seeing a lot of me and my fellow defenders."
≈≈≈≈≈≈≈≈≈≈≈≈≈≈≈≈≈≈
FERC Will Be Thrilled to Hear From You About Crestwood!
There are 5 days remaining before Crestwood's Subsidiary, Arlington Natural Gas's storage expansion permit on Seneca Lake runs out.  As you know, they have applied to FERC for a 2 year extension, and the FERC docket remains open for comments.
WE NEED TO FLOOD FERC WITH COMMENTS OVER THE NEXT 5 DAYS!
See instructions and an easy how-to video for submitting comments.
Talking points for your comment:
• Arlington failed to move forward with its planned expansion and therefore will miss its in-service deadline. • To salvage the project, on January 28, 2016, Arlington applied for an extension of the deadline that would double the time allotted for construction. • The economics of gas production and consumption have changed materially since May 15, 2014, when FERC approved the Arlington project. • Arlington's parent company has announced a new joint venture reflecting those changed conditions. • FERC should deny the Arlington's request for an extension, or at the very least require a new application for the storage expansion project, so that the new economic facts can be subject to public scrutiny and can be incorporated into FERC's public interest determination.
≈≈≈≈≈≈≈≈≈≈≈≈≈≈≈≈≈≈
WASL Tabling at Big Splash Sustainability Weekend
The Big Splash Program is a weekend celebration of how we can help enrich the world we live in.  We feature great local and regional music, sustainability innovators, and technology.  We are striving to create stronger communities and a stronger world with our outreach.  We will address current issues and present available solutions.  Together, we can change the world.
Where: Tioga County Fairgrounds, Marvin Park, Owego, NY When: May 28-29 WASL needs tabling volunteers! Contact Stephanie Redmond –  tickets for about 5 volunteers each day.
Info: Big Splash Tickets: Big Splash Tickets Contact: Selena Hodom, William Fizette
≈≈≈≈≈≈≈≈≈≈≈≈≈≈≈≈≈≈
A Business Case for Trashing the Climate?
TransCanada Fights Keystone Denial With $15 Billion Appeal
TransCanada Corp. opened one of the largest trade appeals ever brought against the U.S., seeking to recoup $15 billion tied to the Obama administration's rejection of the Keystone XL oil pipeline.
The Canadian company intends to start a claim for costs and damages under the North American Free Trade Agreement against the U.S. after President Barack Obama's rejection of the $8 billion project in November, according to filings Wednesday. The pipeline builder also sued the U.S. government, arguing Obama didn't have the constitutional power to decide on the cross-border line.
A NAFTA challenge has been floated as an option for years by proponents of the pipeline frustrated with the protracted U.S. review. The case has merit, according to trade specialists who point to political reasons for Obama's denial following seven years of U.S. study. Obama said the line would have undercut U.S. global leadership on climate change and wouldn't have contributed meaningfully to the nation's economy or energy security.
…TransCanada is appealing under Chapter 11 of NAFTA, a deal signed by the U.S., Canada and Mexico that took effect in 1994. While a tribunal couldn't force approval of Keystone, it could award damages for costs and lost profit.
NAFTA claims by corporations against the U.S. are relatively rare. While the nation has a good track record in winning — it has only lost one of 14 such appeals filed — companies typically emerge victorious in similar international disputes, said Lori Wallach, director of Public Citizen's Global Trade Watch.
"In a case like these facts and those claims, I have seen repeatedly, enormous amounts of money extracted from governments' treasuries and taxpayers and doled out to corporations," Wallach said.—Rebecca Penty, "TransCanada Fights Keystone Denial With $15 Billion Appeal," Bloomberg, 1/6/16
≈≈≈≈≈≈≈≈≈≈≈≈≈≈≈≈≈≈
Phasing out fossil fuel leases on public lands would be one of the most significant new policies the United States could adopt to help meet international climate goals, according to a new report.
In a world cutting its use of carbon fuels to bring warming under control, "at some point in the next two decades, there is potentially no need for federal fossil fuels," said the analysis, published on Tuesday by the Stockholm Environmental Institute.
Annual global emissions of carbon dioxide could drop by 100 million tons by 2030 if the Interior Department stopped issuing or renewing leases from federal lands and waters, it said. Thirty percent of the emissions reduction would occur overseas, as coal exports from federal lands dwindle.
The study is among the most detailed assessments yet published of the effectiveness of a hotly disputed policy proposal that is being closely studied by the Obama administration. The review will not be completed until after a new president takes office.
The study's conclusions were presented in a detailed paper and in summary form. It was written by Pete Erickson and Michael Lazarus of the institute's Seattle office.
About a quarter of U.S. fossil fuel energy comes from federal lands, including 40 percent of coal. These subsidized leases are facing new challenges from environmental advocates who say they unwisely lock in high-carbon infrastructure for decades to come.
After the international Paris climate agreement set the goal of rapidly phasing out worldwide emissions of greenhouse gases from fossil fuels, President Obama declared in his State of the Union address that he wanted to change the leasing system to better reflect its fiscal and planetary costs – including its carbon footprint.
The Interior Department then announced an environmental review to consider the options. Proposals have also been floated in Congress to raise royalties, and lawsuits are under way to force leasing agencies to take environmental impacts into account….—John Cushman, "Fossil Fuels on Federal Lands: Phase-Out Needed for Climate Goals, Study Says," InsideClimate News, 5/3/16
≈≈≈≈≈≈≈≈≈≈≈≈≈≈≈≈≈≈
It's Happening — oil and gas defaults are starting to hurt the rest of the credit market
Until now, slow-but-positive U.S. growth has been a support for corporate cash flow and helped prevent commodity weakness from spreading to other sectors.
Read: Company defaults headed for largest cyclical rise since recession
"But the commodity-driven climb in defaults is contributing to an increase in investor risk aversion and borrowing costs," said analysts led by Moody's Senior Vice President John Puchalla.
It's a classic Catch 22 situation. Defaults are making investors nervous and that is making it more expensive for speculative-grade, or high-yield, companies to borrow short term to resolve liquidity issues. That's because investors demand higher premiums for the extra risk they are taking on. And that in turn presents risks to the economy and makes if more likely the default risk will spread.
Don't miss: Exxon Mobil's downgrade leaves just two AAA-rated companies in the U.S.
"Our default risk indicators continue to weaken, warning that the existing upward default pressure will increase if the U.S. economy falters and investor risk aversion grows," said Puchalla.
Moody's is now expecting the default rate for oil and gas companies to climb to 6% by year end, the highest level since July 2010. That matches the rate expected by Fitch Ratings, which until now had the gloomiest outlook of the three major rating agencies….—Ciara Linnane, "It's happening — oil and gas defaults are starting to hurt the rest of the credit market," MarketWatch, 5/5/16
≈≈≈≈≈≈≈≈≈≈≈≈≈≈≈≈≈≈
Exxon scrambles to contain climate crusade
On Nov. 3, ExxonMobil dispatched its top lobbyists to Capitol Hill on an urgent mission — tamping down an escalating campaign aimed at making the country's largest oil company pay a legal and political price for its role in warming the planet.
The meeting marked a striking shift in Exxon's handling of the controversy. The notion of holding oil companies responsible for global warming, in the same way tobacco companies had to pay billions of dollars in damages over the health effects of cigarettes, had long been seen as a quixotic quest led by scruffy, oil-hating extremists. But POLITICO's interviews with dozens of activists, industry officials and lawmakers suggest that support for a legal crusade against Exxon is growing far beyond the political fringe — and now poses the biggest existential threat the company has faced in decades. Just five days before the meeting on Capitol Hill, Democratic presidential front-runner Hillary Clinton had urged the Justice Department to investigate whether the petroleum giant spent decades deceiving the public about the threat of climate change. State attorneys general had Exxon in their sights as well, preparing to issue subpoenas that would eventually rope in virtually all of Washington's conservative policy apparatus. A four-year effort by green activists, scientists and lawyers to turn Big Oil's biggest player into the poster child for climate change — deliberately patterned after the successful campaign to take down tobacco — was shaking the descendant of John D. Rockefeller's Standard Oil empire to its core.
---
Mobil's Chief Executive Warned of CO2 From Oil Sands Fuels in 1982

The CEO of Mobil Corporation warned in 1982 that burning Canadian oil sands fuels could lead to a buildup of carbon dioxide in the atmosphere with calamitous effects. His concerns provide further evidence that oil industry executives were aware of the climate impact of their products decades ago, and of the dangers of exploiting unconventional reserves with a higher carbon footprint.

Mobil's chief executive, Rawleigh Warner, Jr., took notice of the increasing production of tar sands, oil shales and liquefied coal in an article published by the United Nations Environment Program. He was writing 15 years after Suncor Energy began producing oil sands from the first large-scale mine in Alberta, and less than a decade after the Arab oil embargo propelled industry to search for alternative fuels.

"The switch to heavier fossil fuels has already caused much popular concern, primarily seen in some nations' fear of the effects of acid rain," he wrote, "and the general fear that excessive use of these fuels may so build up carbon dioxide in the atmosphere that the earth's temperature may increase, with some disastrous consequences.

"Both of these fears should be seriously addressed."

His advice was not heeded. Development of the oil sands continued in subsequent decades and boomed after the turn of the century.

Mobil merged with Exxon Corporation in 1999 to form the world's largest oil company. ExxonMobil subsidiary Imperial Oil is now a leading producer of fuels from Canadian oil sands. Exxon did not respond to questions for this article….—Lisa Song, "Mobil's Chief Executive Warned of CO2 From Oil Sands Fuels in 1982," InsideClimate News, 5/9/16
---
So the four Exxon executives arrived at the office of California Democrat Rep. Ted Lieu with one job: convincing four of their most vocal congressional critics that the company wasn't the polluting villain its enemies were making it out to be.
Exxon supports "sound climate policy" and has tripled its greenhouse-gas cuts since 2008, the executives boasted to the lawmakers in a 10-page glossy presentation, later obtained by POLITICO. Exxon was even on record in favor of a tax on carbon emissions — a climate remedy more radical than anything President Barack Obama has proposed.
The company left empty-handed, though, after refusing to directly answer questions about whether it had suppressed internal research that underscored the threat of climate change while publicly sowing doubt about climate science, according to people in the room.
The presentation made at least one thing clear, however: After years of shrugging off pressure from eco-activists, Exxon was showing signs of worry….—Andrew Restuccia, Elana Schor, "Exxon scrambles to contain climate crusade," Politico, 5/9/15
≈≈≈≈≈≈≈≈≈≈≈≈≈≈≈≈≈≈
The Ferocity of Climate Change
The town of Fort McMurray, some four hundred miles north of Calgary, in Canada, grew up very quickly on both sides of the Athabasca River. During the nineteen-seventies, the population of the town tripled, and since then it has nearly tripled again. All this growth has been fuelled by a single activity: extracting oil from a Florida-sized formation known as the tar sands. When the price of oil was high, there was so much currency coursing through Fort McMurray's check-cashing joints that the town was dubbed "Fort McMoney."
Now Fort McMurray is burning. A forest fire that began to the southwest of the town on Sunday has forced the entire population—almost ninety thousand people—to evacuate. On Wednesday, Alberta's provincial government declared a state of emergency. By yesterday, more than fifteen hundred buildings had been destroyed and the blaze had spread through an area covering more than three hundred square miles. It was burning so hot that that it was easily able to jump major rivers. One Canadian official described the fire as "catastrophic." Another called it a "multi-headed monster."
No one knows exactly how the fire began—whether it was started by a lightning strike or by a spark provided by a person—but it's clear why the blaze, once under way, raged out of control so quickly. Alberta experienced an unusually dry and warm winter. Precipitation was low, about half of the norm, and what snow there was melted early. April was exceptionally mild, with temperatures regularly in the seventies; two days ago, the thermometer hit ninety, which is about thirty degrees higher than the region's normal May maximum. "You hate to use the cliché, but it really was kind of a perfect storm," Mike Wotton, a research scientist with the Canadian Forest Service, told the CBC.
Though it's tough to pin any particular disaster on climate change, in the case of Fort McMurray the link is pretty compelling. In Canada, and also in the United States and much of the rest of the world, higher temperatures have been extending the wildfire season. Last year, wildfires consumed ten million acres in the U.S., which was the largest area of any year on record. All of the top five years occurred in the past decade. In some areas, "we now have year-round fire seasons," Matt Jolly, a research ecologist for the United States Forest Service, recently told the Times.
"You can say it couldn't get worse," Jolly added, but based on its own projections, the forest service expects that it will get worse. According to a Forest Service report published last April, "Climate change has led to fire seasons that are now on average 78 days longer than in 1970." Over the past three decades, the area destroyed each year by forest fires has doubled, and the service's scientists project that it's likely to "double again by midcentury." A group of scientists who analyzed lake cores from Alaska to obtain a record of forest fires over the past ten thousand years found that, in recent decades, blazes were both unusually frequent and unusually severe. "This extreme combination suggests a transition to a unique regime of unprecedented fire activity," they concluded.
All of this brings us to what one commentator referred to as "the black irony" of the fire that has destroyed most of Fort McMurray.
The town exists to get at the tar sands, and the tar sands produce a particularly carbon-intensive form of fuel. (The fight over the Keystone XL pipeline is, at its heart, a fight over whether the U.S. should be encouraging —or, if you prefer, profiting from—the exploitation of the tar sands.) The more carbon that goes into the atmosphere, the warmer the world will get, and the more likely we are to see devastating fires like the one now raging….—Elizabeth Kolbert, "Fort McMurray and the Fires of Climate Change," New Yorker, 5/5/16
≈≈≈≈≈≈≈≈≈≈≈≈≈≈≈≈≈≈
King County Judge Makes Historic Ruling Against Washington State in Climate Change Case
A King County Superior Court judge has reversed a ruling that gave the Washington State Department of Ecology the opportunity to decide when to cut statewide greenhouse gas emissions. Because of a lawsuit filed by eight Washington State kids, Judge Hollis Hill has ruled that the threat of climate change is so urgent that the state must be placed on a court-ordered deadline to hold polluters accountable now.
The decision was the first of its kind. Earlier this year, Judge Hill found that the state had a constitutional responsibility to protect its citizens—including the children who filed the lawsuit—but that dictating an additional greenhouse gas rule-making process wouldn't be necessary. After all, in July of last year Governor Jay Inslee had directed Ecology to come up with a rule to cut greenhouse gas emissions.
That changed when Ecology withdrew the draft rule in February of 2016 in order to take more time to confer with stakeholders. When that happened, the kids' lawyer, Andrea Rodgers, asked the judge to change the earlier ruling in favor of the state based on two criteria: one, that the state had misrepresented the facts, and two, that extraordinary circumstances deemed it necessary.
Judge Hill didn't think that Ecology committed fraud or misrepresentation by committing to a rulemaking process and then withdrawing a draft rule later. But she did agree with the kids' lawyer that climate change constituted extraordinary circumstances.
"Ecology doesn't dispute that current science establishes that rapidly increasing global warming causes an unprecedented risk to the earth, to the land, sea, and atmosphere, and all living plants and creatures," Judge Hill said. Then the judge used Ecology's own words to demonstrate the "extraordinary" circumstances, reading back a quote from 2014 warning of "serious economic and environmental disruptions."
Judge Hill continued:
The reason I'm doing this is because this is an urgent situation. (…) These children can't wait, the polar bears can't wait, the people of Bangladesh can't wait. I don't have jurisdiction over their needs in this matter, but I do have jurisdiction in this court, and for that reason I'm taking this action.
Now the state must come up with a rule to cut greenhouse gas emissions by the end of 2016. In addition, it must make recommendations to the legislature next year to update the state's greenhouse gas reduction goals based on the most current science.—Sidney Bownstone, "King County Judge Makes Historic Ruling Against Washington State in Climate Change Case," The Stranger, 4/29/16
≈≈≈≈≈≈≈≈≈≈≈≈≈≈≈≈≈≈
Life Has Changed for Halliburton
Halliburton warned Q1 revenue would be down 17% Q/Q. This compares unfavorably to Schlumberger's 15% fall-off.
HAL's North American operations will weigh again. Drillers are fighting for survival amid the rout in oil prices and high indebtedness.

EBITDA margins of 16% could fall further amid management's dismal outlook for 2016.

A potential $3.5B break-up fee, $2.1B restructuring charges and $700MM exposure to Venezuela could hurt liquidity.

Life has changed for HAL. Avoid the stock.
After Schlumberger (NYSE:SLB) reported a 15% sequential decline in revenue on Thursday, investors were waiting with bated breath for reports from other oilfield services companies. Halliburton (NYSE:HAL) broke the ice Friday when it braced investors for an ugly quarter.
Halliburton has reported some dismal earnings results over the past year. The pre-warning caught me off-guard and could portend that 2016 will be worse than expected. I had the following takeaways on the pre-release:
North America Rears Its Ugly Head Again
Halliburton warned that total revenue would fall 17% Q/Q, slightly more than the decline experienced by Schlumberger. However, over 40% of the company's revenue is derived from North America versus 25% for Schlumberger. North America became a point of emphasis after Schlumberger's Q1 2015 revenue in the region fell 25% sequentially. According to management, North America reared its ugly head again this quarter:
"Life has changed in the energy industry, especially in North America, and over the past several quarters we have taken the steps to adapt to that fact," said Dave Lesar, Chairman and CEO. "Operators globally are under immense pressure, and many of our North America customers are fighting to maintain some value for their shareholders. Our goal is to work with those customers to get through these tough times.
Halliburton has been working with cash flow challenged North American drillers for over a year now. Consistent double-digit declines in North American have taken a toll on the company….—Ralph Baker, "Life Has Changed' For Halliburton – Halliburton Company (NYSE:HAL) |," Shock Exchange/Seeking Alpha, 4/24/16
≈≈≈≈≈≈≈≈≈≈≈≈≈≈≈≈≈≈
Pressure builds on shipping industry to set carbon targets
Disagreement among nations means no carbon emissions targets have been set for international shipping, but voices from within the industry are calling for global curbs to be set soon, before countries or regional blocs take matters into their own hands.
The shipping sector, like aviation, was excluded from any target cuts under last year's Paris climate deal, which set a goal of restricting the rise in global average temperature to less than 2 degrees Celsius.
Shipping now makes up around 2.2 percent of world emissions of carbon dioxide (CO2), the main greenhouse gas responsible for global warming, and that share is forecast to rise dramatically if nothing is done to slow it.
The International Maritime Organization, the U.N. agency responsible for regulating pollution from ships, forecasts CO2 emissions from vessels rising anywhere between 50 percent and 250 percent by 2050 in its "business as usual" case, as economies grow and trade increases.
So far, specific targets to curb emissions growth have been blocked by emerging countries like India and Brazil, which expect their shipping volumes to increase over the next decades.
But some shipping companies, especially ones that have invested in newer, more fuel-efficient ships, say the IMO should take action to limit emissions, before regulation is imposed by regional blocs like the European Union or individual states.
A session in late April of the IMO's Maritime Environment Protection Committee agreed only to defer further discussion on emissions to its next session in October. That will be the last chance to come up with targets before the next round of global climate talks, COP-22, the following month in Marakesh.
"The failure to agree a process for emissions reduction puts significant pressure on generating a positive outcome," said Alastair Fischbacher, head of the Sustainable Shipping Initiative, an industry association that promotes efficiency standards and includes the world's largest container shipping company Maersk Line and huge agricultural shipper Cargill….—Jonathan Saul, Nina Chestney, "Pressure builds on shipping industry to set carbon targets," Reuters, 5/6/16
≈≈≈≈≈≈≈≈≈≈≈≈≈≈≈≈≈≈
The Law of Intended Consequences: Wave of Fossil Fuel Project Cancellations Follow Keystone XL Rejection
Six months after the Obama administration rejected the Keystone XL pipeline, at least 20 other proposed energy projects—mines, pipelines, plants, related rail projects and export terminals—have been canceled, rejected or delayed, according to research compiled and mapped by InsideClimate News.
Sustained grassroots resistance and public opposition have played a role in at least some of these decisions; other influential factors include unfavorable economic conditions such as low oil prices, as well as governments' environmental concerns and project siting issues.
Proposed in 2008, the Keystone XL was originally slated to transport Canadian oil sands crude to Gulf Coast refineries. Federal regulators rejected the project for its potential climate impact and minimal economic benefits—and activists hailed the decision as a victory for their years of action against the project.
Since then, the Federal Energy Regulatory Commission rejected two project applications—for the Oregon-based Jordan Cove LNG project and Pacific Connector Pipeline—and delayed the decisions on two other facilities. For five of the projects, the bids or key permits were rejected by either a federal panel or state or local officials. Companies chose to cancel five other projects, including Arch Coal's abandoning its planned Otter Creek coal mine in Montana and Kinder Morgan's pulling the plug on its Northeast Energy Direct pipeline. The remaining facilities are delayed….Zahra Hirji, "Wave of Fossil Fuel Project Cancellations Follow Keystone XL Rejection," InsideClimate News, 5/6/16
≈≈≈≈≈≈≈≈≈≈≈≈≈≈≈≈≈≈
New York Serves As Battleground for Oil and Gas Infrastructure Fights
When New York state banned fracking in 2015, it was a blow to the oil and gas industry. But it didn't slow industry plans to continue to build out new oil and gas infrastructure in New York.
However, in another setback for the industry, Governor Cuomo's administration just denied permits for the proposed Constitution pipeline — a pipeline that would have brought fracked gas from Pennsylvania into New York — which has effectively killed the project.
Pipeline giant Kinder Morgan also just announced it is shelving plans to build the natural gas pipeline known as Northeast Direct due to "inadequate capacity commitments from prospective customers."  
These two decisions were celebrated by the many concerned citizens in New York who have been fighting new oil and gas infrastructure in the state.
Victory in Battles But The War Continues – Oil Trains
While these recent victories in the fight against oil and gas infrastructure in New York would appear to indicate a shifting of momentum, the industry is still pushing forward with many new projects in the state.
With Albany, NY serving as the largest oil distribution hub on the East Coast it is considered by many as the front line in the fight against oil-by-rail. And while the current low oil price environment has led to a large decrease in the amount of oil moved by rail through Albany — often leaving the main rail yard at the Port of Albany empty of oil tank cars — the reality is that the industry continues to explore new ways to use this existing infrastructure.
Global Partners, one of two midstream oil companies operating in Albany, is currently trying to build an oil heating facility at the Port of Albany which would allow the offloading of tar sands in the form of raw bitumen — the most cost effective way to move tar sands by rail.
---
Little-noted victories in New Yorkers' struggle against gas infrastructure

• Industrial-scale LNG Storage Defeated The New York State Department of Environmental Conservation (DEC) adopted regulations implementing a permitting program for the siting, construction and operation of liquefied natural gas (LNG) plants in New York following a contentious public comment period…. Consistent with the authorizing statute, the rule also contains criteria for siting and operating LNG facilities. In response to public comment, DEC limited the size of LNG facilities to 70,000 gallons, a change that will allow construction of service stations for LNG-fueled trucks but will discourage large-scale LNG storage facilities. Because the State Department of Transportation has refused to designate travel routes, intrastate transport of LNG as cargo is prohibited.—"LNG Permit Rule Adopted," Young/Sommer LLC, 3/4/15

• Port Ambrose LNG Project Defeated New York Gov. Cuomo announced today that he has officially vetoed the Port Ambrose Liquefied Natural Gas project amid an outcry from environmental groups and surrounding coastal communities. The project was proposed by Liberty Natural Gas off the shores of New York and New Jersey.

The deep-water docking station would have been built just 19 miles off of the shores of Long Island and would have allowed Liberty Natural Gas "to inject natural gas into the New York-area pipeline, which could lower home heating bills there, among the most expensive in the nation," according to the Associated Press (AP). The company has been trying to obtain approval for the project for years from the federal Maritime Administration, but federal regulations required the governors of New York and New Jersey to sign off on the project, and since Cuomo refused to, the project has now been denied….—Cole Mellino, "Gov. Cuomo Vetoes Port Ambrose Liquefied Natural Gas Project," EcoWatch, 11/12/15
---
Industry interest in this method of transportation for tar sands was supported in the past week as Cenovus announced plans to explore the option of building equipment to allow the loading of raw bitumen into rail cars in Alberta.
The Cuomo administration has delayed making a decision on Global's application for the oil heating facility. However, in April a judge gave the administration 60 days to make a decision.
Victory in Battles But The War Continues – Seneca Lake Salt Caverns
For over five years, activists in the Finger Lakes region of New York have been fighting plans to use old salt caverns on the shores of Seneca Lake to store liquid petroleum gas (LPG). Seneca Lake provides drinking water for over 100,000 people in the region.
Over 550 people have been arrested opposing the project, including many leading environmental activists such as Bill McKibben, Josh Fox and Sandra Steingraber
Last year, a state administrative law judge held an "issues conference" to consider arguments for and against the project. As with other Cuomo administration decisions, this one has dragged on longer than expected and the judge has yet to issue a ruling.
A recent article in the Ithaca Journal — "SENECA GAS STORAGE: Pipeline rejection bodes ill for lake project" — quoted several sources who supported this opinion…..—Justin Mikulka, "New York Serves As Battleground for Oil and Gas Infrastructure Fights, DeSmogBlog, 5/6/16
≈≈≈≈≈≈≈≈≈≈≈≈≈≈≈≈≈≈
Alternatives, Madness and Consciousness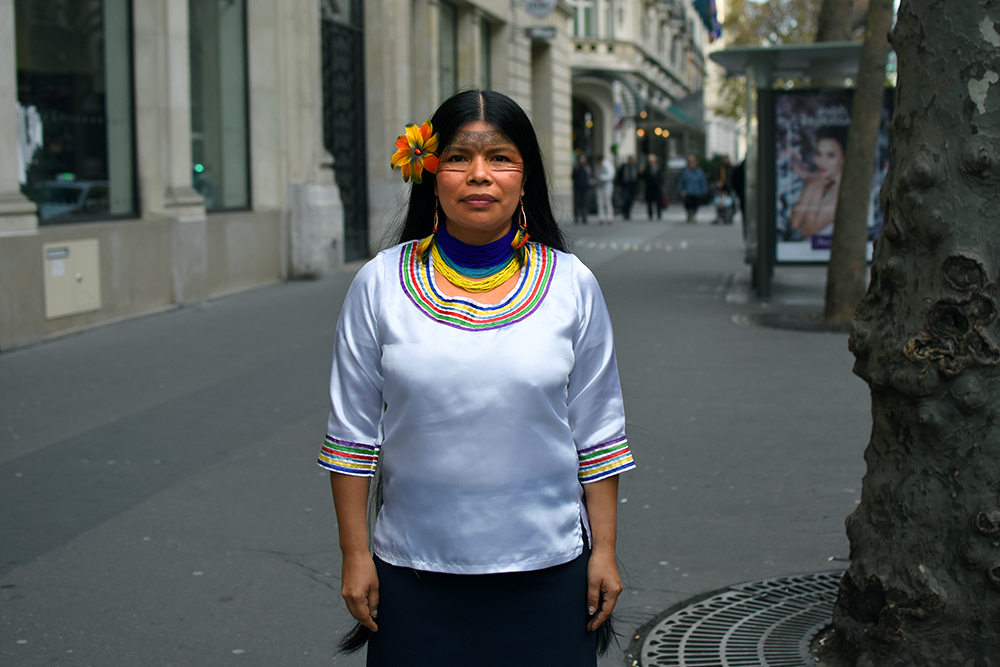 This exclusive portrait series was created by The Third Eye during the COP21 in Paris to document the messages of Indigenous leaders and activists in response to one simple yet giant question, which The Third Eye asked them during the encounters photographed here.
As the best guardians of the natural world, the original conservationists, indigenous peoples play a fundamental role in defending the global climate. Indigenous peoples worldwide number between 300-500 million, embody and nurture 80% of the world's cultural and biological diversity, and occupy 20% of the world's land surface.
"We have to unite to fight everything that is happening. It's time to break through all the prejudices that disunite us. It's a time of union. We from the Amazon, from India, from Indonesia, from all parts of the world – we need to unite forces and fight, because the destiny and future of the world is also part of our responsibility. We are responsible, and if we leave it in the hands of the governments, this is not going to work. We have to act and act now. We don't have time to say others should do it, it's time to act ourselves."—Patricia Gualinga, Kichwa leader from Sarayaku in the Amazon, Ecuador
But for the past 21 years at the United Nations Climate Change conference, indigenous delegates have been merely accredited as "observers", and kept outside of the closed door negotiation sessions, which at the COP21 included Indigenous rights being axed from the operative text of the Accord.—Sophie Pinchetti, Catriona Rainsford, Mira Silvia, "Alternatives, Madness and Consciousness,"| The Third Eye, 4/29/16
≈≈≈≈≈≈≈≈≈≈≈≈≈≈≈≈≈≈
And That's A Wrap! Thanks for keeping your editor flush with news stories, event notices, your writings, and the occasional Letter to the Editor! Send to banner@WeAreSenecaLake.com along with watermelon (seeded, please – much more flavor!), mangos, etc. The editor turns out to be a fruit bat!